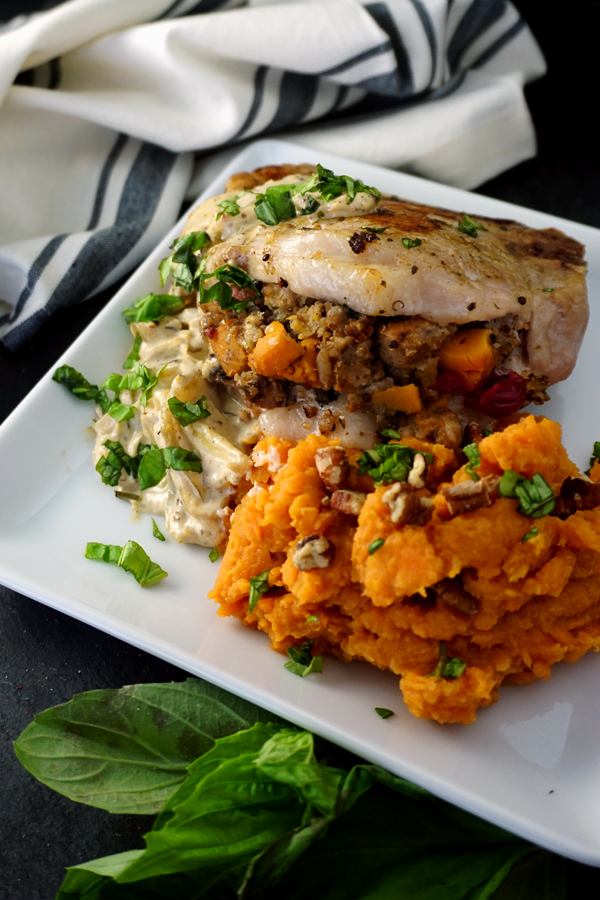 These pork chops get rubbed with rosemary salt, filled with stuffing and served with sautéed apples in a creamy mustard sauce. It's the perfect meal for diehard meat lovers and picky eaters because this recipe contains familiar flavors but combines them in a new way. Appease the cautious palettes in your house while dressing up your next weeknight dinner with this recipe.
Who else has picky eaters in their house? What about meat lovers? If you said yes to either of those questions, then this recipe is for you. One of the things I enjoy most about cooking is making food that brings joy to others. This means that sometimes I have to restrain the foodie inside of me that likes all of the "weird things" and make recipes that incorporate familiar flavors to please the eaters in my life who are a little less adventurous.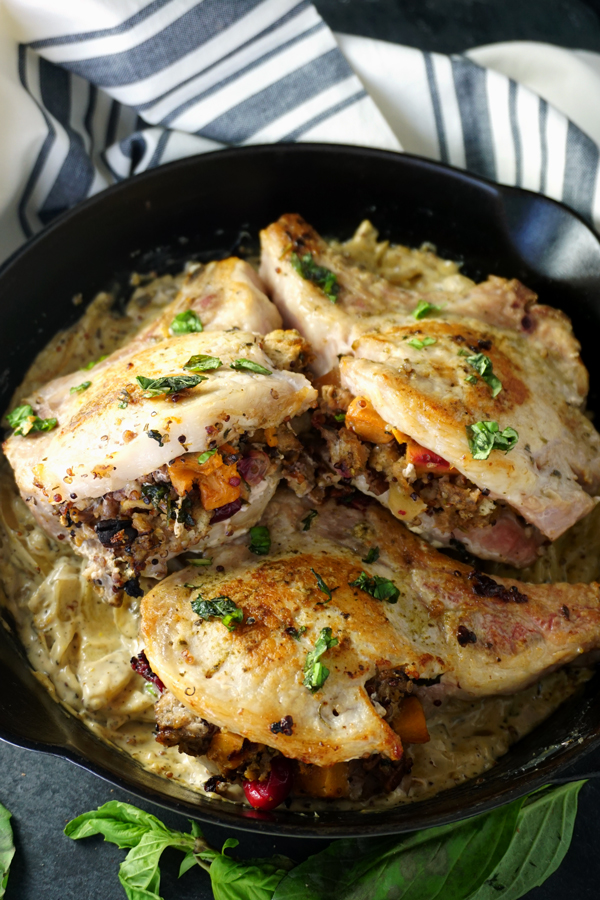 Right now my husband, daughter and I are actually living with my parents for the next six months while we build a house. I know what you're thinking: my husband deserves a trophy for agreeing to live with his in-laws for an extended period of time. In all seriousness though, it's been working out great and we're so appreciative of them uprooting their lives for six months so we can build our dream home.
Now, part of this deal was that I would cook dinner a few nights each week for my parents. This was something I could definitely do—no problemo! However, it meant adjusting what I would typically put on the menu for dinner because my dad, in particular, isn't the most adventurous eater. You see, I think my grandma broke him when he was young by feeding him hollandaise sauce, calf's brain and beef tongue and not letting him leave the table until his plate was clean. I know it scarred him for life because he still tells stories about it.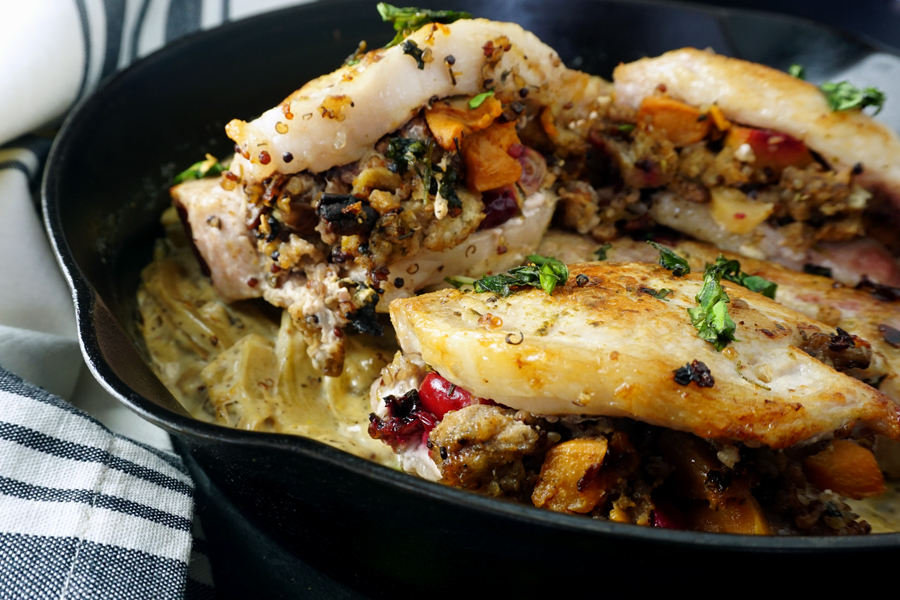 Whenever I cook for him, he always asks with some very obvious trepidation what he will be eating for dinner tonight. I use to reassure him calmly that everything on his plate will be "normal" but now I have fun telling him it's something super weird just to mess with him.
Today I'm sharing one of the recipes I recently made for my parents. It's one I started making years ago for my husband when we first started dating. My husband also used to be a pickier eater—but not because his mother scarred him with weird food though. He just was never much of a cook in his bachelor years so he stuck with the foods he knew. Over the years, I've helped him broaden his palette and now he'll eat just about anything I put in front of him (except for olives—I still cannot win that battle).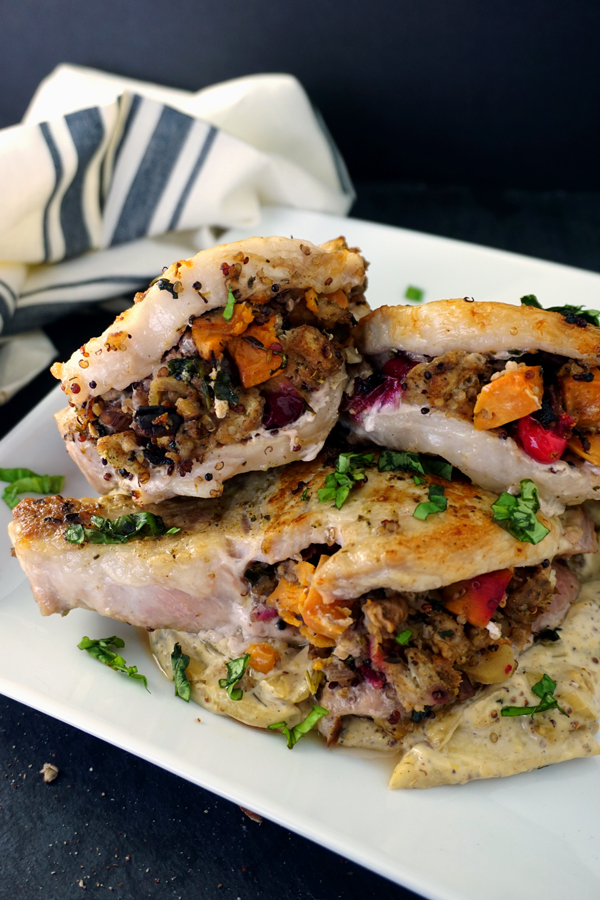 This recipe for stuffed pork chops with apples and creamy mustard sauce combines familiar flavors in a unique way to appease both the picky eaters in your life but also make the foodies at your dinner table feel like they're eating something special too. I've found the best way into a picky eater's heart is to stick with what they know but present it to them in a new way. It introduces them to different textures and preparation methods while maintaining the flavors and smells they already love. It's not always 100 percent successful but it's the method I've had the most success with.
This recipe begins with butterflied thick-cut, pork chops that get rubbed with rosemary salt before filling them with your favorite stuffing recipe. I recommend using this hazelnut quinoa stuffing with cranberries, apples and sweet potato to add even more flavor to these chops. The pork chops are then seared in a hot skillet and then finished off in the oven until fully cooked.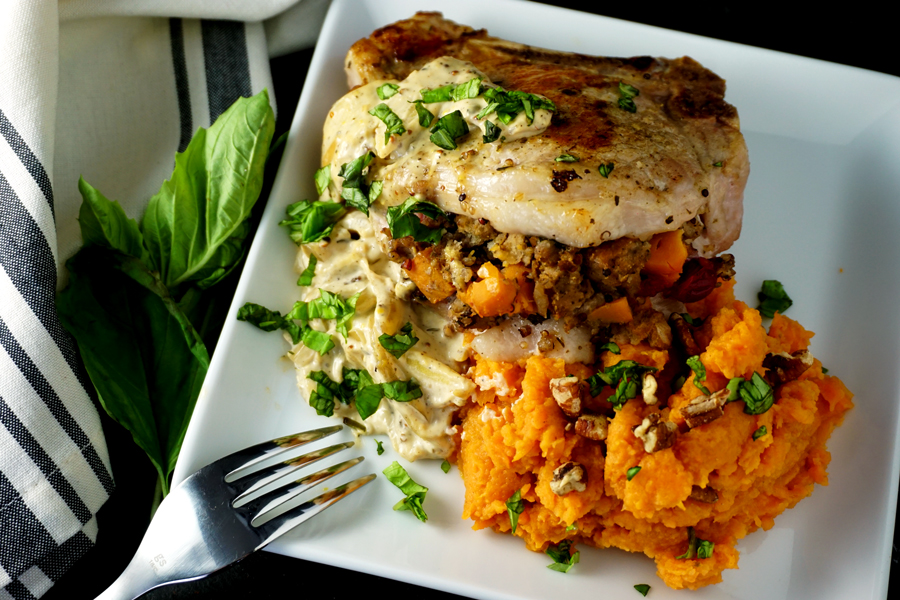 What makes these stuffed pork chops extra special though is the sauce. Apples, onions and garlic get sautéed together with thyme and sage. The pan then gets deglazed with white wine and reduced before adding creamy, tangy crème fraîche.
The crème fraîche is probably the one "left-field" ingredient in this recipe that may scare off some people. Trust me though, it adds a wonderful richness to the sauce that goes so well with the tender stuffed pork chops. If you can't find crème fraîche, full-fat sour cream is a great substitute that will yield similar results.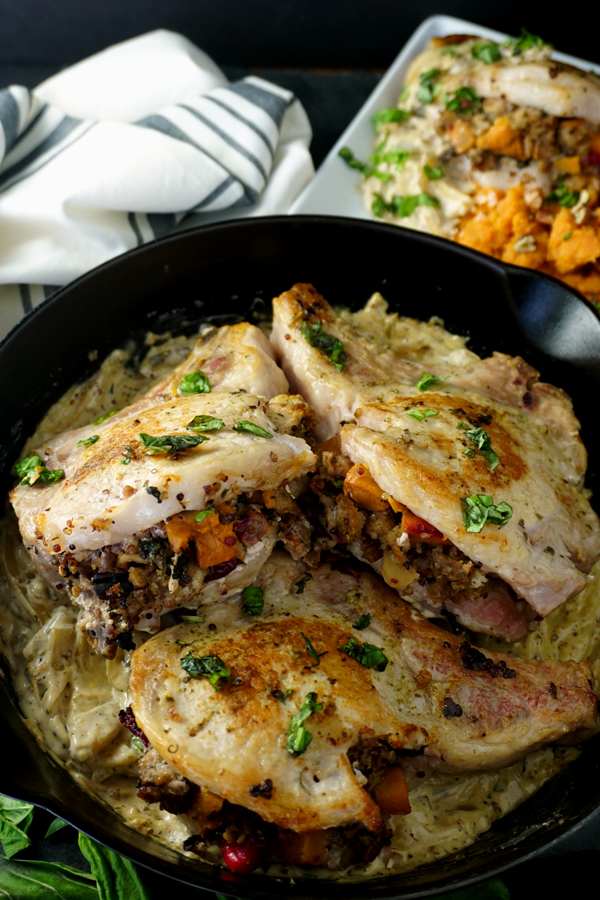 I like to serve these chops with mashed sweet potatoes, additional stuffing, or roasted brussel sprouts to round out this hearty meal. In the winter months, these pork chops are in my standard rotation for dinner. They're a comforting meal and always a crowd-pleaser.
If you try out these stuffed pork chops, leave your thoughts in the comments below and give this recipe a rating. Do you have picky eaters in your life? Let me know if you'd like to see more recipes for picky eaters on the blog. Have a great weekend everyone!
Stuffed Pork Chops with Apples and Creamy Mustard Sauce
Rubbed with rosemary salt and stuffed with your favorite stuffing, these thick-cut pork chops are served with sauteed apples in a creamy mustard sauce.
Ingredients
4

thick-cut pork chops

,

preferably bone-in

3

tablespoons

olive oil

1.5

cups

your favorite stuffing recipe

2

teaspoons

Jacobsen rosemary salt

,

or 1 teaspoon sea salt mixed with 1 teaspoon of dried rosemary

1

cup

yellow onion

,

thinly sliced

1

cup

fuji apples

,

thinly sliced

1

teaspoon

garlic

,

minced

8

ounces

creme fraiche

,

or full-fat sour cream

2

tablespoons

dry white wine

1

tablespoon

dijon mustard

1

tablespoon

whole grain mustard

1

teaspoon

dried thyme

1

teaspoon

dried sage

1/2

teaspoon

Worcestershire sauce

1

tablespoon

fresh parsley
Method
Preheat oven to 375°F and also begin warming a heavy-bottom skillet over medium-high heat.

While your skillet is warming, use a sharp knife to butterfly each pork chop—working from the outside edge in towards the bone. You want to cut them so that the chops open up like little books where the bone functions like the book's spine holding the pages together.

If you're not super confident in your knife skills, the butcher at your local grocery store will typically butterfly your pork chops for you if you ask.

Next, drizzle each chop with a little olive oil on both sides and then rub them with rosemary salt (or a 1:1 mixture of dried rosemary and sea salt will work too).Now, take a little more than 1/4 cup of stuffing (I recommend this stuffing recipe) and generously fill each pork chop. Once filled, use 2-3 toothpicks to pin the outside edge of the chops closed to prevent the stuffing from falling out while cooking.

Now sear each pork chop for 2-3 minutes per side in your heavy-bottomed skillet. You want a nice brown crust to form on both sides of the chops. When the chops are browned, remove from the skillet, place onto a large baking sheet and put into the preheated oven. Bake for 15-20 minutes, or until the pork registers at 145°F.

Meanwhile, using the same skillet you seared the pork chops in, sauté the onions, apples and garlic over medium heat in 1 tablespoon of olive oil. Cook until onions begin to caramelize and apples soften—about 6-8 minutes.

Next, add in white wine, mustard, thyme, sage and Worcestershire sauce and let simmer for 2-3 minutes. Next, stir in crème fraîche and cook until it begins to soften and loosen up in the pan—about 1 minute. If the sauce seems a little thick, you can add a few tablespoons of white wine, chicken broth or milk.

When sauce has reach desired consistency, remove from heat and stir in fresh chopped parsley.

When pork chops have finished cooking, remove from oven and let rest, covered with foil, for at least 5 minutes. When ready to serve, remove toothpicks and plate each chop alongside sweet potato mash, roasted brussel sprouts or additional stuffing. Spoon a little of the apples and creamy mustard sauce over each pork chop and enjoy.