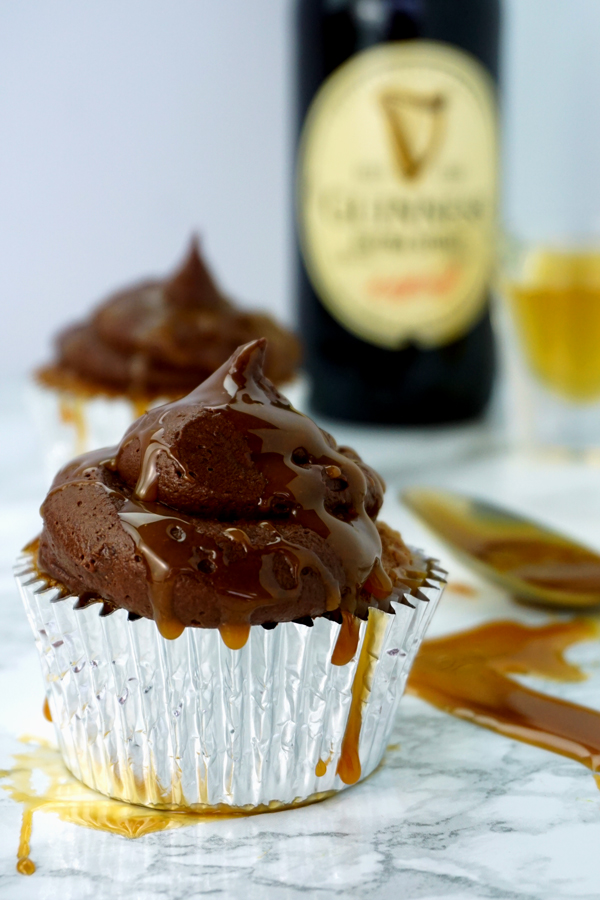 Jameson Irish Whiskey salted caramel cupcakes topped with decadent Guinness chocolate espresso buttercream and drizzled with whiskey salted caramel. Leprechaun-approved, these boozy cupcakes will be a hit at your next St. Patty's day party.
Chocolate. Caramel. Whiskey. Guinness. Do I have your attention? Today, I'm sharing these sweet, decadent cupcakes to get you in the St. Patty's Day spirit. I'm not Irish, so like a lot of people, I'm all about the food and beer when it comes to St. Patrick's Day. The corned beef, the cabbage, pints of Guinness and shamrock shakes (obviously)—all so delicious!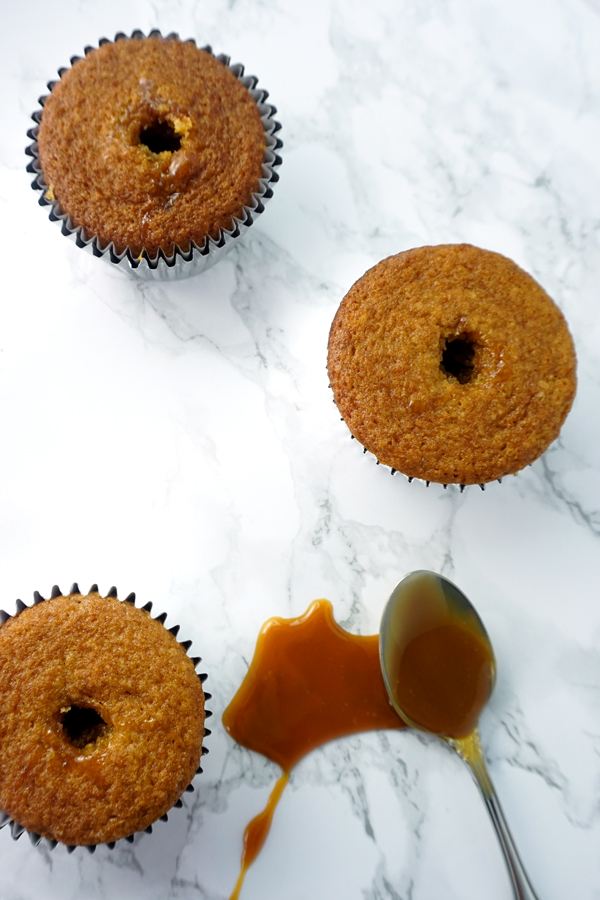 However, one St. Patrick's Day tradition I've never been super into are the parades. Go ahead and boo me, but I'm not wrong. St. Patricks Day Parades (in Wisconsin, at least) are the worst! Let me explain why.
My logic is threefold:
Number One: March in Wisconsin is COLD! You're literally signing up to stand outside in near-freezing temperatures for usually several hours to watch what's essentially slow-moving traffic.
Number Two: People pelt you with hard candy. Usually, I wouldn't complain about having sweets tossed my way but has anyone else noticed how only the worst candy is thrown at parades? St. Patrick's Day parades are basically where all the rejected Valentine's Day candy goes to die.
Number Three: Risk of clown encounter—or as I like to call it R.O.C.E. I'm mortally terrified of clowns. So even though you're more likely to see a leprechaun than a clown at a St. Patrick's Day parade, I just have a blanket policy to try and avoid all occasions where clowns may be present.
Am I I being unreasonable? Perhaps. Irrational? Totally. Sarcastic? Maybe a little. But we all have our quirks. So let's move on and talk about these cupcakes. After all, you're not here to hear me talk about my cynical parade opinions and irrational fear of clowns—that's what I pay a therapist for. Again, sarcasm. Except for the bit about clowns. I hate clowns.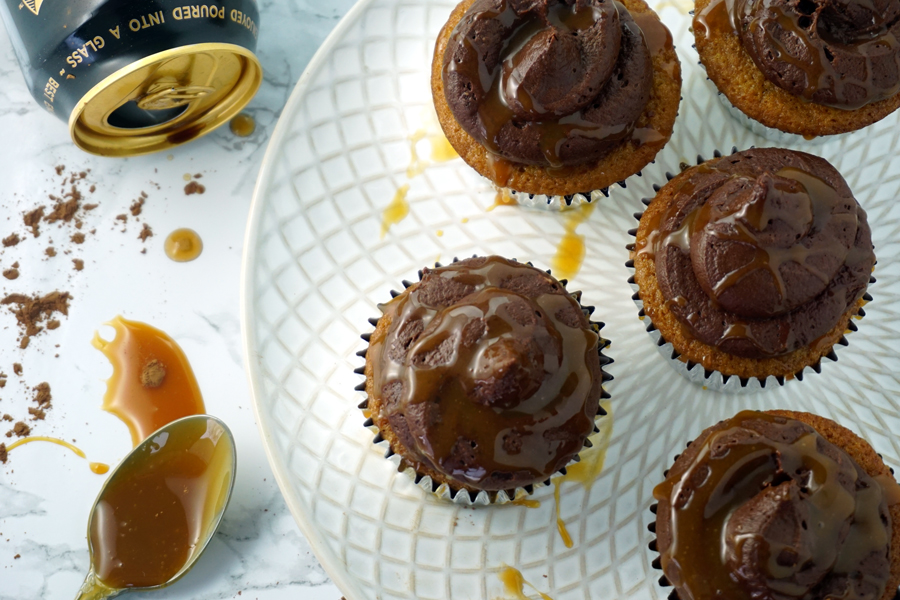 I debated for a long time if I wanted to do a chocolate-based cupcake with caramel frosting or the other way around. I've got to say, I'm so glad I went in the direction of a caramel-flavored cupcake with chocolate frosting for several reasons. The main reason being that I find chocolate cupcakes can easily get overpowered when you have an intensely sweet or full-flavor frosting. Since caramel frostings are typically on the sweeter side, I find that you often only taste the sugary caramel and the chocolate cupcake can get a little lost.
These cupcakes really give you the best of both worlds. The cupcakes have a subtle caramel flavor that comes from incorporating brown sugar and butter into the batter, rather than oil and granulated sugar like most traditional cupcake recipes. The caramel flavor gets further amplified through the addition of caramel-flavored baking chips and a little salted caramel filling made with Jameson Irish Whiskey.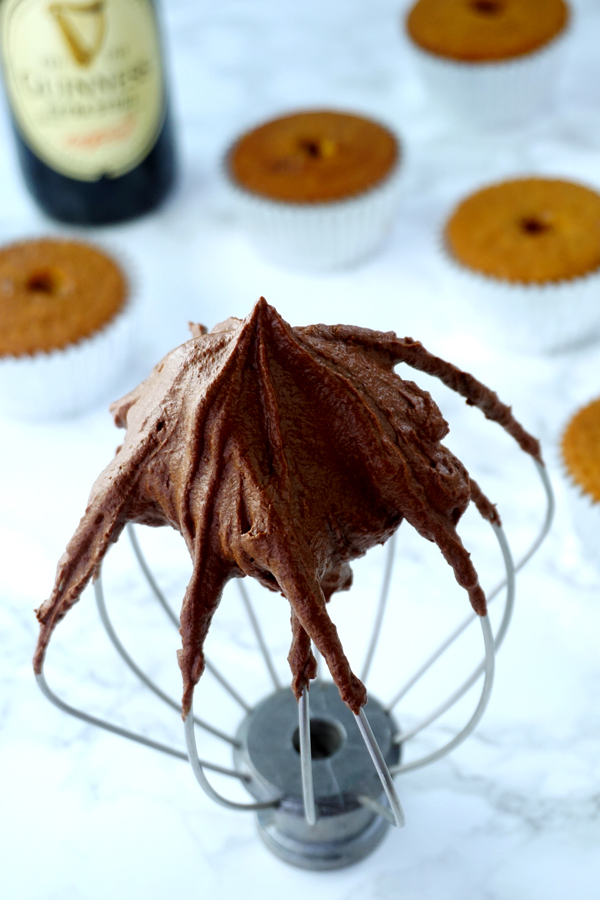 Then, the caramel flavor is paired and balanced with intense chocolate buttercream. For the buttercream, I opted to use cocoa powder exclusively rather than melted chocolate. I find that using cocoa powder exclusively yields a deeper, more intense chocolate flavor. Cocoa powder is after all the purest form of chocolate. Since it's primarily comprised of cocoa solids rather than cocoa butter it allows the chocolate flavor to really shine through since it doesn't have any of the extra fat, sugar, or milk dulling it down. This rich chocolate buttercream is made even better with the addition of Guinness Extra Stout and a shot of espresso (or extra strong coffee).
These cupcakes are moist, fluffy and decadent. I like to make them even more over-the-top by drizzling each with more whiskey caramel. Like I said, because the chocolate frosting is so intense, you really can't go overboard with too much caramel on these cupcakes.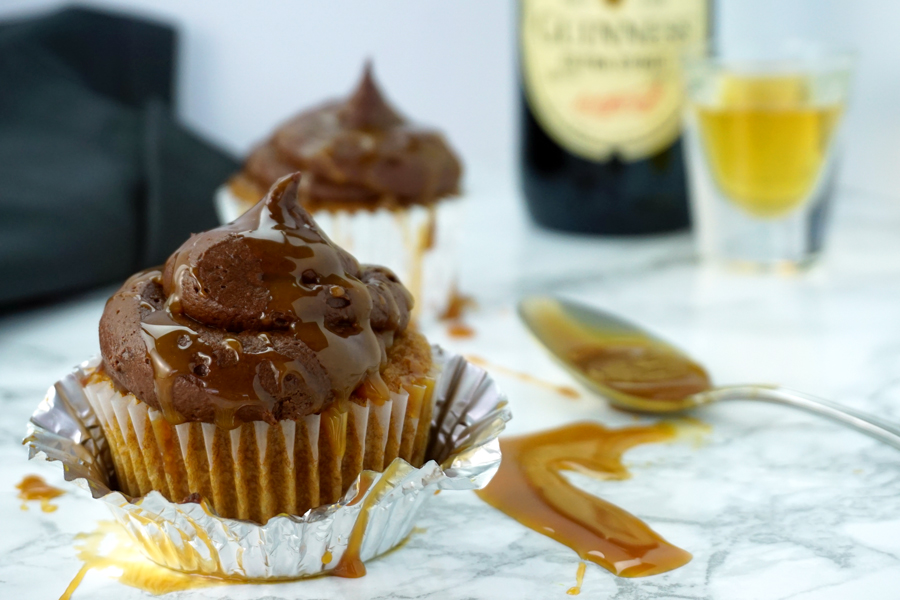 If you're worried about these being too boozy, don't worry. I don't think the whiskey or beer is too overpowering. There's just enough to let some of their flavors come through. Alternatively, if you prefer you're cupcakes booze-free or want to make these for younger mouths, you can, of course, leave the booze out altogether too. You'll just need to swap in a different liquid—additional milk would probably suffice.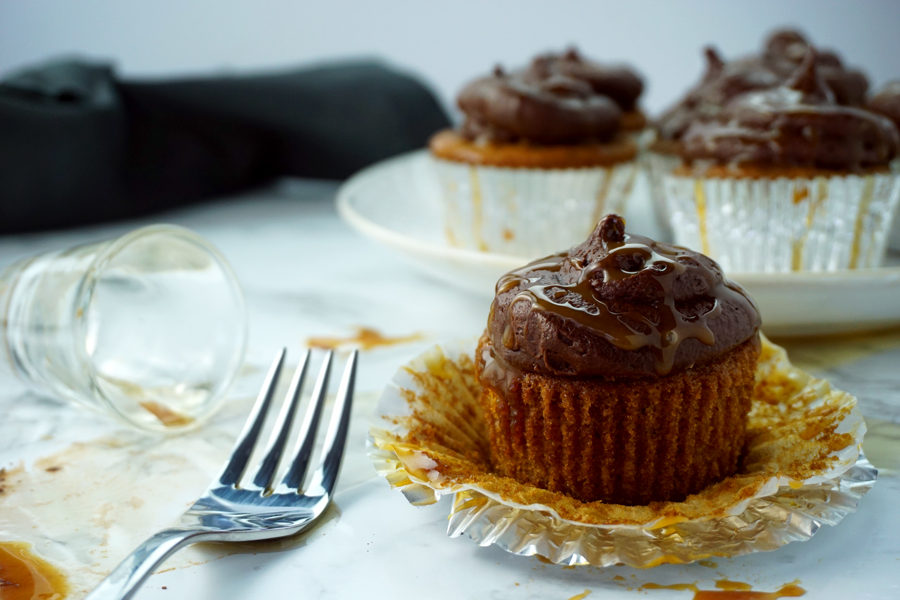 Whether you're planning to hit the parade scene this year with a green beer in hand or will be staying in the warm, clown-less safety of your own home with your friends and family, like me, I hope you all have a fun, tasty and safe St. Patrick's Day! Let me know if you've got something special planned in the comments below. Do you have any fun St. Patty's Day traditions?
Last, as always, if you try out these cupcakes, please give the recipe a rating and tag me on Instagram (@frydaeblog or #frydaeblog). Thanks for visiting!
Jameson Irish Whiskey Salted Caramel Cupcakes with Guinness Chocolate Espresso Buttercream
Jameson Irish Whiskey salted caramel cupcakes topped with decadent Guinness chocolate espresso buttercream and drizzled with whiskey salted caramel. Leprechaun-approved, these boozy cupcakes will be a hit at your St. Patty's day festivities.
Ingredients
Whiskey Salted Caramel Cupcakes
210

grams

dark brown sugar

,

about 1 cup

95

grams

granulated sugar

,

about 1/2 cup

113

grams

unsalted butter

,

about 1/2 cup

2

large

eggs

3/4

cup

buttermilk

2

teaspoons

vanilla extract

1

tablespoon

Jameson Irish Whiskey

250

grams

cake flour

,

about 2 cups

1

teaspoon

baking powder

1

teaspoon

baking soda

1/2

teaspoon

salt

1/2

cup

caramel baking chips
Chocolate Guinness Espresso Buttercream
10

tablespoons

unsalted butter

,

room temperature

1 1/4

cups

cocoa powder

4

cups

powdered sugar

1/4

cup

Guinness Extra Stout

1

ounce

brewed espresso

,

or strong coffee

1

teaspoon

vanilla extract

1/4

cup

milk
Whiskey Salted Caramel
3/4

cup

granulated sugar

1/2

cup

water

2 1/2

tablespoons

unsalted butter

1/3

cup

heavy whipping cream

1-2

tablespoons

Jameson Irish Whiskey

1/4

teaspoon

vanilla extract

1/8

teaspoon

salt
Method
Whiskey Salted Caramel Cupcakes
Preheat oven to 400 degrees.

Meanwhile, in a stand mixer, cream together sugars and butter, on medium, for 2-3 minutes. Once butter and sugars are fluffy, add eggs, one at a time, and blend until smooth on your mixer's lowest setting.

Next, add vanilla extract, whiskey, and buttermilk. Start by mixing on your mixer's lowest speed and then, as the batter starts to come together, turn up to medium and blend until smooth.

In a separate bowl, combine flour, baking powder, baking soda and salt. Then, gradually add to the wet ingredients on your mixer's lowest setting. Mix until all the dry ingredients have been incorporated and the batter is smooth. Take care to not overmix. The batter will look light, fluffy and mousse-like.

Next, fill each cup of a lined (or greased) muffin tin 1/2 full with batter. These cupcakes will rise quite a bit so you don't want to overfill the muffin cups. 

Before baking, sprinkle each muffin cup with a few caramel chips. I like to add them to the batter this way rather than folding them into the batter. It helps ensure the chips don't all just sink to the bottom of the cupcakes. Instead, the batter rises over them so they get encapsulated in the center of each cupcake.

Bake at 400 degrees for 5 minutes and then turn the oven down to 350 degrees for 10-12 minutes. I find that baking the cupcakes first for a few minutes at a higher temperature helps them achieve a better, more consistent rise.

Cupcakes are done baking when they're golden and a toothpick comes out clean when poked in the center. Remove promptly and let cool on a wire rack.
Chocolate Guinness Espresso Buttercream
In a stand mixer, add softened, room-temperature butter. Using the whisk attachment, beat on medium until butter is fluffy—about 5 minutes.

Next, slowly add the cocoa powder and powder sugar. Mix on low until well-incorporated. Then, add Guinness, espresso and vanilla. Mix on low until smooth. Finally, add the milk a few tablespoons at a time (up to 1/4 cup) until buttercream reaches desired consistency. I used the full 1/4 cup of milk, but if you want a heavier, thicker frosting add less.

Once the buttercream is completely mixed, transfer to a pastry bag and refrigerate until you're ready to decorate the cupcakes. I find this buttercream pipes better when it's a little cooler than room temperature. Therefore, letting it chill in the fridge for a few minutes while your cupcakes and caramel sauce cool is beneficial.
Whiskey Salted Caramel
In a saucepan over high heat, combine sugar and water. Bring to a boil and continue to stir frequently until the mixture darkens to a warm, amber color and registers at 345 degrees on a thermometer. Usually, this takes about 10-15 minutes. Once the right color and temperature have been reached, remove from heat and stir in butter, heavy cream, whiskey, vanilla, and a pinch of salt. Stir to combine and let cool completely. The caramel will thicken slightly as it cools.
Decorating & Assembly
Once cupcakes and caramel have completely cooled, hollow out the center of each cupcake. I typically just poke each with the end of a wooden spoon. Then, carefully spoon a little caramel sauce into the middle of each cupcake.

Then, with your preferred pastry tip, add a generous amount of buttercream to each cupcake and drizzle each with more whiskey salted caramel sauce.