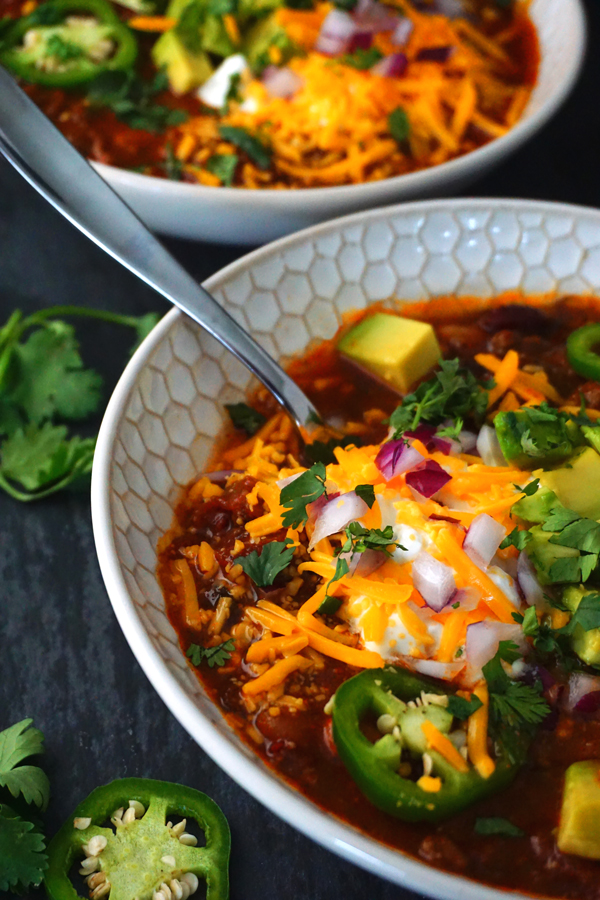 A mole-inspired chili made with tender short rib, roasted poblanos, chipotle chilis in adobo and chocolate. There's also a healthy splash of beer and coffee that adds extra depth and flavor. Garnish with sour cream, cheese, avocado and your other favorite chili fixings.
We have an inside joke in my house about chili. Growing up, my church would host soup suppers during Lent where members of the congregation would all bring in their favorite soups before worship and everyone could enjoy a bowl of hearty warm goodness before the service.
My mother always brought chili. One time, when I was probably 9 or 10, she decided to try transporting it in the crockpot directly rather than bringing it in separate Tupperware containers and transferring it to the crockpot once we arrived.
In theory, this should have worked, but we were living in the foothills of Colorado and let's just say an extra full crockpot of hot chili in a car going up and down the mountain hills was not a good combination.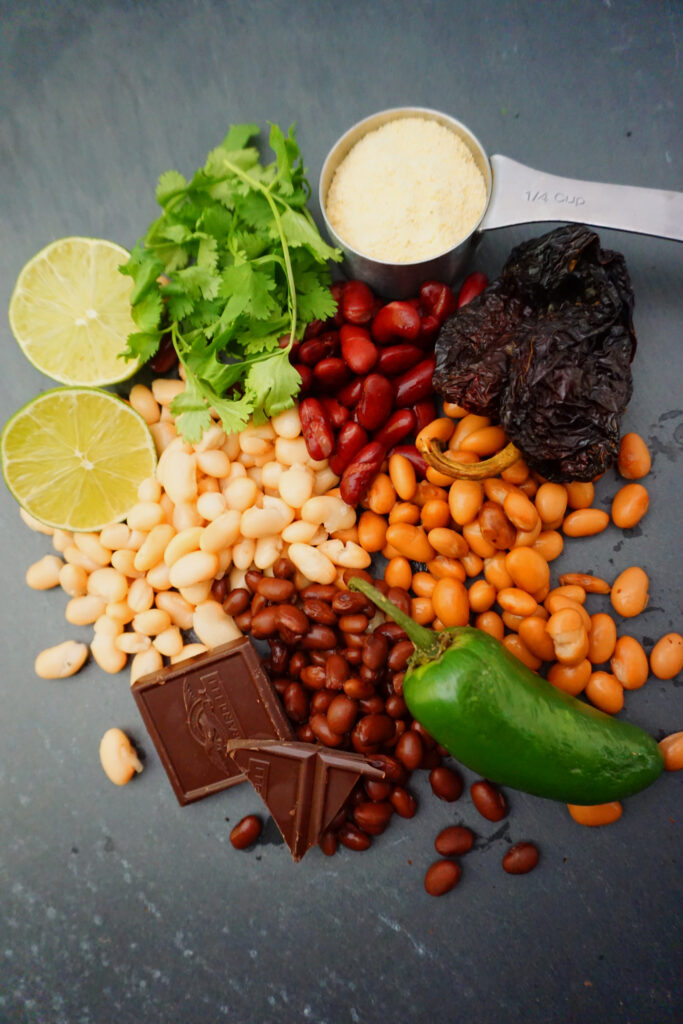 My mother rarely swears but we heard quite a few expletives on the ride to church that day as my father drove and my mom tried her best to balance the chili on the lap without spilling it everywhere. Good thing she was heading to church, right?! She did a few extra Hail Marys that night!
It probably didn't help that my sister and I were laughing hysterically in the back as we drove. As I said, my mother rarely swore so it was nuts to see her using that type of language so profusely. Since my sister and I were still young, my parents told us "those words" were bad and that "chili words" were not okay for us to repeat. So, to this day, our family still calls swear words "chili words" whenever we are together. My mother will never live that one down!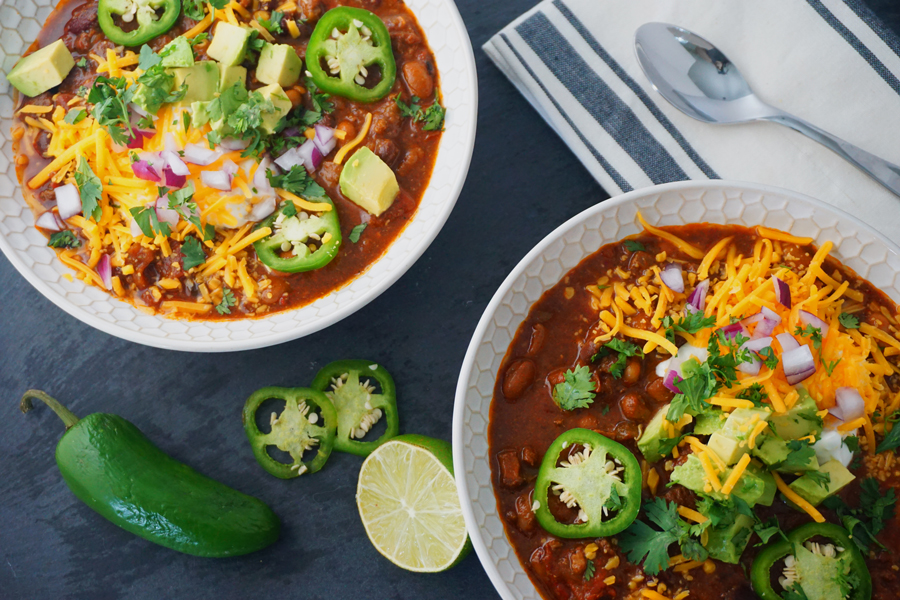 Let's Talk Chili!
Anyway, enough storytime. This recipe I've tweaked and played with over the last few years—more spice, less spice, sweeter, smokier…you get the idea. After trying my hand at scratch-made mole earlier this year, I thought the addition of chocolate and dried chilis would add some extra depth to the overall flavor. I used dried ancho chilis since those are usually the most readily available at most grocery stores but if you have a good Mexican grocery store in your area, don't be afraid to add others like pasilla or mulato.
When it comes to the fresh peppers, I also tend to change up what I use every time depending on the heat tolerance of the crowd I'm feeding. I'll typically swap in extra peppers or hotter peppers but the recipe below is for a relatively mild version using just jalapeños that will typically please even the faintest of heart. One thing I do the same every time, however, is the roasted poblanos. Popping them under the broiler for just a few minutes until the skin blisters is a step I've always found worth the extra work.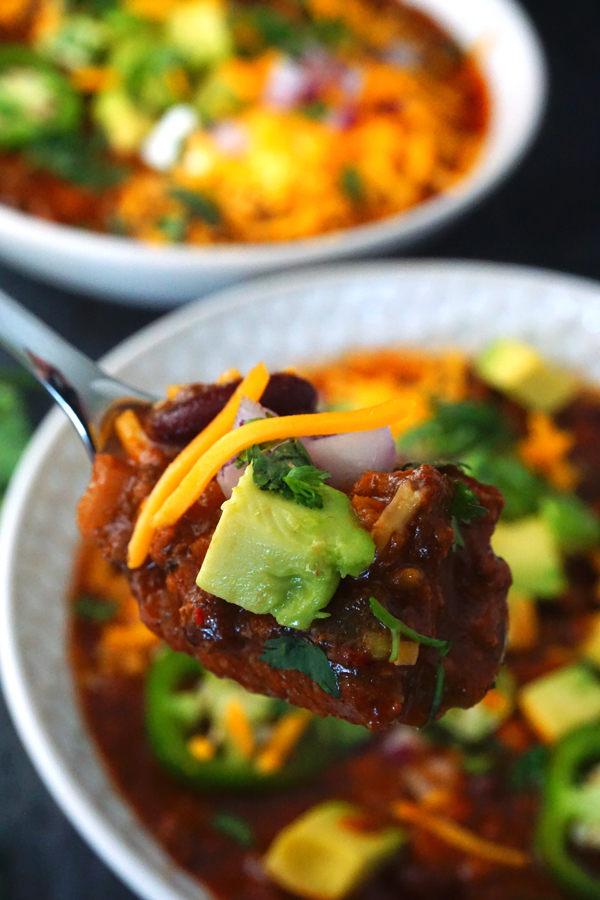 Then, of course, there's the alcohol (and caffeine). I've always enjoyed making stews with beer as a cooking liquid so it seemed like a natural addition to chili. In this recipe, I recommend using a nice dark beer that has chocolate and coffee notes in it, but really any beer will do nicely since you're going to add in a healthy shot (or two) of strong coffee too.
My mom's famous "chili words" chili was more traditional with ground beef, but this one also includes chunks of tender short rib too. I also like to put a lot of different beans in my chili to add color and texture, so this chili has four, yes you heard me right, four kinds of beans in it. I like to serve it with all the fixings including oyster crackers, avocado, cilantro, sour cream, cheddar cheese, queso fresco, and my favorite Marbled Jalapeño Cheddar Cornbread.
Oh, and if you grew up eating chili in the Midwest as my husband did, you'll know they like their chili with noodles in it too. So I typically serve this with some al dente small shell or ditalini pasta.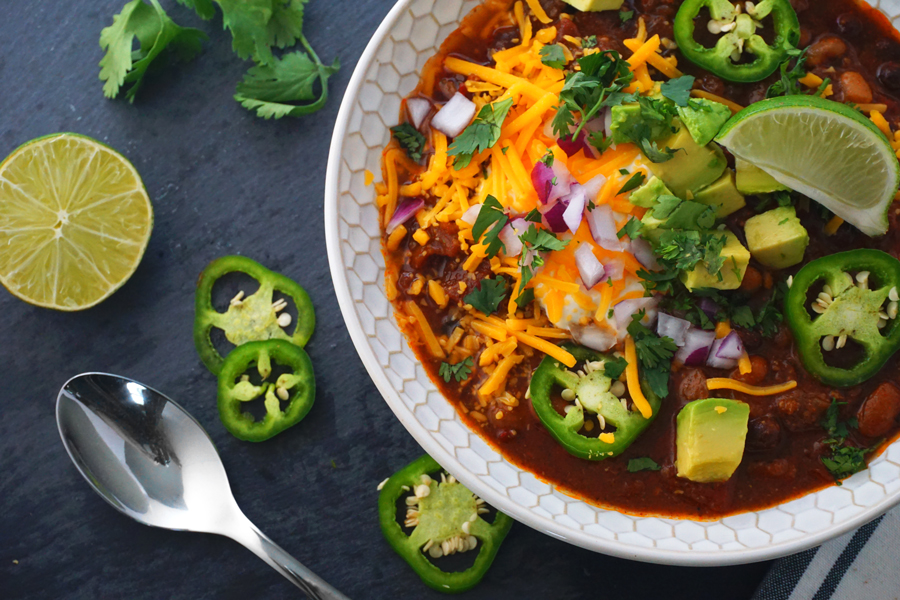 This chili is extra AF and it's my absolute favorite to eat any time of the year. Plus, it always makes me think of my mom, her very sporadic foul language and…Jesus??? I doubt it will have the same effect on you, but damn (sorry for the chili words) is it tasty.
If you try out this recipe, please rate it and leave a comment below. Also, don't forget to take a picture and tag me on Instagram (@frydaeblog or #frydaeblog) if you try out this recipe. I love seeing my recipes come to life in other people's kitchens!

Mole-Inspired Drunken Short Rib Chili
A mole-inspired chili made with tender short rib, roasted poblanos, chipotle chilis in adobo and chocolate. There's also a healthy splash of beer and coffee that adds extra depth and flavor.
Ingredients
3

slices

thick-cut bacon

,

diced

1.5

pounds

ground beef

1.5

pounds

beef short ribs

,

boneless

1

onion

,

diced

4

cloves

garlic

,

minced

3

poblano peppers

,

roasted, then diced

2

chipotle chilis in adobo

,

diced

1-2

jalapeños

,

diced

5

tablespoons

chili powder

1

tablespoon

cumin

2

teaspoons

oregano

1

teaspoon

salt

1

teaspoon

black pepper

1/4

teaspoon

cinnamon

14.5

ounces

canned fire-roasted tomatoes

,

low sodium

1

cup

canned pinto beans

,

no salt added, drained and rinsed

1

cup

canned black beans

,

no salt added, drained and rinsed

1

cup

canned kidney beans

,

no salt added, drained and rinsed

1

cup

canned great northern beans

,

no salt added, drained and rinsed

12

ounces

beer of choice

4

cups

beef stock

,

low-sodium

8

ounces

strong-brewed coffee

2

ounces

dark chocolate
Garnishes & Toppings
cheddar cheese

,

shredded

queso fresco

,

crumbled

sour cream

avocado

,

diced

cilantro

fresh jalapeño

,

diced

red onion

,

diced

lime wedges

macaroni noodles

,

cooked and drained

tortilla chips

oyster crackers
Method
Roast the Poblanos
Note, that this step is optional, but I think totally worth it. If you want to skip roasting, simply dice the poblanos and add them to the chili when you saute the onions.


First, preheat your broiler, with your oven rack in the top position. While your broiler is preheating, fill a large mixing bowl with ice water and set aside.

Once the broiler is preheated, place the whole poblano peppers directly on the rack and broil for 5-8 minutes turning as the skin starts to blister and turn black.

When peppers are well charred, remove and place immediately into the ice water. The cold water will help pull the blistered skin away from the flesh of the pepper making them easier to peel.

Let the peppers soak for 5 minutes and then begin to peel away the skin. If part of the skin doesn't peel away, no worries, they can stay. Just try to get them as clean as possible.

Once peeled, seed and dice the poblanos and set aside.
Make the Chili
Heat a large stockpot over medium heat. Add diced bacon to the pot and cook for 5-6 minutes until crispy. Remove from pan and let drain on paper towel.

Next, dice the short ribs into bite-sized pieces and add to the stock pot along with the ground beef. Cook until brown. Now, add the diced onion, jalapeños and garlic and saute until the onions begin to turn translucent and the jalapeños soften. Add the reserved bacon, roasted poblanos and diced chipotle chiles in adobo. Stir to combine.

Next, add chili powder, oregano, cumin, salt, pepper and cinnamon and cook until fragrant—less than 1 minute.

Next, add the canned fire-roasted tomatoes and canned beans to the pot. Stir to combine.

Pour beer into the pot, stirring to deglaze the bottom and scrape up all those yummy charred bits. Add beef stock and coffee and then bring the chili to a boil. Reduce the heat and then let the chili simmer. Partially cover and cook until the short rib is nice and tender—about 2 hours but you can also just let this simmer all day on low too and really let the flavors come together. If the chili starts to get too thick, you can add a little extra beef stock to the pot.

Just before serving, add the chocolate and stir to combine. 

Ladle into bowls and serve with your favorite toppings. If you're in the Midwest (or is it just a Wisconsin thing?) you know that people up here have strong feelings about adding noodles to their chili. Any small shape pasta like macaroni, ditalini or shells works great.

Enjoy!