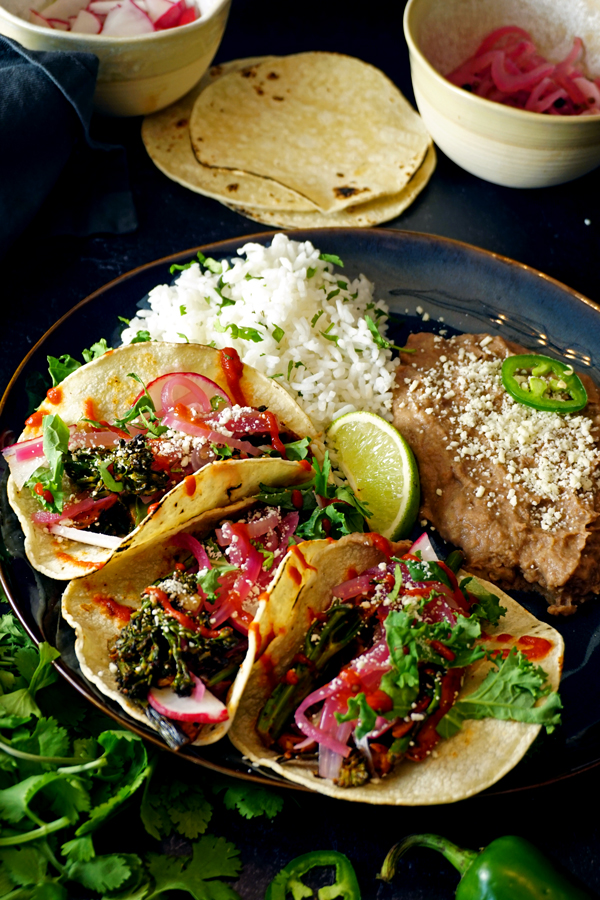 These spicy charred vegetable tacos are loaded with tender broccolini and colorful veggies that add both crunch and flavor to these healthy tacos. Balanced by acidic homemade pickled onions, spicy sriracha sauce and salty cotija cheese, these tacos will become a fast favorite among vegetarians and meat-eaters alike.
In my opinion, vegetarian tacos don't get enough love. While tacos al pastor, carnitas and ground beef will always have a special place in my heart, I can never say no to a trio of vegetable tacos with rice and beans when I see them on a menu or in a cookbook.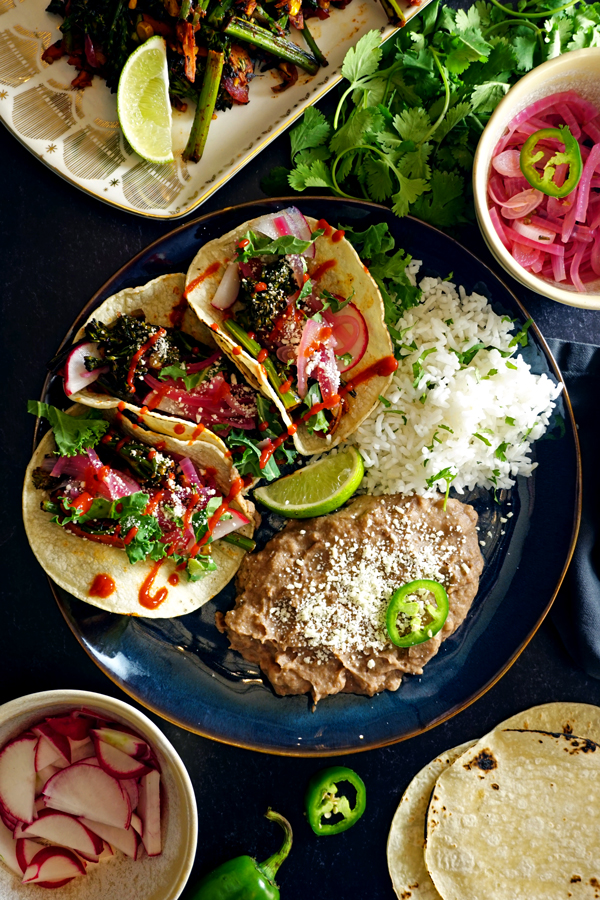 Today I'm sharing a new favorite that came about by accident. I had planned on making these as portobello mushroom tacos (which you could still totally do btw). Unfortunately, when I grabbed my mushrooms out of the fridge I sadly found that they had gotten mushy and rotten in the two days they had been in there. Who else hates when that happens?!
Luckily, I had a bunch of Broccolini on hand and remembered I once had these amazing roasted broccoli-based vegetable tacos once at a restaurant that were absolutely delicious. So plans changed and this recipe was born.
What is the Difference Between Broccolini and Broccoli?
If you're unfamiliar with Broccolini, it's a hybrid vegetable that crosses traditional broccoli with Chinese broccoli. It results in a vegetable with longer stems, smaller florets and edible tender leaves. In terms of taste, Broccolini tends to be sweeter and the stems tend to have an asparagus-like texture. Broccolini is great roasted, grilled or sautéed and is often paired with garlic, lemon, chili flakes and hard, aged cheeses like Parmesan.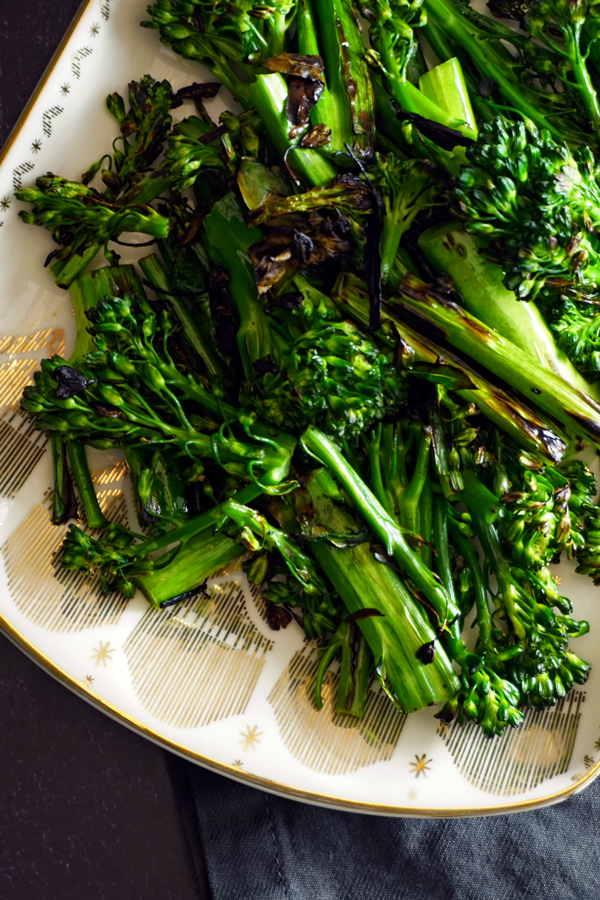 How to Char Vegetables on a Stovetop
There are a few tricks to getting a perfect pan-seared char on vegetables when preparing them on the stovetop.
Remove Excess Water
Excess water will kill all hope of getting a nice blackened sear on the veggies. It will cause the veggies to simply steam rather than sear. After washing, make sure you gently squeeze and pat all the veggies completely dry with paper towels.
Get Your Pan Hot
Make sure you preheat your skillet or wok well before adding your vegetables. Medium-high to high is is key for getting the skin to blister and blacken quickly. If you have a cast iron pan available, use it. I find they work best for searing veggies on the stovetop.
Use the Right Oil
Olive oil, canola oil, peanut oil or avocado oil all have high smoke points which make them great for searing vegetables on the stovetop. For searing you only want to use 1-2 tablespoons of olive oil. Remember, we are searing, not frying the vegetables.
Don't Overcrowd the Pan
Use the largest skillet or wok you have when searing vegetables to get a nice char on all of them. Or work in small batches if you only have a small skillet at your disposal. Overcrowding your skillet will cause the veggies to steam, rather than sear. So you won't get that gorgeous char on the skin of your veggies that adds both flavor and color to a dish.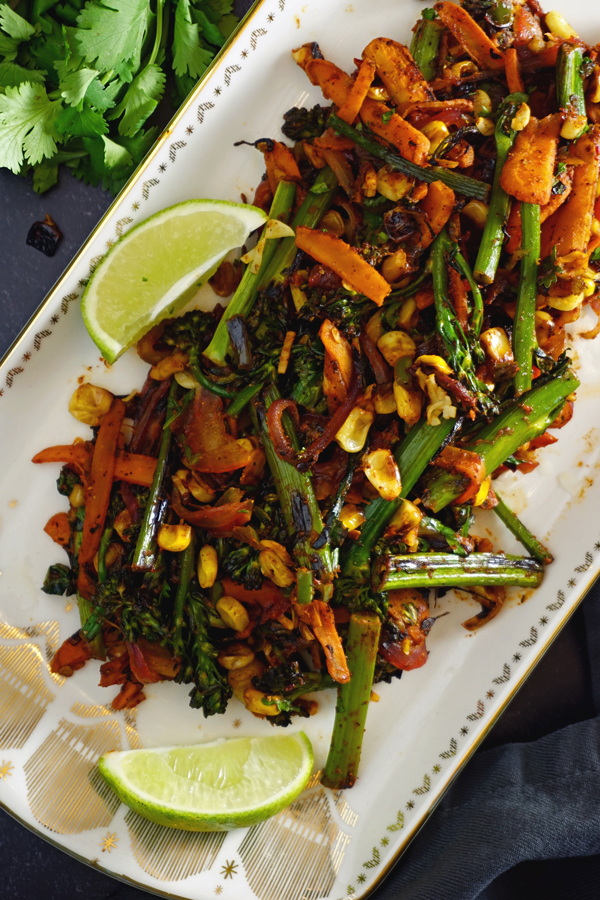 What Other Veggies Could I Add?
Feel free to add other vegetables you have on hand to this recipe. Red pepper or portobello mushrooms work great with the other vegetables in the recipe. This vegan queso might also be delicious on these tacos too.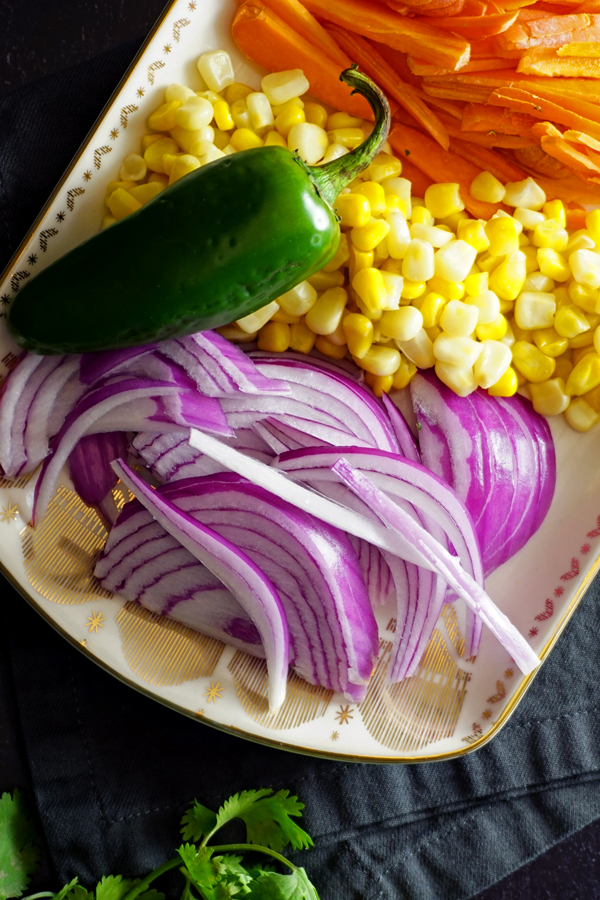 Can I Add Protein to These Vegetable Tacos?
One thing these tacos lack is a solid protein source. Since I typically serve tacos alongside a big pot of black beans and rice, I felt the tacos themselves didn't necessarily need a strong protein source. However, if you're looking to increase your protein intake, here are a few options to consider.
Tofu
Some crispy pan-fried firm tofu would be delicious in these tacos. Season with the same combination of spices and tomato paste used for the vegetables and fry up in a separate pan with a little olive oil. The trick to getting crispy tofu is removing as much water as possible from the block of tofu.
Beans
I tend to like my beans on the side but you could totally add some black beans or pinto beans to the taco filling for extra protein. Vegetarian refried beans would also be great since their creaminess would contrast well with the crispy charred veggies.
Quinoa
Add a tablespoon or two of cooked protein-packed quinoa to each taco. Or you could use large, burrito-size tortillas and turn these tacos into hefty vegetarian burritos.
Grilled Steak
If you really want to add meat to these vegetable tacos, some thinly-sliced, grilled flank steak, cooked medium-rare, would pair best with these tacos. Marinade it in a little garlic, cilantro, lime juice and chili powder before grilling for and extra burst of flavor.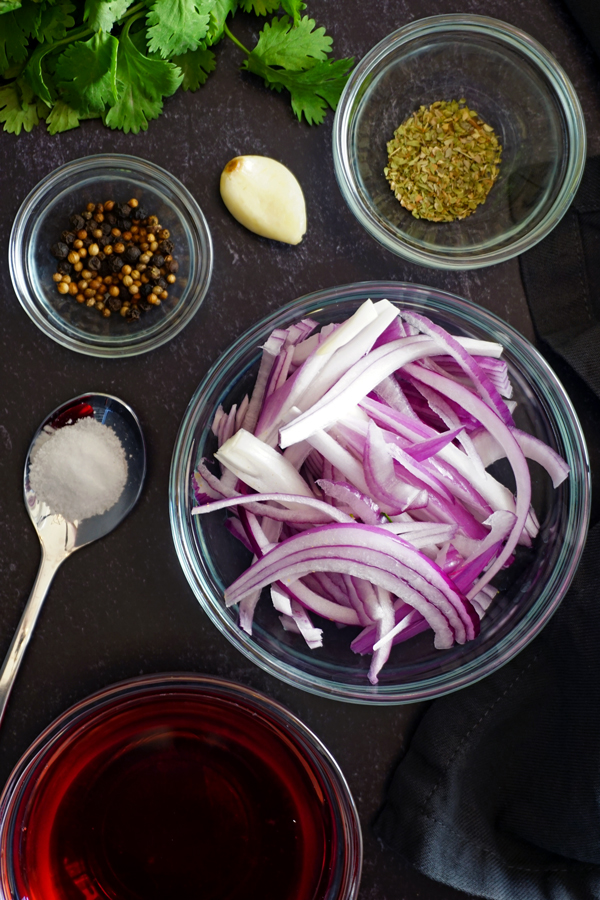 How to Pickle Onions
One ingredient you don't want to skip for these vegetable tacos is the pickled onions. They add such a nice acidic bite and tang to these tacos that help cut through the slight bitterness of the charred Broccolini and other vegetables. If you've never pickled onions before, don't worry it's super simple and uses basic pantry staples you likely have on hand.
Instructions & Tips for Pickling Onions at Home
Start by combining the water, vinegar and spices together in a saucepan. Add the thinly sliced red onions and then bring the mixture to a boil. Let the onions cook until they begin to soften and then carefully transfer to a heat-safe container or bowl.
You can prepare the onions the night before if you think about it to give them ample time to develop their flavor and chill, but if you forget until the last minute that's fine too. Just make sure the onions are the first thing you prepare. Once they're in a heat-safe bowl, pop them in the freezer instead of the fridge and let them chill while you prepare the rest of the recipe. 20 minutes is usually enough time to let the pickling brine to work it's magic in the onions.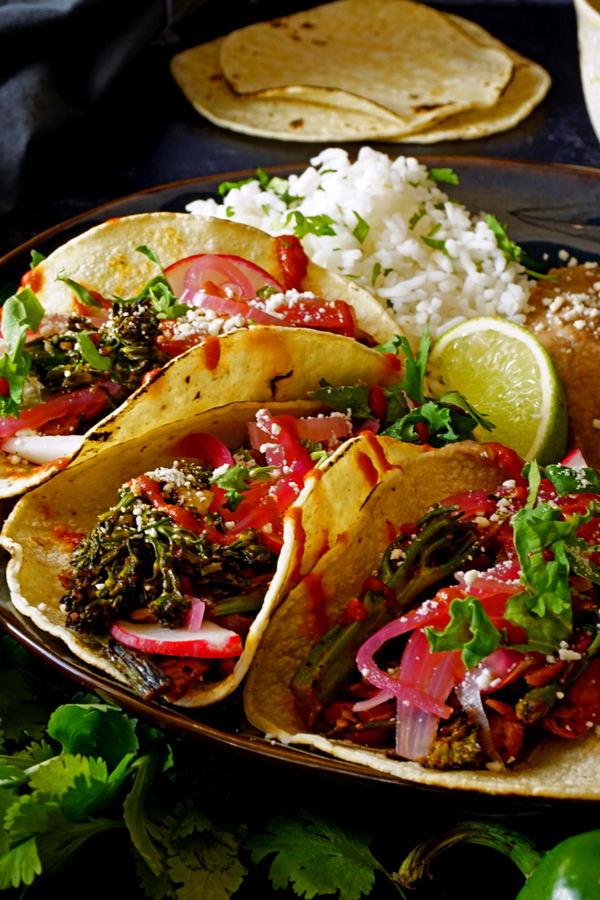 My favorite part of this recipe is how colorful and flavorful every bite is. The contrasting textures and flavors work together to create a mouthwatering and delicious eating experience. Plus each taco comes in right around 250 calories so you can definitely indulge and enjoy a guilt-free margarita with this recipe too.
If you try these charred vegetable tacos, let me know your thoughts in the comments below and leave the recipe a rating. Snap a photo of you and your friends and family enjoying these on your next taco Tuesday (or Cinco de Mayo) dinner and tag me on social media too! It's @frydaeblog and #frydaeblog absolutely everywhere. I love to see my recipes come to life in your kitchen. Thanks so much for stopping by and I hope you enjoy! Happy Frydae!
Looking for more tasty tacos to serve for Cinco de Mayo or your next Taco Tuesday? Try these Honey Chipotle Pork Tacos with Pineapple-Jicama Salsa too!
Spicy Charred Vegetable Tacos
These colorful vegetarian tacos are loaded with smoky charred vegetables like broccolini, corn, carrots and jalapeno peppers. Seasoned with a blend of bold spices, the charred vegetables are then wrapped in your favorite tortillas and topped with pickled red onion, radish, cotija cheese and Sriracha sauce.
Ingredients
2

cups

fresh broccolini or broccoli

,

chopped into 1-inch pieces

3/4

cup

fresh corn kernels

,

or thawed frozen corn that has been well drained

1

cup

fresh carrots

,

shredded or thinly sliced

1

cup

red onion

,

thinly sliced

1-2

whole

jalapeno peppers

,

diced

3

cloves

garlic

,

minced

3

tablespoons

tomato paste

1-2

chipotle peppers in adobo

,

diced

1

teaspoon

dried Mexican oregano

1/2

teaspoon

ground cumin

1/2

teaspoon

ground coriander

1

teaspoon

chili powder

1/2

teaspoon

salt

1/4

teaspoon

black pepper

1

whole

lime

,

juiced

1

tablespoon

fresh cilantro

,

chopped

1

tablespoon

fresh basil

,

chopped

2

tablespoons

olive oil
Pickled Red Onions
1

cup

red onion

,

thinly sliced

1-1/2

cups

red wine vinegar

1-1/2

cups

water

1/2

teaspoon

dried Mexican oregano

1

teaspoon

salt

1/2

teaspoon

whole black peppercorns

1/2

teaspoon

whole coriander seeds

1

clove

garlic
Additional Toppings
12

corn or flour tortillas

,

taco-size

1/2

cup

radishes

,

thinly sliced

1

cup

grated cotija cheese (optional)

,

monterey jack, chihuahua, queso fresco, parmesan or grilled halloumi cheese are also great options if you want to add cheese to these tacos.

1/4

cup

Sriracha sauce

1

cup

kale or spinach

,

shredded

1/4

cup

fresh cilantro

,

chopped
Method
Prepare the Pickled Onions
In a small saucepan, over medium heat, add all of the ingredients for the pickled onions. Bring the mixture to a boil and then cook for 3 to 4 minutes until the onions begin to soften. Remove the saucepan from the heat and transfer the onions and cooking liquid to a heat-safe bowl. Place the bowl in the freezer to chill the onions quickly while you prepare the rest of the recipe. After serving with the tacos, keep leftover pickled onions covered in the fridge for up to 1 week.
Char the Vegetables
In a large wok or frying pan, over medium-high heat, warm 2 tablespoons of olive oil till it begins to shimmer and smoke slightly. Add the broccolini and toss it in the hot oil until it begins to soften and char; about 4 minutes. Remove and set aside. Next, add the carrots and red onions, fresh corn, jalapenos and garlic to the hot skillet. Saute until the vegetables all start to blister and char; about 5 minutes.

Return the charred broccolini to the skillet with the other vegetables add the tomato paste and diced chipotle peppers in adobo. Stir to coat the vegetables in the tomato paste evenly and then add the dried herbs and spices. Continue to cook the vegetables for 1-2 minutes and then add the juice of one lime and fresh cilantro and basil. Remove from heat.
Assemble the Tacos
Remove the pickled onions from the freezer. In a warm flour or corn tortilla, layer a few tablespoons of the charred vegetables with a tablespoon of the pickled red onions, a few sliced radishes, and grated cotija cheese. Top with Sriracha, chopped kale and fresh cilantro and serve on a plate with rice and beans.
Nutrition
Calories:
198
kcal
|
Carbohydrates:
27
g
|
Protein:
7
g
|
Fat:
7
g
|
Saturated Fat:
3
g
|
Cholesterol:
11
mg
|
Sodium:
846
mg
|
Potassium:
249
mg
|
Fiber:
3
g
|
Sugar:
6
g
|
Vitamin A:
3319
IU
|
Vitamin C:
52
mg
|
Calcium:
147
mg
|
Iron:
2
mg