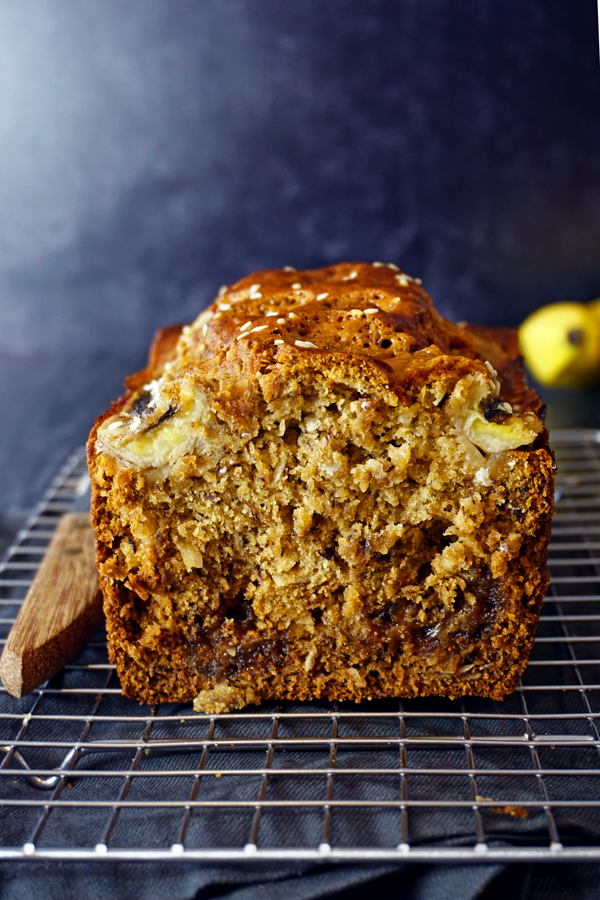 Everyone needs a go-to banana bread recipe in their arsenal when their bananas become just a tad too ripe for eating. This recipe takes classic banana bread to a whole new level with the addition of coconut, gooey caramel and nutty tahini.
I hope you're all hanging in there. Staying home, staying healthy and staying sane while the world anxiously waits to gain control over COVID-19. I'm personally going into week 3 of being home in self-isolation with my toddler. My husband just started staying home this week so it's been an adjustment for us to both take turns working while we entertain our rambunctious two-year-old. She's been a trooper so far and I can't for the day to come when we can all go to the zoo or out to dinner again as a family. Until that day comes though, I'll be here for you with lots of yummy recipes. This week? Frydae is all about moist, flavorful coconut-caramel banana bread with tahini.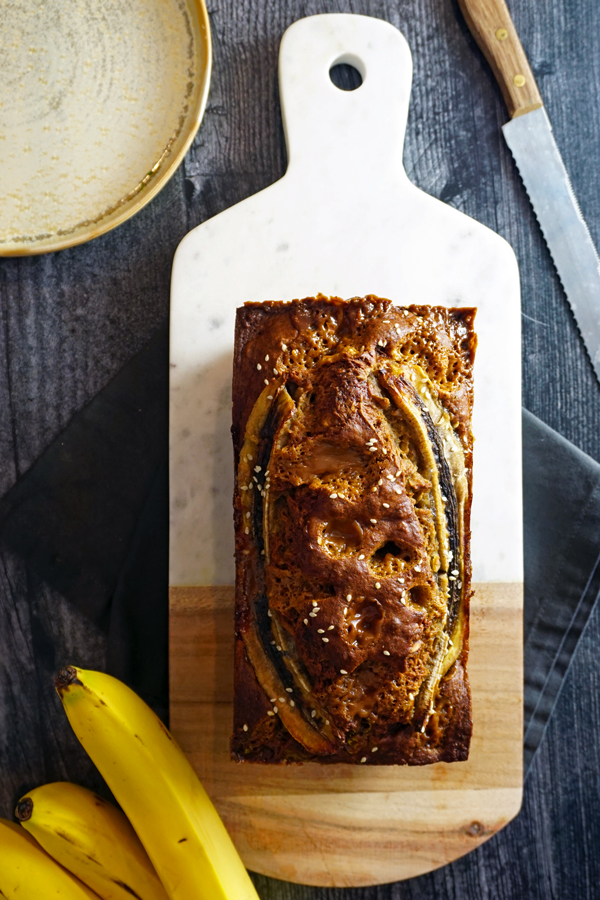 Times like these really call for soul-comforting recipes the whole family will enjoy. The fact that flour is flying off the shelves like crazy is indicative of everyone's mood to get in the kitchen and bake (or just be selfish hoarders). While I love classic banana bread, I also love to doctor up mine with lots of yummy additions. This version, for example, has coconut, soft caramel candies and tahini in the batter which adds great texture, moisture and flavor to the bread. It's so delicious and, frankly, it's the recipe everyone in the world needs right now.
How to Make Coconut-Caramel Banana Bread
This banana bread recipe couldn't be easier to make. To begin, combine the brown sugar with all of the wet ingredients in a large bowl or stand mixer. Blend until smooth and well-combined and then add the flour, baking soda and salt. Fold the dry ingredients into the wet ingredients until just barely combined and then gently fold in the shredded coconut.
To assemble the loaf, scoop about 1/3 of the batter into a greased 9×5-inch loaf pan. Then sprinkle with a layer of chopped caramel candies. Add another 1/3 of batter and then repeat with more caramels and batter. Top with the last few pieces of caramel and then it's time to get this beautiful loaf in the oven.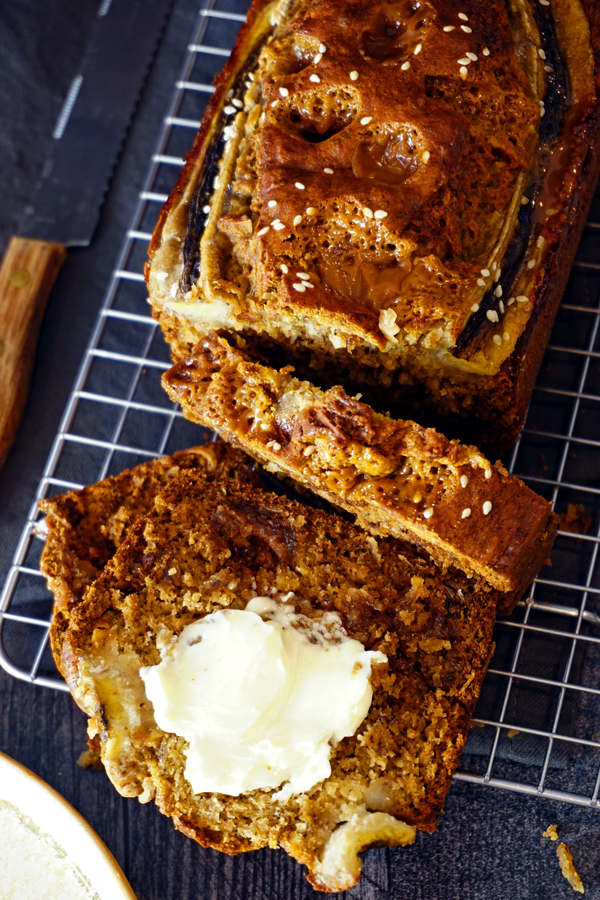 Bake the bread in a 350-degree oven for about 1 hour. I find that this bread browns fairly quickly so I typically tent it loosely with foil after 30-35 minutes so the top doesn't get too brown. When the bread is golden, remove it from the oven and let it cool. I typically let my banana bread cool for 5-8 minutes in the loaf pan before carefully removing it and transferring it to a wire rack to finish cooling.
The bread will keep baking as it cools so try your best to not cut into it right away. It's going to smell and look delicious but it will be worth the wait to let it cool.
A Few Notes on Ingredient Substitutions
Tahini
If you don't like tahini, or can't find it, feel free to sway it for another nut butter. Just make sure that it's a natural nut butter and not highly processed (e.g. Skippy) to maintain the same results in terms of texture.
Coconut
If you want a more mild coconut flavor, you can omit the coconut extract and just use vanilla extract in its place. I know some people who don't mind the texture of coconut but don't love the flavor if it comes through too strongly.
Caramel
Not a caramel fan? Sorry, we can't be friends (just kidding). You can omit the caramels all together or you can replace them with chocolate chunks or chopped walnuts. Both would be delicious!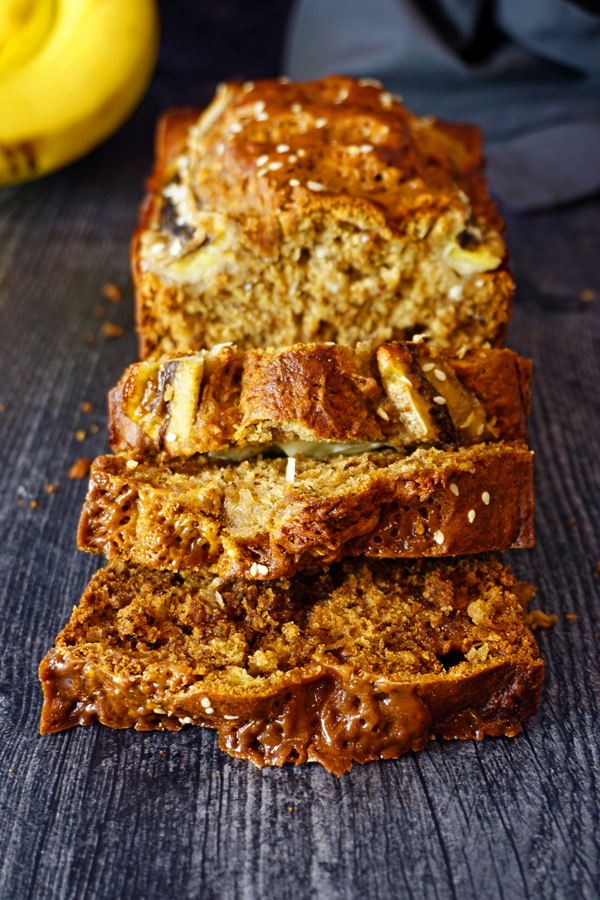 A Few Tips for Perfecting this Recipe
Tip One: Don't Overmix
Banana bread gets tough and dense when it's overmixed. Once the flour is added, try your best to mix the batter as little as possible so you don't overdevelop the gluten. For best results mix until the dry ingredients are moistened and smooth, but no more. This should take 10-15 seconds max.
Tip Two: Layer the Caramels
Rather than mixing the caramels into the batter, I found that layering them with the batter in the loaf pan yields the best results. I also try to make sure none of the caramels are exposed to the edges of the loaf pan and that they're completely encased in the batter. This prevents caramel from seeping out and burning on the outside of the loaf as it bakes. Plus I feel you get the evenest distribution of caramely goodness!
Tip Three: Use an Instant-Read Thermometer
It's a sad day when you finally get to slice into your banana bread only to find that it's underbaked in the middle. As the bread nears completion, I'll stick an instant-read thermometer into the center to check the temperature. For banana bread, 200-205 degrees is the sweet spot to ensure your loaf is cooked through in the center and not overbaked. Overbaked banana bread is dry banana bread and nobody want's that!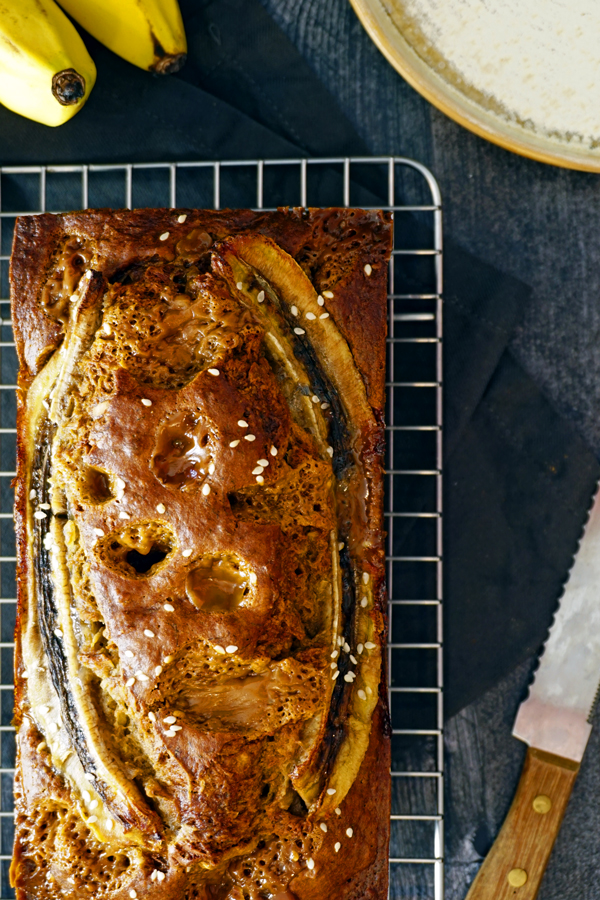 I hope this banana bread recipe brings you and your families a little joy and comfort over the next few weeks while we all do our best to practice safe social distancing. If you make this recipe, be sure to tag me on social media. It's @frydaeblog and #frydaeblog absolutely everywhere. Also, leave it a rating and let me know your thoughts below in the comments. Be safe. Be well. and Be compassionate. We're all in this together and will come out of this together!
Looking for more great recipes to help pass the time at home? Try these Mocha Hazelnut Latte Biscottis or this Bavarian Stuffed Pretzel Wreath next.
Coconut Caramel Tahini Banana Bread
Everyone needs a go-to banana bread recipe in their arsenal when their bananas become just a tad too ripe for eating. This recipe takes classic banana bread to a whole new level with the addition of coconut, gooey caramel and nutty tahini.
Ingredients
3

peeled

ripe bananas

,

mashed

3

tablespoons

smooth tahini

1/3

cup

coconut oil

,

melted

1/2

cup

dark brown sugar

,

packed

1

large

egg

1

teaspoon

vanilla extract

1

teaspoon

coconut extract

1 1/2

cups

all-purpose flour

,

180 grams

1

teaspoon

salt

1 1/2

teaspoons

baking soda

1/2

cup

shredded sweetened coconut

3/4

cup

soft caramel candies

,

chopped
Method
Preheat oven to 350 degrees and grease a 9×5 loaf pan. 

In the bowl of a stand mixer, combine the mashed bananas, tahini, coconut oil, brown sugar, eggs, vanilla and coconut extract. Mix until well-combined.

Next, add the flour, salt and baking soda. Mix on low until just combined. Take care to not over mix. Gently fold in the coconut.

Gradually add the batter into the prepared loaf pan. After a few scoops add a layer of caramel pieces, then more batter. Repeat until all the caramel pieces and batter are used.

Bake for 60 minutes, or until the center has risen to an even dome, the loaf is golden brown and a toothpick inserted into the center comes out clean.

Tip: This loaf browns quickly due to the high sugar content. Therefore, you may way to tent the loaf loosely with foil after the first 30-35 minutes. 

Remove the loaf from the oven and let cool for 5-8 minutes. Then, remove the loaf from the pan and allow to cool completely on a wire rack before slicing.

To store, wrap the loaf tightly in plastic wrap and store at room temperature for 3-4 days.
Nutrition
Calories:
257
kcal
|
Carbohydrates:
34
g
|
Protein:
4
g
|
Fat:
12
g
|
Saturated Fat:
8
g
|
Cholesterol:
19
mg
|
Sodium:
379
mg
|
Potassium:
105
mg
|
Fiber:
1
g
|
Sugar:
19
g
|
Vitamin A:
32
IU
|
Vitamin C:
1
mg
|
Calcium:
39
mg
|
Iron:
1
mg