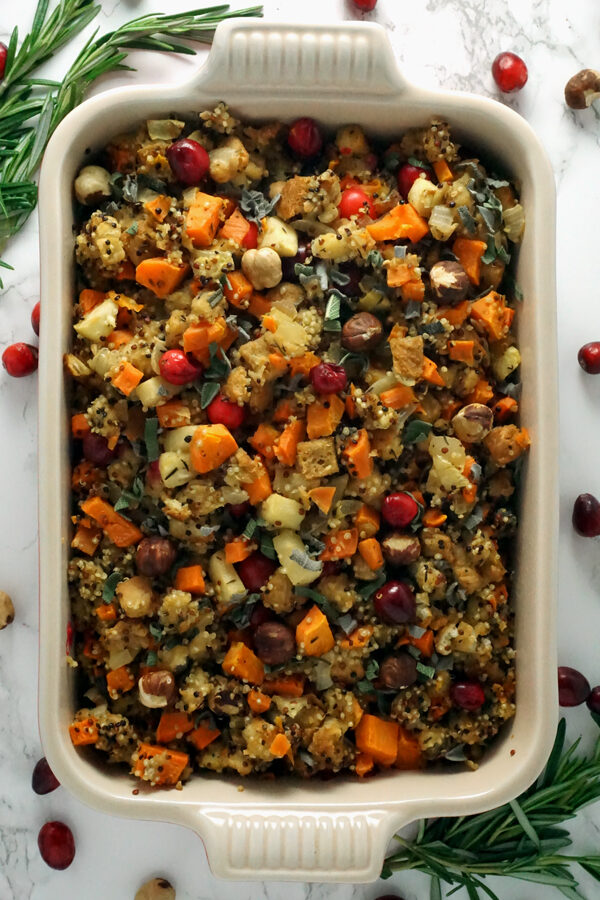 This savory stuffing will redefine what you think about Thanksgiving stuffing. Made with tri-colored quinoa, sweet potatoes, apples, roasted hazelnuts and fresh cranberries this side dish will become a new family favorite for the holidays.
Happy Thanksgiving (almost)! You might be surprised to learn that I didn't grow up having a traditional Thanksgiving dinner with all of the fixings. Since we lived away from most of our immediate family and rarely traveled for the holidays it was usually just four of us for Thanksgiving dinner and so my mom didn't really see the point in making a big turkey, four kinds of potatoes, stuffing, green bean casserole and everything else that goes along with it. We would roast a chicken once in a while but our family would actually eat lasagna more often than not on Thanksgiving.
Most people I tell this to consider it sacrilegious but I just tell them that we really don't know what the pilgrims ate on the first Thanksgiving…it could have been lasagna…or tacos…or popcorn and toast like they ate on the Charlie Brown Thanksgiving special. We just don't know. It will forever be a mystery!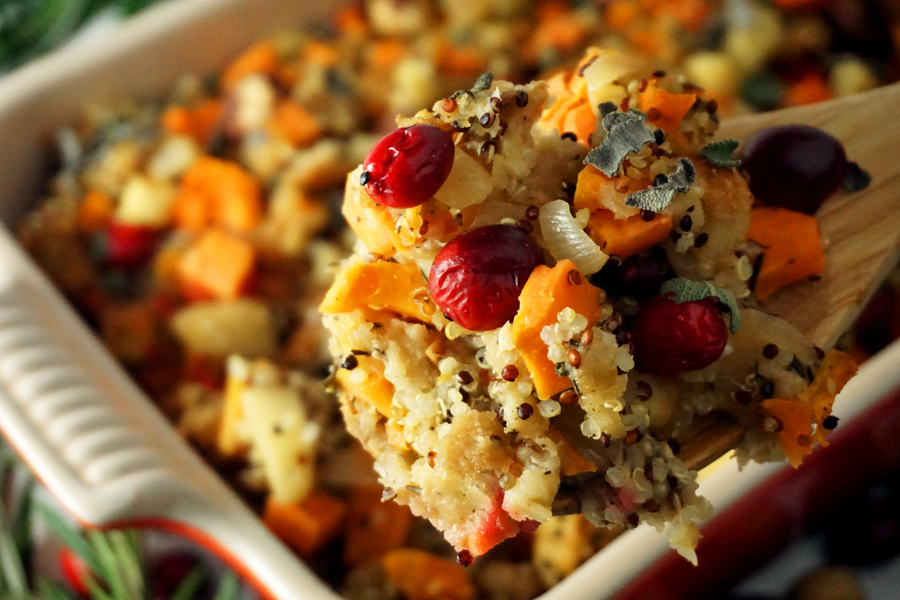 *Update* It's apparently not a mystery. According to smithsonianmag.com, "if one were to create a historically accurate feast, consisting of only those foods that historians are certain were served at the so-called "first Thanksgiving," there would be slimmer pickings. "Wildfowl was there. Corn, in grain form for bread or for porridge, was there. Venison was there…these are absolutes."
So, I'm wrong, there were likely wild turkeys of some sort at the first Thanksgiving but that's not what's important. What's important is this stuffing I'm sharing with you today. I think it is safe to say that this particular recipe was not at the first Thanksgiving. Hopefully, after reading this recipe though, it will be at your next Thanksgiving and every Thanksgiving in the future for years to come!
This stuffing recipe is one that I've been working on for a few years. Since I really only make stuffing once a year for Thanksgiving, I don't experiment much with it other times of the year. For about the last two years though, this particular variation has been standard protocol at my family's Thanksgiving dinner.
This definitely isn't your grandmother's stuffing recipe. It's a marriage of all your favorite fall flavors and the perfect accompaniment to a beautiful, moist roasted turkey and gravy. This stuffing has it all—bread cubes, sweet potatoes, apples, cranberries, toasted hazelnuts, sage, rosemary, thyme and added texture from protein-packed quinoa.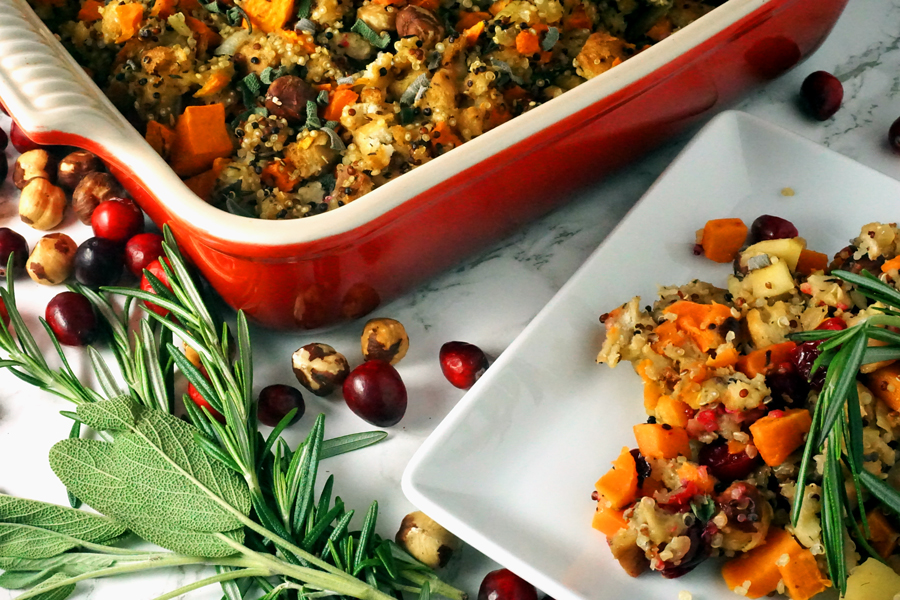 I think what I love most about this stuffing is it can be a full meal in and of itself. So, if you've got vegetarians at your dinner table they can eat a whole plate of this and feel perfectly full and content. Alternatively, if you're trying to keep Thanksgiving dinner simple this is really three classic Thanksgiving sides in one because it combines stuffing, cranberries and sweet potatoes! Just serve this alongside your turkey and gravy and your dinner is all set!
What are your plans for Thanksgiving this year? Are you the one doing all the cooking? Does your family do it potluck style? Or are you Chandler Bing pretend yelling at football on TV (Go Green Bay Mermen) while someone else does all the work? Let me know below in the comments and also let me know what your favorite (or least favorite) Thanksgiving food is!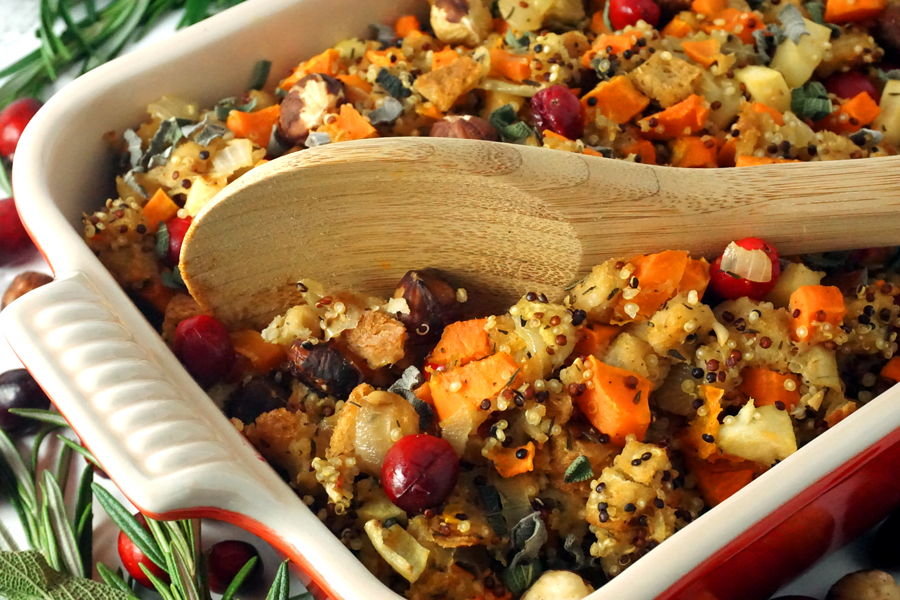 If you try out this stuffing recipe for Thanksgiving this year, please leave me a comment below and don't forget to tag me on Instagram (@frydaeblog or #frydaeblog). I'm so thankful to have the opportunity to have this blog and to share my favorite recipes with each of you. I hope everyone has a wonderful Thanksgiving!
Hazelnut Cranberry Quinoa Stuffing with Apples and Sweet Potato
Truly an "everything but the kitchen sink" stuffing, this recipe contains a plethora of delicious ingredients making this stuffing the perfect accompaniment to your next turkey dinner.
Ingredients
4

tablespoons

extra virgin olive oil

,

divided

1/2

cup

white onion

,

diced

3

teaspoons

garlic

,

minced

2

tablespoons

fresh sage

,

chopped

1

tablespoon

fresh thyme

,

chopped

1

tablespoon

fresh rosemary

,

chopped

1 1/2

cups

apples

,

peeled, cored and diced

1

tablespoon

pure maple syrup

1

cup

sweet potato

,

peeled, diced into 1/2" cubes

1

cup

fresh cranberries

,

rinsed and drained

1/2

cup

whole roasted hazelnuts

1

cup

tricolored quinoa

,

cooked according to package

12

ounces

herbed stuffing cubes

,

recommends Pepperidge Farm

2-3

cups

low sodium chicken or vegetable broth
Method
Preheat oven to 400 degrees. Then, on a lined baking sheet place cubed sweet potato and drizzle with 2 tablespoons of extra virgin oil. Toss to coat in oil and then sprinkle with a little chopped fresh rosemary, sage and thyme. Roast sweet potatoes for 15-20 minuted until golden and fork tender.

Meanwhile, in an extra large pot over medium heat, add olive oil, diced onion and minced garlic. Cook until onions are translucent and garlic is fragrant—about 4 minutes.

Next, add diced apples and cook for 1-2 minutes until starting to soften. Add rosemary, sage, thyme and maple syrup and stir to combine. Remove from heat.

When sweet potatoes are done, remove from oven and decrease your oven temperature to 350 degrees. Then, transfer the sweet potatoes to the onion/apple mixture. Add cooked quinoa, hazelnuts and whole cranberries and gently fold to incorporate into the mixture. Take care not to mush the sweet potatoes too much!

Then, begin to fold in the stuffing cubes. As you fold, gradually pour in the chicken broth—about 1/4 cup at a time. Continue to add broth until all the stuffing cubes have been hydrated. You may or may not use all of your broth.

This is where personal preference comes into play. If you like a dryer stuffing where the bread cubes hold their shape when served, just add enough chicken broth to moisten all the cubes (closer to 2 cups).

If you like a mushier stuffing, then add more broth to the mixture (closer to 3 cups).

Transfer stuffing to a large and deep casserole dish that has been sprayed with olive or coconut oil. Cover with foil and bake for 15-20 minutes and then uncover. Return to oven uncovered for 10 minutes and bake until the top layer of stuffing begins to turn golden and get nice and toasted.

Remove and serve warm alongside roasted chicken or turkey. This stuffing is especially delicious drizzled with a little gravy. Enjoy!
Notes
---
If you don't want to spring for hazelnuts, roasted walnuts are also great in this stuffing. I've also swapped the roasted sweet potato for butternut squash too or done a combination of the two.