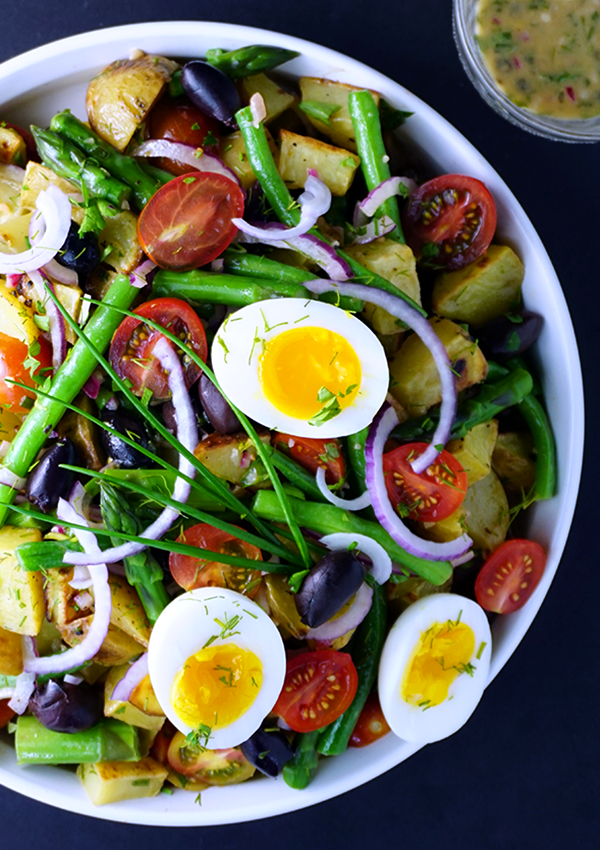 With crisp green beans, kalamata olives, heirloom cherry tomatoes and jammy soft-boiled eggs, this isn't your average picnic potato salad. Inspired by the flavors of a classic French Nicoise Salad, this potato salad is made without mayonnaise and instead is topped with a tangy lemon herb vinaigrette.
It feels wrong to say that spring has sprung in Wisconsin when we're less than a month away from the first day of summer. Oh well, that's Wisconsin for you. Am I right?! Anyhow, now that the weather is (finally) warmer, I'm craving recipes that feature lots of bright flavors and crisp veggies. That means this week I'm sharing an amazing spring vegetable Nicoise potato salad. Loaded with lots of fresh veggies and dressed in a wonderful lemon-herb vinaigrette, it's perfect for your Memorial Day weekend picnic.
You may be wondering why I'm calling this a Nicoise potato salad and not just a regular Nicoise salad. Well, too bad it's a secret. Just kidding. Truth be told, Nicoise salad purists will tell you that potatoes don't belong anywhere near a true Nicoise salad. Traditionally, the salad is comprised of tomatoes, hard-boiled eggs, Niçoise olives, anchovies, and other raw seasonal veggies. So you see, I'm not wrong to call this a Nicoise-inspired potato salad even though most recipes will typically include boiled potatoes in their version of this salad.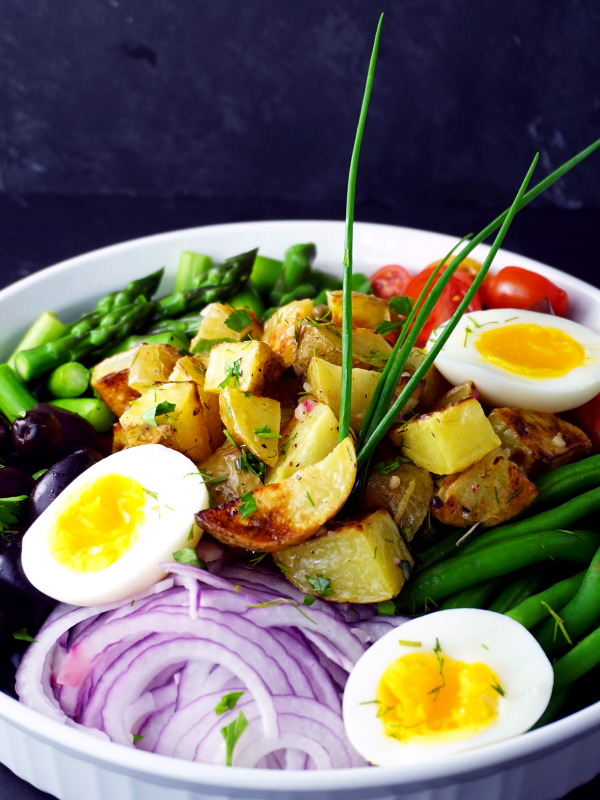 To really make this a true potato salad, I also went heavier on the ratio of potatoes to other veggies to give the recipe a little extra substance. Additionally, I opted to roast the potatoes rather than boiling them (which is more traditional of untraditional Nicoise salads). To me, roasting the potatoes was a natural choice for this recipe because it gives the spuds a lovely subtle charred flavor that pairs perfectly with grilled meat or fish.
While we're on the topic of fish, you'll notice this recipe does not include tuna either—another common ingredient in many Nicoise salads. Since I was going for a potato salad, I opted to omit tuna from this recipe. However, I'm planning on serving this salad with grilled salmon or tuna for Memorial Day. It's going to be so delicious! Grilled Chicken would also be great to serve with this.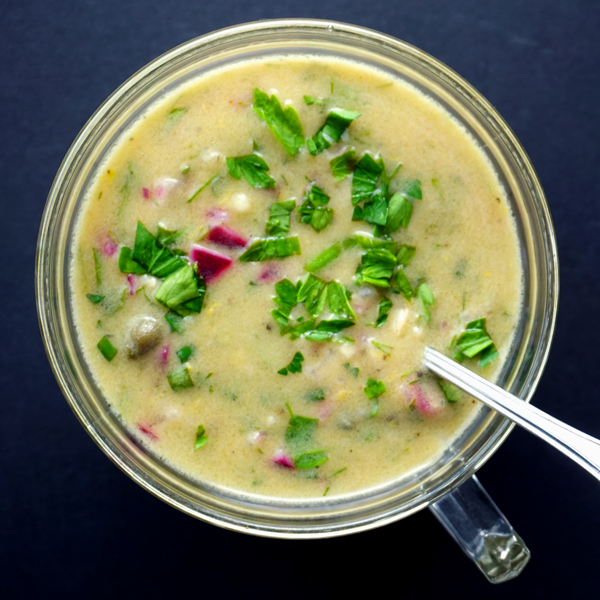 What really makes this potato salad, is the dressing. Rather than going with a heavier mayonnaise-based dressing, I opted for a bright lemon-herb vinaigrette. Made with lemon juice, extra virgin olive oil, dijon mustard and a blend of dill, parsley and chives, this dressing is loaded with lots of springtime flavor. For a little extra tang, I also included capers, anchovy paste and lots of garlic too. If you're afraid of anchovies or simply want to make this salad completely vegetarian, you can omit the anchovy paste and just increase the capers.
Once the dressing is made, this salad is super easy to put together. Most of the work comes from chopping all the veggies. While my oven is preheating, I wash and chop my potatoes. Once they're seasoned and in the oven, I finish chopping and blanching the rest of the vegetables. Then all that's left to do, once the potatoes are done roasting, is to boil the eggs while the potatoes cool. Finally, to assemble, toss all the veggies and potatoes together in a large serving bowl with the dressing and then garnish with sliced soft-boiled eggs and additional fresh herbs. It doesn't get much easier than that!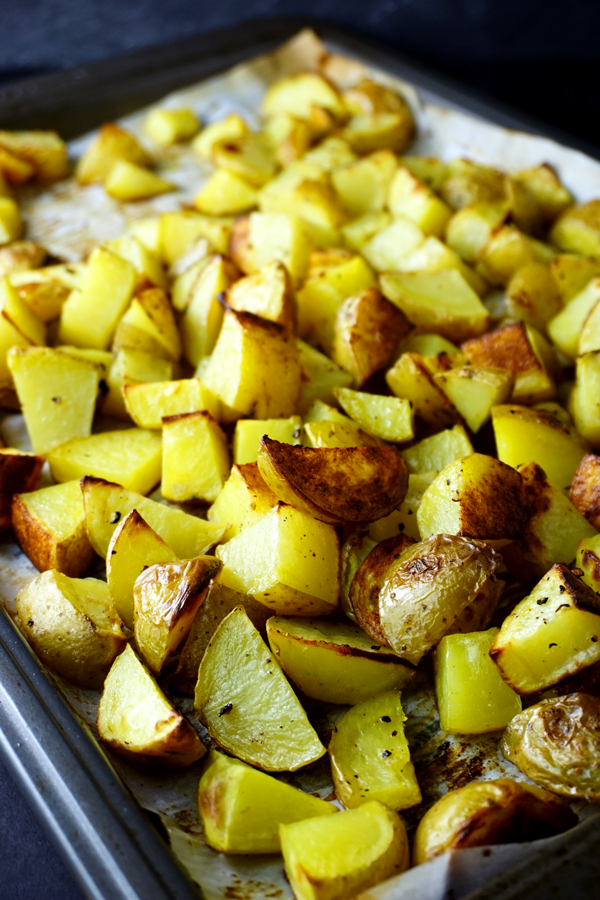 I think one of my favorite things about this potato salad is all the vibrant colors. The bright green asparagus and beans, the purple onions and kalamata olives, the juicy red tomatoes and the luscious, jammy egg yolks make this potato salad one giant rainbow in a bowl. It's a far cry from a traditional gloopy potatoes salad.
With potluck season in the near future, this is a great option to take with you to your next gathering. You can even make this a day ahead. I can't decide if I prefer to add the dressing the night before though or wait and add it just before serving. Because the potatoes are roasted they tend to absorb a lot of the dressing overnight. While this gives them lots of great flavor, it tends to leave the rest of the vegetables a little too dry. So the best option may be to add half of the dressing the night before and then add the reserved dressing just before serving. Best of both worlds!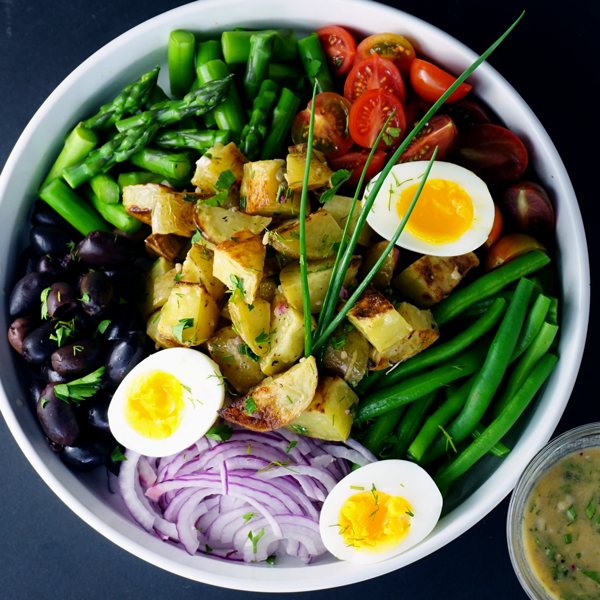 "Both worlds"…it's a phrase that I think is highly relevant to not only this potato salad but Memorial Day too. I'd like to take a moment to thank all of our veterans, active members of the armed forces and their families for their service. While humanity shares one Earth, looking globally, it's undeniable that some people are living in what may as well be a different world. While the U.S. isn't perfect and often divided (especially as of late), I'm incredibly thankful for the freedoms and opportunities we have in this country. I know these privileges did not come without sacrifice and there are many places in the world still fighting for what we, in the U.S., consider to be basic human rights.
My brother-in-law is currently serving overseas in the Middle East so I'd like to dedicate this week's post to him. Although he's more a steak guy…so perhaps I didn't quite think this post through.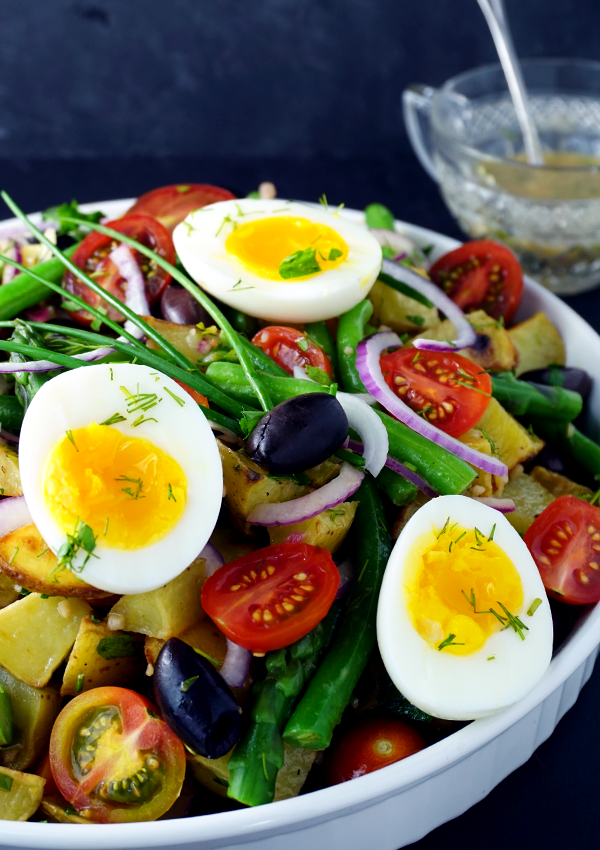 What are your Memorial Day Weekend plans? Are you heading out of town someplace warm or staying home for a backyard barbecue? It's been raining like crazy here the past few days so I'm hoping the sun shines long enough to do some serious grilling. Keep your fingers crossed for me!
If you try out this Spring Vegetable Nicoise Potato Salad, please give it a rating and don't forget to tag me on social media. It's @frydaeblog and #frydaeblog absolutely everywhere. As always, thank you so much for stopping by and I hope you have a wonderful holiday weekend!
Spring Vegetable Nicoise Potato Salad
With crisp green beans, kalamata olives, heirloom cherry tomatoes and jammy soft-boiled eggs, this isn't your average picnic potato salad. Inspired by the flavors of a classic French Nicoise Salad, this potato salad is made without mayonnaise and instead is topped with a tangy lemon herb vinaigrette.
Ingredients
5

cups

Yukon gold potatoes

,

1-inch cubes

3/4

cup

red onion

,

thinly sliced

1

cup

pitted kalamata olives

,

whole

1

cup

cherry tomatoes

,

halved

1

cup

fresh green beans

,

2-inch pieces

1

cup

asparagus

,

2-inch pieces

1

tablespoon

salt

6

soft-boiled or hard-boiled eggs

,

cut in half
Lemon Herb Vinaigrette
1/4

cup

extra virgin olive oil

1

tablespoon

dijon mustard

1/3

cup

fresh squeezed lemon juice

1

teaspoon

lemon zest

4

cloves

garlic

,

minced

1

tablespoon

red onion

,

minced

1

teaspoon

fresh dill

1

tablespoon

fresh parsley

1

tablespoon

fresh chives

1

tablespoon

capers

2

teaspoons

anchovy paste

,

optional

salt & pepper

,

to taste
Method
Preheat oven to 475°F.

Meanwhile, wash and cut the potatoes into 1-inch cubes. Season with salt and pepper and then spread into a single layer on a parchment-lined baking sheet. Drizzle with olive oil and toss to coat. Place into the preheated oven and roast for 10-12 minutes. Gently turn the potatoes and then return to the oven for an additional 10-12 minutes. Remove from oven and let cool completely.

Next, prepare an ice bath in a large bowl and set aside. Then fill a medium saucepan with 3 cups of water and bring to a boil over medium heat. Add 1 tablespoon of salt and then add the cut green beans and asparagus. Blanch for 2-3 minutes and then drain. Immediately place the beans and asparagus into the ice bath and let sit until completely cooled.

Next prepare the dressing. In a small bowl, combine olive oil, dijon mustard and lemon juice. Whisk until combined and then add lemon zest, garlic, red onion, herbs, capers and anchovy paste. Whisk until well incorporated and then season with salt and pepper to taste.

To assemble the potato salad, drain and remove the green beans and asparagus from the ice bath into a large salad bowl. Add cooled roasted potatoes, thinly sliced red onion, halved cherry tomatoes, and whole kalamata olives. 

Pour dressing over vegetables and toss to coat. Arrange halved hard- or soft-boiled eggs on top of the potato salad and then garnish with additional fresh chopped dill, parsley and/or chives. Chill until ready to serve.
Notes
---
To soft-boil eggs, bring a saucepan with 3 cups of water to a boil. Then, gently lower eggs into the water and reduce heat to a gentle simmer. Let eggs cook for 7-8 minutes. Remove and place immediately into an ice bath. Cool completely then peel and slice in half.