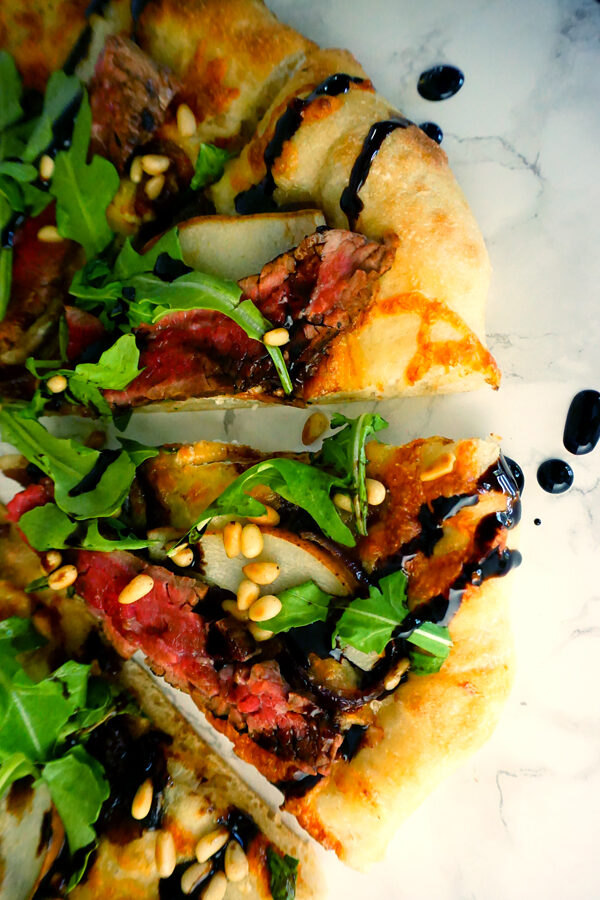 Tangy herbed Boursin cheese, sweet pears and tender steak top this unique and flavorful pizza. A little arugula, toasted pine nuts and balsamic vinegar glaze give it a fancy finish.
There are two major schools of thought when it comes to pizza. The first is the school that believes that pizza should taste like pizza—meaning they like to keep it classic with red sauce, mozzarella cheese and perhaps a few of what many would consider "normal" pizza toppings. The other school of thought likes to break the rules a bit and get a bit more adventurous when it comes to pizza. Toppings like Brussel sprouts, lamb sausage, fried eggs and pickles don't phase people in this camp—their motto: the weirder the better.
Now, I'm one that has been known to show ample school spirit for both camps—I love a classic margarita pizza, but then I also love to see completely new and inventive pizza combos on the menu too. It just totally depends on my mood and also who I'm eating with.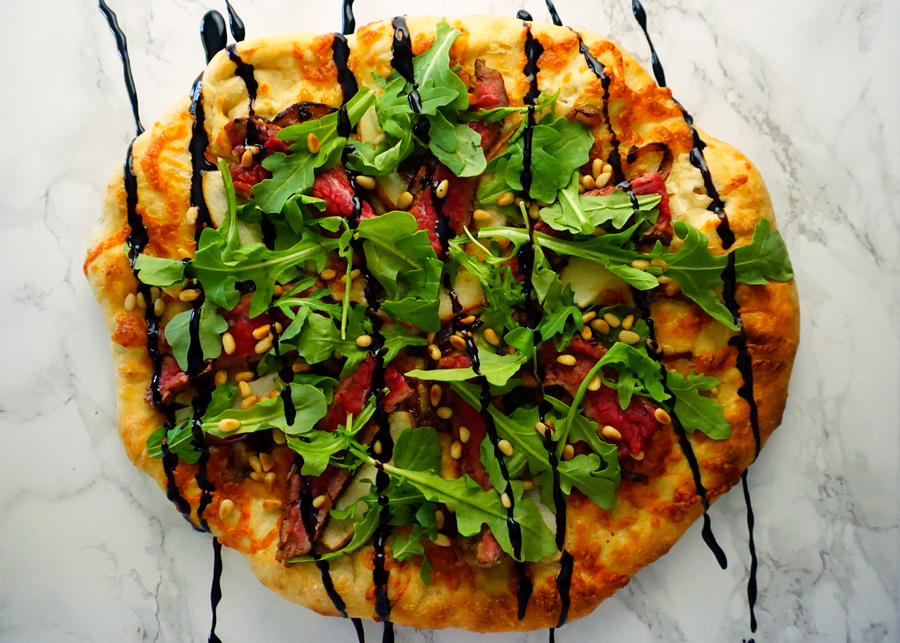 Today I was feeling fancy! Granted, I'm wearing sweatpants and a messy bun while I write this but my stomach was feeling fancy and so this little pizza was born. The process of making this pizza is a little bit different than most other pizzas because most of the ingredients don't get put on the pizza until after it is done baking. However, I promise it is an explosion of different complementary flavors that you'll love.
This pizza starts and finishes with shortcuts that I love when my time is short but I'm craving big flavor. The first is store-bought pizza dough. *gasps* I know, I know how could I??? The trick is finding a good one that doesn't taste like cardboard, has good texture and gets good color in the oven. Lucky for you, I've found two options that I think make great shortcuts when you don't have time to make proper pizza dough. The first is Trader Joe's Ready-to-Bake Pizza Dough. This is the fresh dough that's usually near the produce and hummus at your local TJs. This one has great texture and pretty decent flavor too so it's a great option.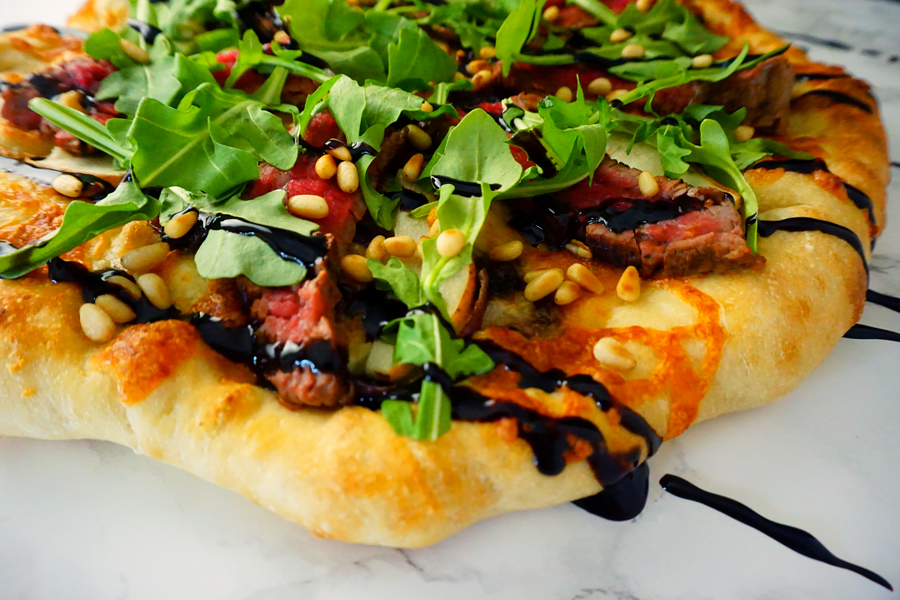 My new favorite is from Fresh Thyme Farmer's Markets. In their deli section, they have a great All-Natural Pizza Dough that has become my ride-or-die store-bought pizza dough. This one bakes beautifully and has that little extra punch of flavor that I always felt Trader Joe's dough was missing. If you don't have a Trader Joe's of Fresh Thyme near you, don't worry—you can substitute any pizza dough (or make your own) but those two are my personal favorites.
If you use store-bought dough, as I did, I find that it's best to take your dough out of the fridge about 30-45 minutes before you're ready to start working with it to let it warm up a bit. Having the dough close to room temperature will make it much easier to work with and limit its tendency to want to shrink back as you're forming your pizza.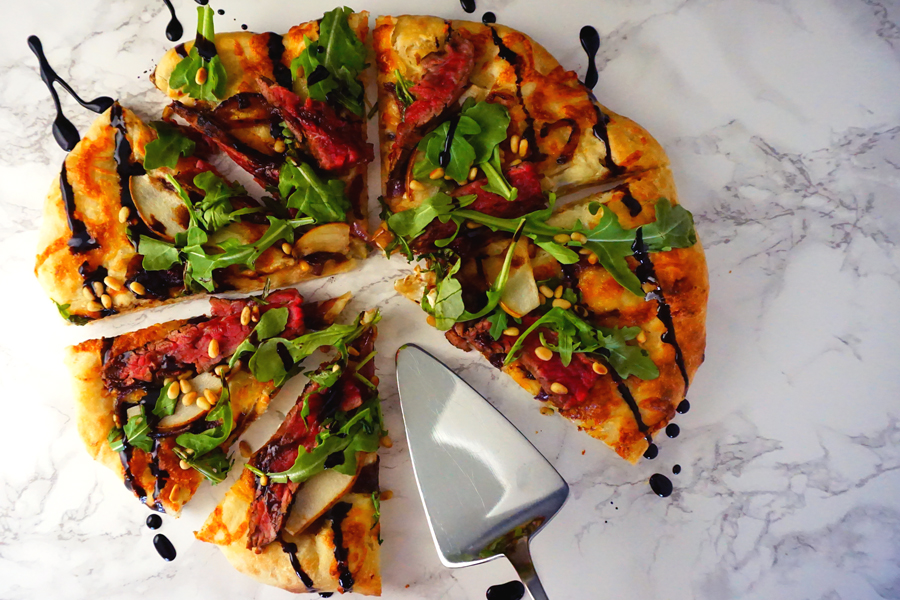 But anyway, enough about the dough, let's talk toppings! The first thing you'll want to do is marinate your flank steak in olive oil and balsamic vinegar with a little salt and pepper. Overnight is ideal, but 30 minutes will also give you sufficient flavor too. When the steak is done marinading, sear it in a pan over medium-high heat for about 4 minutes per side for medium-rare. You may need to cook yours longer or less depending on the thickness of your steak and your preference for doneness. When your meat is done, remove it from the pan, wrap it in foil, and let it rest while you assemble the rest of the pizza.
Now, when it comes to sauce, this pizza is naked. You could certainly brush it with a little olive oil and garlic if you want, but I prefer to just spread a layer of Boursin Fine Herb cheese over the pizza dough. If you've never had Boursin before it's a soft cheese that tastes like goat cheese and cream cheese had a baby and dropped it in a bunch of herbs. Delicious! Then, on top of the Boursin is a layer of shredded mozzarella, thinly sliced pears and caramelized onions. As for the rest of the toppings they get added after the pizza is done baking. I bake mine in a 450° oven using a pre-heated pizza stone to get an extra-crisp crust.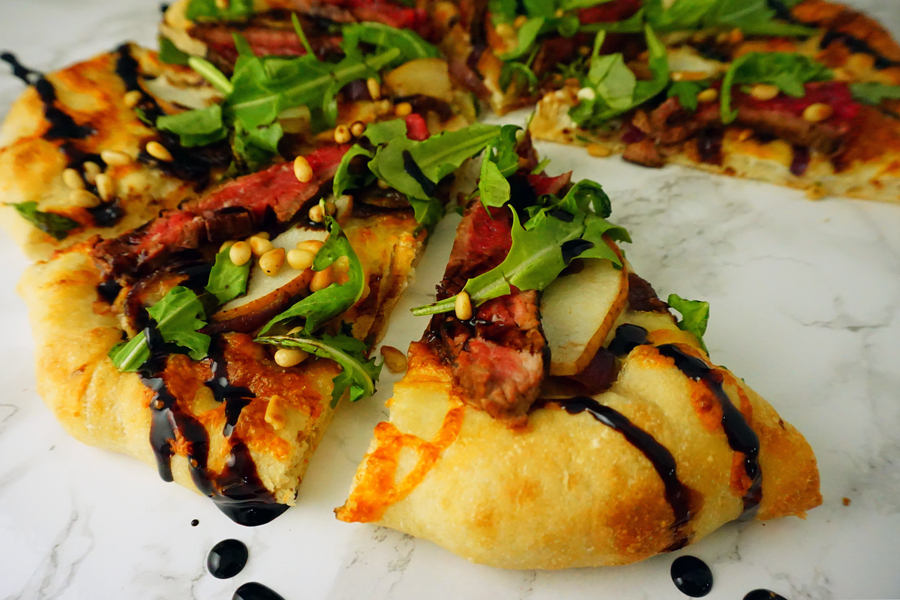 While the pizza is baking you can toast your pine nuts and thinly slice your flank steak. Remember to always slice your flank steak against the grain for optimal tenderness. When your pizza is done, admire the cheesy golden goodness for a moment and then arrange the slices of steak, top with a little arugula and toasted pine nuts and then get ready for the finishing touch—balsamic glaze.
Now, you're certainly welcome to make your own balsamic reduction for this pizza. It doesn't take long, but like I said this pizza starts and ends with a shortcut. One little gem I recently discovered at Trader Joe's is their Trader Giotto's Balsamic Glaze. This thick, sweet balsamic syrup is fantastic drizzled over Caprese salads, roasted chicken, or in this case— drizzled over pizza. The glaze not only makes this pizza look ultra fancy but compliments the sweetness of the pears and caramelized onions as well as the tender marinated flank steak. Now the only thing left to do is slice and enjoy!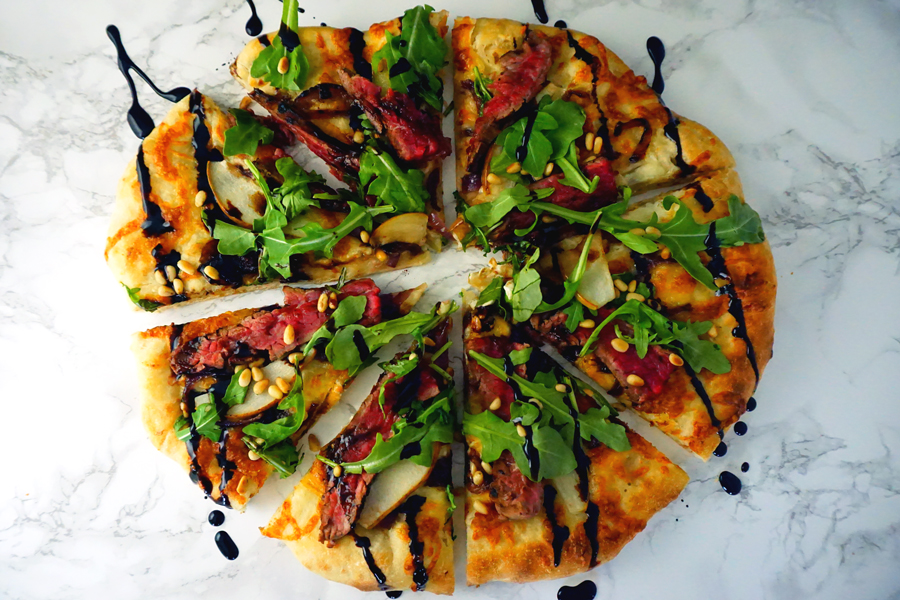 So, what about you? Are you a classic pizza person all the way, or do you like to try new combinations on your pizza? If you try this Balsamic Boursin Flank Steak Pizza recipe, please give the recipe a rating and don't forget to also tag me on Instagram (@frydaeblog or #frydaeblog) with your results. I love to see what everyone is cooking up in their kitchens!
Balsamic Boursin Flank Steak Pizza
A fancy pizza topped with surprising shortcuts. Tender, medium-rare marinated flank steak is paired with juicy pear, flavorful Boursin cheese, toasted pine nuts, arugula and a balsamic drizzle.
Ingredients
10

ounces

flank steak

1/2

teaspoon

salt

1/2

teaspoon

pepper

1/4

cup

olive oil

1/4

cup

balsamic vinegar

1

favorite store-bought pizza dough*

,

room temperature

1

bottle

Trader Joe's balsamic glaze

1/4

cup

pine nuts

,

toasted

1/4

cup

arugula

1

d'Anjou pear

,

thinly sliced

1

5.2 ounce package

garlic and fine herb Boursin cheese

,

room temperature

1

cup

mozzarella cheese

,

grated
Method
Season flank steak with sea salt and pepper and then place into a gallon size Ziploc with olive oil and balsamic vinegar. Allow to marinate for at least 30 minutes, or overnight.

Place a pizza stone into a cold oven and preheat to 425°F. I really recommend using a pizza stone it really helps create the perfect crust. However, if you don't have a pizza stone, a cast iron skillet is my next favorite option.

While oven is preheating, remove store-bought pizza dough from refrigerator and allow to sit at room temperature while you prepare the other ingredients. Allowing your dough to warm up (about 30 minutes) makes it much easier to work with.

Next in a medium frying pan over medium-low heat, add 1/4 cup of pine nuts. Stirring continuously, toast the pine nuts until fragrant and golden and remove to let cool.

Next, in the same skillet, turn up the heat to medium-high. Once hot, remove flank steak from marinade and sear. Let cook about 4 minutes and then flip and cook for an additional 4 minutes. Remove from pan and let rest for at least 10 minutes.

Next, drizzle a sheet of parchment paper of olive oil and dust with cornmeal. Remove the pizza dough from its package and begin to form into a 12-16 inches circle depending on how thick you like your crust.

The easiest way to form the perfect pizza crust is to slightly flatten your ball of dough into a disc with your hands and then begin to press the dough outwards from the center. Repeat and then once your dough is about 6-8 inches in diameter, pick up the dough and let gravity take over.

Using both hands, gently stretch and rotate the dough like you're driving a steering wheel. Again, gravity should be doing most of the work and your hands are just guiding it along so it forms the right shape.

Once your crust is 12-16 inches in diameter, return to your piece of oiled parchment paper and reshape as needed. Don't worry too much if the edges of your crust are not thicker than the center. Your toppings will help weigh down the center and allow the edges of your crust to puff up around them.

Next, begin to spread a layer of Boursin cheese onto the crust. I typically use half of the package (about 2.5 ounces) for one pizza. Then, sprinkle some grated mozzarella along with thinly sliced pear onto the pizza.

Using a pizza peel or cutting board slide your pizza onto the hot pizza stone and bake for 10 minutes.

While pizza is baking, thinly slice the flank steak into strips and set aside.

When pizza has cooked for ten minutes, turn on your oven's broiler and let cook for an additional 2-5 minutes. I find this helps the cheese melt and get a nice even golden brown color on the crust.

Remove pizza from oven and top with thin slices of flank steak, arugula and toasted pine nuts. Finish with a drizzle of Trader Joe's Balsamic Glaze, slice and enjoy!
Notes
---
Trader Joe's and Fresh Thyme Farmer's Markets have great dough in their deli sections. This recipe is great for those nights where you want a homecooked meal but need to take a few shortcuts. Of course, if you have extra time on your hands, making your dough from scratch can't be beaten!