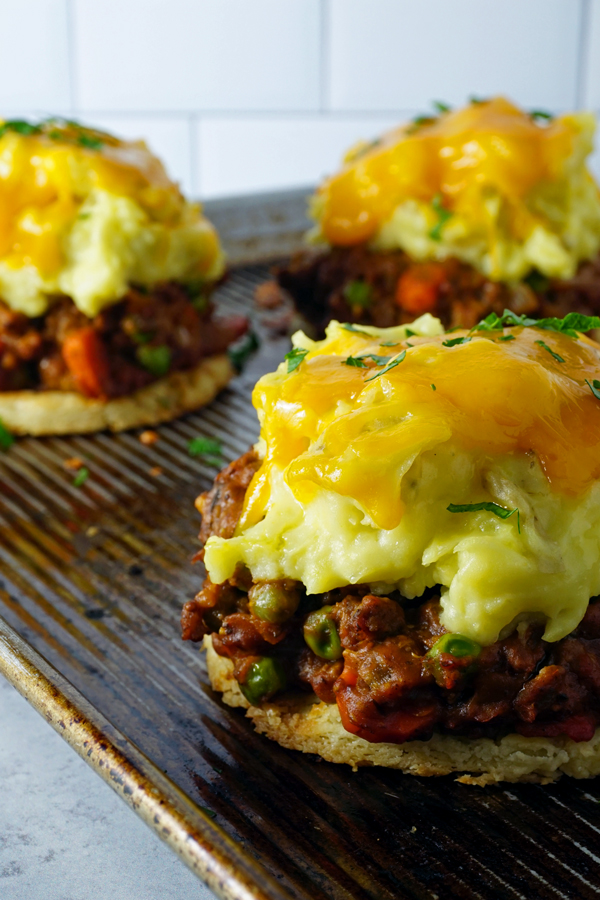 This fresh spin on shepherd's pie adds tender flaky pie crust and loads of cheddar cheese to the mix. With a hearty beef filling and fluffy mashed potatoes, this farm-style family recipe will quickly become a new favorite.
Shepherd's pie will forever be one of my absolute favorite comfort foods to enjoy throughout the fall and winter months. This recipe is inspired by a farmhouse shepherd's pie I've ordered on repeat at a local Milwaukee restaurant for years. If you know me, you'll know that I seldom order anything more than once since I'm always wanting to try something new. So if I order something twice, you know it's delicious!
What sets this farmhouse shepherd's pie apart from others is that it's served on top of an extra buttery and flaky pie crust. It turns this shepherd pie into almost a pot pie/shepherd's pie hybrid. If you're a regular consumer of shepherd's pie, you know that it can often lack texture since the filling and potatoes typically fall on the mushy side of the spectrum. I love how the pie crust adds just the right amount of crunch and richness into every bite.
Oh—did I mention that this shepherd's pie is also topped with tons of cheddar cheese? Because, it is and it's totally magical.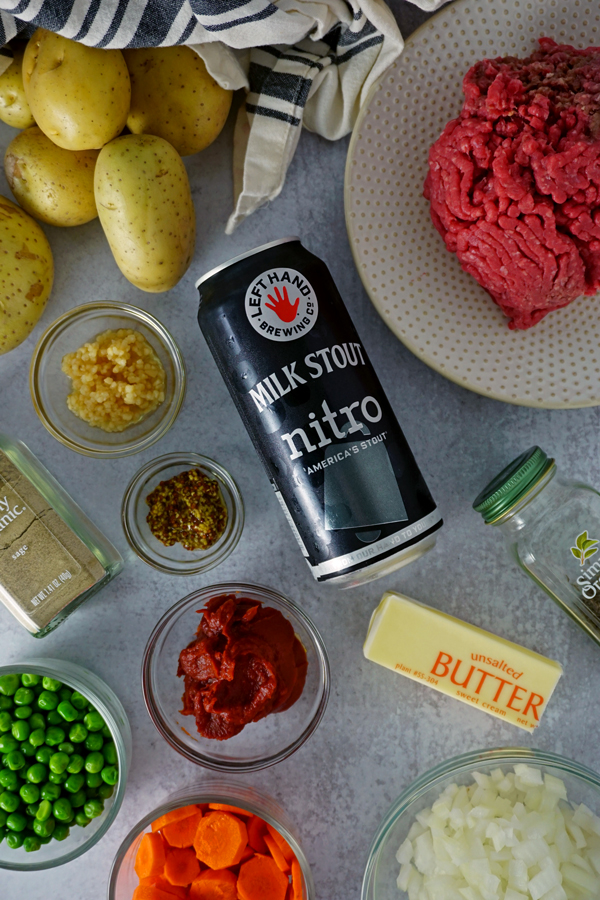 Shepherd's Pie vs Cottage Pie
Fun fact. This isn't actually a shepherd's pie recipe. If we're being 100 percent accurate, this is a cottage pie disguised a shepherd's pie. An authentic Irish shepherd's pie is technically made with ground lamb. Cottage pie, on the other hand, is made with ground beef. However, for whatever reason, in the United States, we tend to call any recipe made with a ground meat base topped with mashed potatoes "shepherd's pie". So whether you call this recipe shepherd's pie or cottage pie is up to you. I'm just going to call it delicious and move on.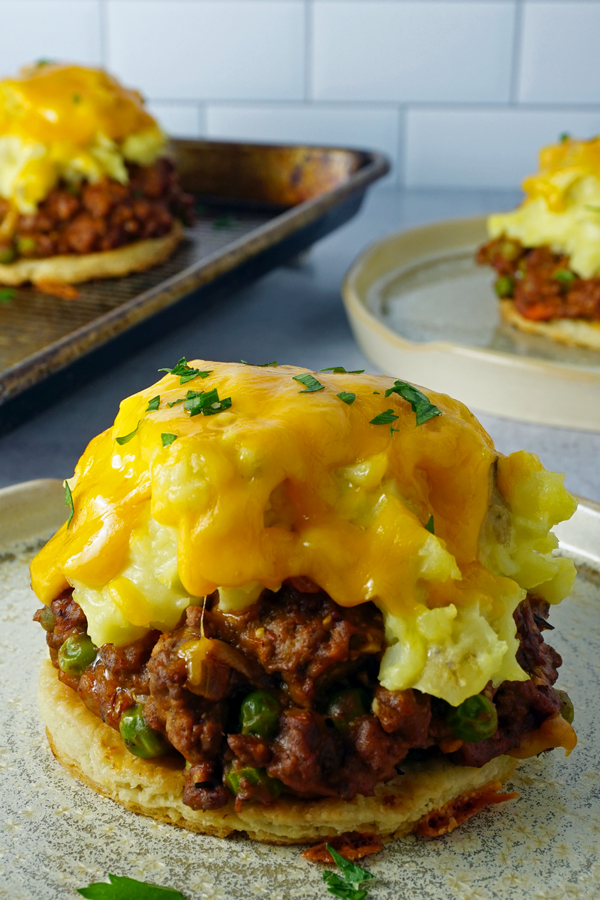 How to Make Farmhouse Shepherd's Pie
What I love about shepherd's pie is that it's a great recipe for beginners. The components can be easily broken down into a few simple steps that anyone can follow.
Step 1: Prepare the Crust
I get it, store-bought pie crust is convenient. But homemade pie crust is so much tastier and is easier than you think. Simply combine the dry ingredients together in a bowl, cut in the butter and shortening using a pastry blender or fork, and then add the water and vinegar. Mix together until a moist, yet crumbly, dough forms and then divide into four equal portions and shape into flattened discs. Finally, chill for 1 hour tightly wrapped in plastic.
Another way this recipe is different is that you'll actually make four small, individual shepherd's pies rather than one giant pie. I love how these little pies look once plated and everyone will feel special that they have their own individual portion to enjoy.
Tip: One nice aspect of this recipe is you can easily make the pie dough a few days ahead. Mix, shape and wrap in plastic. Then store it in the fridge for up to three days.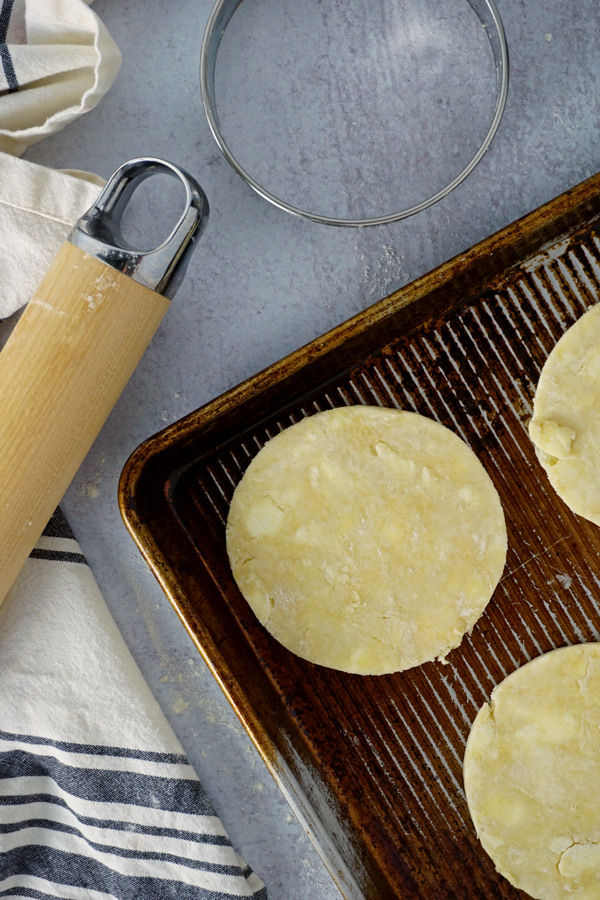 Step 2: Make the Potatoes
Mashed potatoes are nothing new for seasoned cooks. If you have a go-to recipe, feel free to use it for this shepherd's pie. Otherwise, beginners can lean on my super simple, classic mashed potato recipe. I like to use Yukon gold rather than russet potatoes for mashed potatoes. I find that they're a little less starchy so they yield a lighter, fluffier mash.
To make the potatoes, bring a pot of salted water to a rolling boil. Add the cubed potatoes and cook until super tender. Then drain and mash with butter, cream, salt and pepper. It doesn't get easier than that.
Note: To peel or not to peel. Personally, I'm a fan of not peeling potatoes that I intend to mash. It hate taking the extra 10 minutes to do it and I also hate that you lose all of the nutritional value the potato skins have to offer. But if you prefer no skin, then peel away!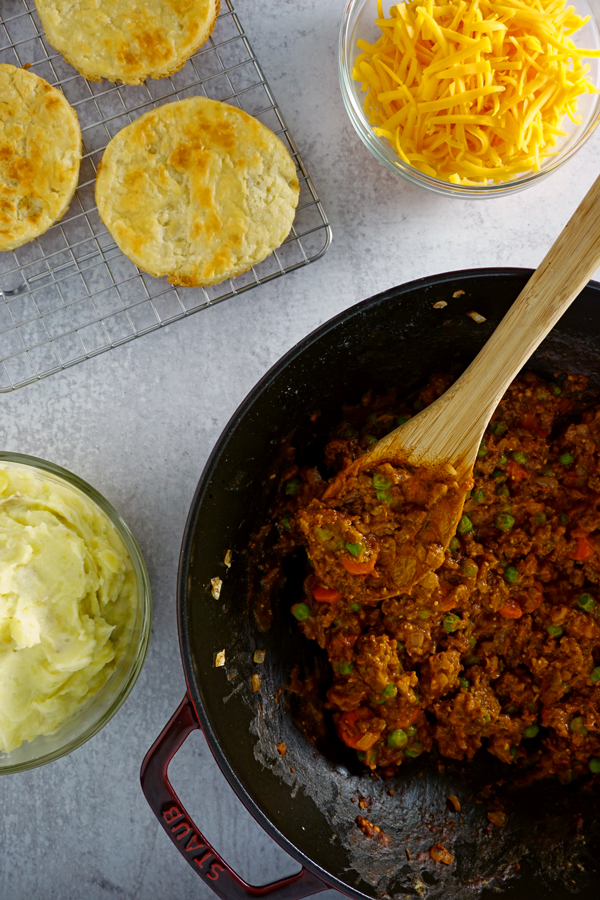 Step 3: Prepare the Filling
Don't let the long(ish) ingredient list of the filling intimidate you. Many of the ingredients are pantry staples that you likely have on hand and each ingredient adds a lot of depth and flavor to the filling. Ready in less than twenty minutes, the filling is made in a single pan on your stovetop. Plus, if you time it right, the filling should be able to be prepared while the potatoes are cooking so both are ready at the same time.
Tip: I used dried herbs and frozen vegetables in my recipe to save on prep time and simplify the cooking process. However, if you have fresh carrots, peas and herbs on hand, feel free to swap them in. Use equal amounts of veggies and increase the fresh herbs to 1 tablespoon each.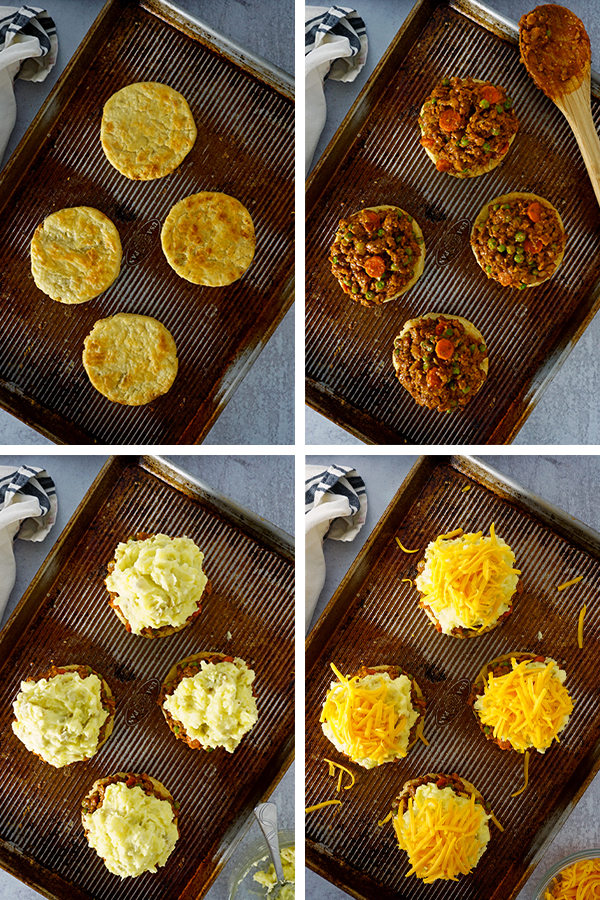 Step 4: Assemble
The assembly process of these little pies is super fun. If you have kids, this is a great step to involve them in. They will love helping with all the layers.
Start with rolling out each of the four pie crust discs into circles that at 1/8-inch thick. Then transfer to a parchment-lined baking sheet and bake in a 350-degree oven for 10-12 minutes until golden. Remove crusts from the oven, but leave your oven on.
Next, top each pie crust with a generous mound of beef filling, mashed potatoes and a healthy sprinkle of shredded sharp cheddar cheese. Return to the oven and bake until the cheese is melted and bubbly. Seriously, the smell of these little pies is almost irresistible. Good luck getting them to the dinner table without taking a few bites ahead of time.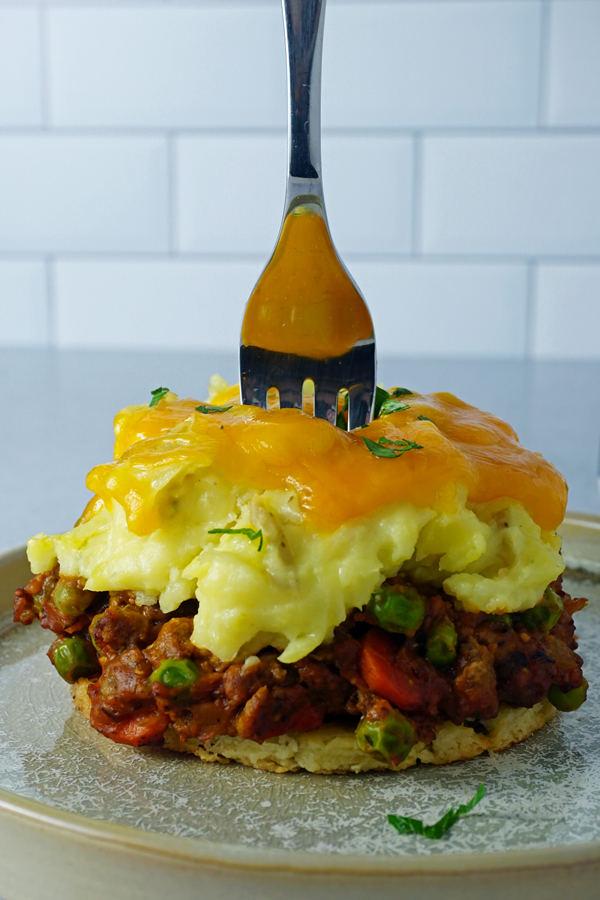 Shepherd's pie is a great all-in-one meal that doesn't really require a side dish. However, the restaurant that inspired this dish serves their version with a side of sauteéd collard greens topped with crispy bacon. Why not, right?
If you make this farmhouse shepherd's pie, snap a photo and tag me on social media it's @frydaeblog and #frydaeblog absolutely everywhere! Also, please leave this recipe a rating and let me know your thoughts below in the comments. Questions about this recipe? Leave them there too.
Looking for a vegan version of shepherd's pie? Try this Vegan Roasted Root Vegetable Shepherd's Pie next.
Farmhouse Shepherd's Pie
This fresh take on Shepherd's Pie adds tender, flaky pie crust and loads of cheddar cheese to a traditional ground beef and vegetable filling topped with fluffy whipped potatoes. It's the perfect fall and winter comfort food that the whole family will love.
Ingredients
Pie Crust
1-1/2

cups

all-purpose flour

,

(180g)

1-1/2

teaspoons

granulated sugar

1/2

teaspoon

salt

1/8

teaspoon

baking powder

4

tablespoons

vegetable shortening

,

(43g)

8

tablespoons

cold unsalted butter

,

cut into small cubes (113g)

1

teaspoon

apple cider vinegar

4

tablespoons

cold water
Ground Beef Filling
1-1/2

tablespoon

unsalted butter

3/4

cup

white onion

,

diced

1

teaspoon

salt

3/4

pound

ground chuck or sirloin

1/2

cup

frozen sliced carrots

,

thawed, excess water drained

4

cloves

garlic

,

minced

1-1/2

teaspoon

dried rubbed sage

1

teaspoon

dried thyme

1

teaspoon

Worcestershire sauce

2

tablespoons

all-purpose flour

1/2

cup

chicken stock

1/4

cup

tomato paste

1/2

tablespoon

dijon mustard

1/4

cup

dark stout or porter beer

1/2

cup

frozen peas

,

thawed, excess water drained
Mashed Potatoes
1

tablespoon

salt

1-1/2

pounds

yukon gold potatoes

,

cut into 1-inch cubes

1/4

cup (1/2 stick)

unsalted butter

2

tablespoons

heavy cream

1/2

cup

sharp cheddar cheese

,

shredded

salt and pepper

,

to taste
Method
Prepare Pie Crust
In a large mixing bowl, add flour, sugar, salt and baking powder. Then, stir to combine.

Next, cut in the shortening and butter using a fork or pastry blender until the mixture resembles pea-sized crumbles.

In a liquid measuring cup, combine the apple cider vinegar and water. Slowly add the water-vinegar mixture to the mixing bowl, using a rubber spatula to stir the ingredients together. Continue to stir until the water is fully absorbed. Then use your hands to press and knead the wetter portions of the dough into the drier parts. Continue to work the dough until everything seems moist. Note that the pie dough will still be rather crumbly at this point.

Transfer the dough to a large piece of plastic wrap and divide it into four equal portions. Shape each portion into a flattened disc. Wrap each disc tightly in the plastic wrap and place in the refrigerator to chill for at least 1 hour.

Shortcut: Speed up prep time by making the dough ahead. Once shaped and wrapped in plastic, the pie dough can be chilled in the refrigerator for up to three days. Alternatively, you're also welcome to use your favorite store-bought crust for this recipe also.
Prepare the Mashed Potatoes
Fill a large pot halfway with water and add the salt. Bring to a boil and then add the cubed potatoes. Cook for 15-20 minutes or until the potatoes are fork-tender. Drain and return the potatoes to the pot. Add the butter, cream, salt and pepper and then mash until smooth and creamy. Remove from heat and cover with a lid to keep warm.
Prepare Filling
While the potatoes cook, prepare the filling. In a large pot over medium heat, melt the butter and then add the onions. Cook until softened and translucent; about 4 minutes. Next, add the ground beef to the pot and break up with a rubber spatula. Season with salt and continue to cook until brown and no pink remains.

Add the thawed, drained carrots to the pot along with the garlic, sage, thyme and Worcestershire. Stir into the beef and onions and cook until fragrant; 1-2 minutes. To the mixture add the flour and stir to coat the beef and vegetables. Next, add the chicken stock, tomato paste, mustard and beer. Bring the mixture to a strong simmer and then reduce the heat to low. Add the thawed peas, stir and then cook for 5-8 minutes until the mixture has thickened. Remove from heat and cover to keep warm.
Assemble
Preheat oven to 350 degrees. Remove the pie crust dough from the refrigerator and roll each disc out to a 1/8-inch thick circle; about 6-inches in diameter. You can either shape the circles by hand for a rustic look or use a large circular cookie cutter for a more polished look. Transfer the pie crust rounds to a baking sheet and then bake for 15-20 minutes on the bottom rack of your oven until golden brown. Remove promptly but leave the oven on.

Next, neatly spoon a generous mound of the prepared beef filling over each prepared pie crust. Then top with lots of mashed potatoes and shredded cheddar cheese. Return the pies to the oven and bake for 6-8 minutes or until the cheese is melted and bubbly. Remove and serve warm.

Tip: You can either spoon the potatoes onto the beef mixture for a rustic look, or you can pipe them with a pastry bag for a more elegant look.
Notes
---
Note on Portion Size:
This recipe makes four very generous-sized individual shepherd's pies. If you're serving 5-6 people, you could easily make the pie-crusts rounds a little smaller (closer to 4-5 inches) and stretch the filling and potatoes to accommodate that many servings. Adjust the size of your pies accordingly based on the size of your party and their appetites.
Storage Instructions: Assembled and baked shepherd's pies may be stored refrigerated in airtight containers for 3 days. For best results, reheat in the oven for 10-15 minutes at 400 degrees to maintain the crispness of the crust.
Make-ahead Directions: Prepare the filling, mashed potatoes and pie dough in advance and store in separate airtight containers. Each component can be refrigerated for up to 3 days or stored in the freezer for up to 3 months. For the pie dough, store the rounds, wrapped tightly in plastic wrap with layers of parchment between each crust. When ready to prepare, thaw the pie dough (if necessary), and bake the crusts as directed above. Then reheat the filling and potatoes until warm in the microwave. When the crusts are baked, proceed with assembling the shepherd's pies as directed above in the recipe.
Nutrition
Calories:
1067
kcal
|
Carbohydrates:
81
g
|
Protein:
33
g
|
Fat:
69
g
|
Saturated Fat:
36
g
|
Cholesterol:
183
mg
|
Sodium:
3016
mg
|
Potassium:
1414
mg
|
Fiber:
8
g
|
Sugar:
9
g
|
Vitamin A:
4499
IU
|
Vitamin C:
48
mg
|
Calcium:
195
mg
|
Iron:
7
mg