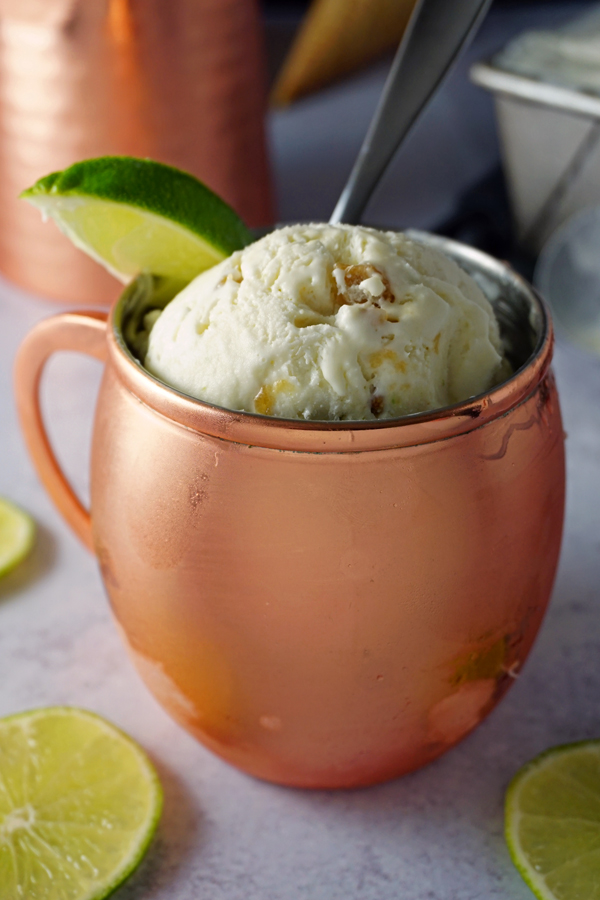 If you're a fan of Moscow Mules, then you're going to love this ultra creamy, tart and tangy no-churn ice cream. The best part? No ice cream maker required for this boozy treat.
Full disclosure: I'm not a big drinker. It's not that I don't enjoy a good cocktail, it's just that I'd rather put my calories toward other things—like dessert! Well, I think I've found a loophole, friends! Meet my new favorite indulgence—No-Churn Moscow Mule Ice Cream.
This creamy, boozy treat is inspired by one of my go-to summer cocktails. I just love the tart citrus paired with the spicy, aromatic ginger in Moscow mules so I was excited to bring those flavors into no-churn ice cream. Keep reading to learn how to make it.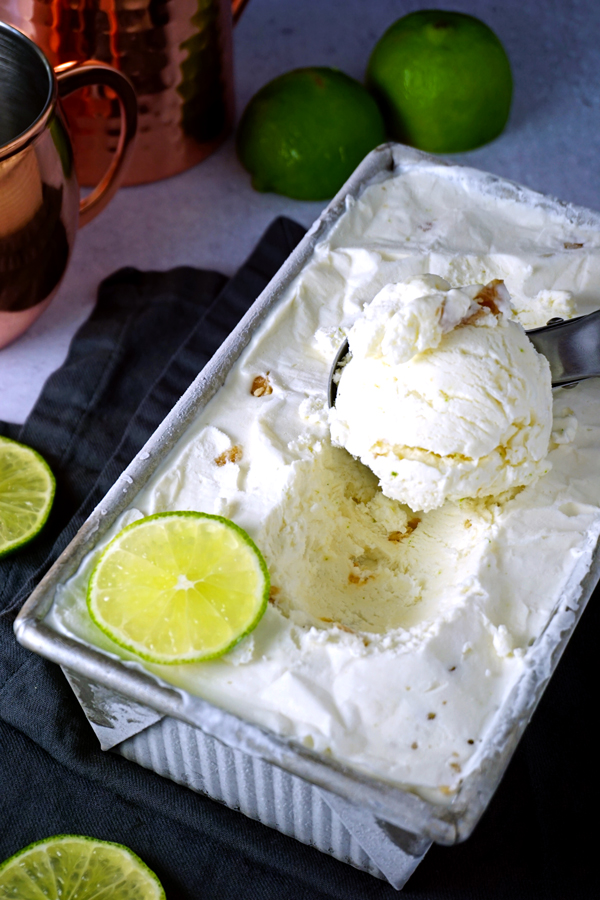 Ingredients for Moscow Mule Ice Cream
This Moscow mule ice cream comes together with just seven (or eight) simple ingredients. If you're already in the habit of making Moscow mules at home, then you likely already have at least half of the ingredients in your fridge or pantry. From there, you'll just need to pick up a few basic ingredients that are often used to create the base for most no-churn ice cream recipes. Here's what you'll need:
Sweetened Condensed Milk
Heavy Whipping Cream
Pure Vanilla Extract
Ginger Beer
Fresh Limes
Ground Ginger
Crystallized Ginger
Vodka (optional)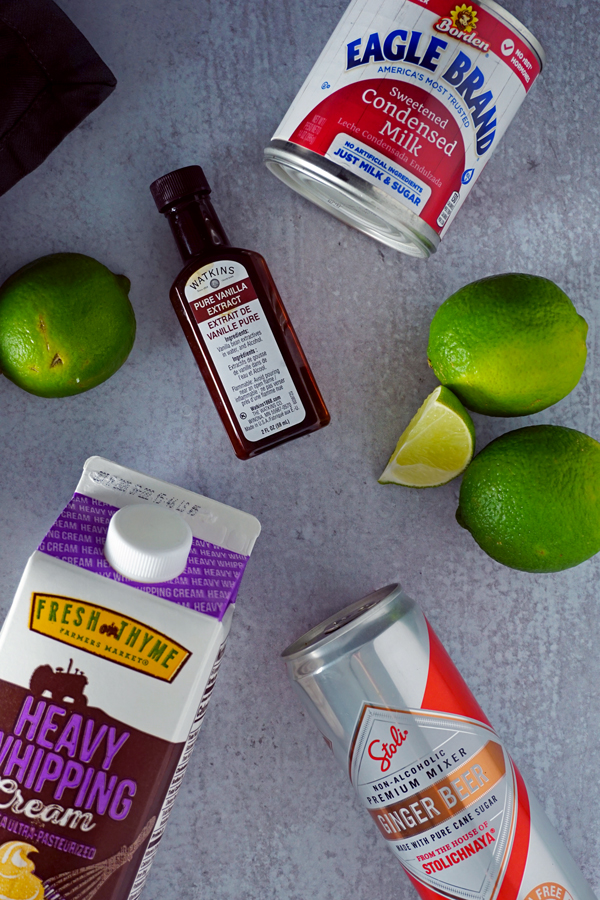 What is Crystallized Ginger?
Of all of the ingredients on the list, crystallized ginger is probably the one most people are unfamiliar with. Crystallized ginger is made from fresh ginger root that has been peeled, cut up, boiled, and cooked in simple syrup. The ginger pieces are then allowed to dry and then dusted generously with coarse sugar. The result is a sweetened, spicy ginger candy that is commonly used in desserts and baked goods. You can typically find crystallized ginger in the baking aisle with the other spices.
If you're someone who prefers a smooth ice cream, without any bits or chunks in it, you can certainly omit the crystallized ginger from the recipe. I recommend substituting it for 1-2 teaspoons of ground ginger though so the finished ice cream still has plenty of that gingery bite to it.
How to Make Moscow Mule Ice Cream
Step 1: Prepare the Ice Cream Base
To make no-churn Moscow mule ice cream, you'll begin by making a typical no-churn ice cream base by whisking a can of sweetened condensed milk together with the flavoring ingredients for the ice cream. In this case, it's lots of lime juice, lime zest, ginger beer, vanilla extract, vodka and ground ginger. Whisk until everything is incorporated and then set the mixture aside.
Note: You can make this ice cream "virgin" by simply omitting the vodka.
Step 2: Fold in Whipped Cream
Next, you're going to prepare the whipped cream which will both thicken the mixture and make it ultra-creamy. Use a stand mixer fitted with a whisk attachment or an electric hand mixer to whip the cream to stiff peaks. Then slowly begin to fold the whipped cream, about 1 cup at a time, into the earlier prepared ice cream base. Continue until the whipped cream is fully incorporated and no streaks remain.
Tip: Take care to fold, rather than stir, the whipped cream into the ice cream. Folding the whipped cream into the base will ensure you retain as much air and volume as possible which will ultimately result in a better ice cream.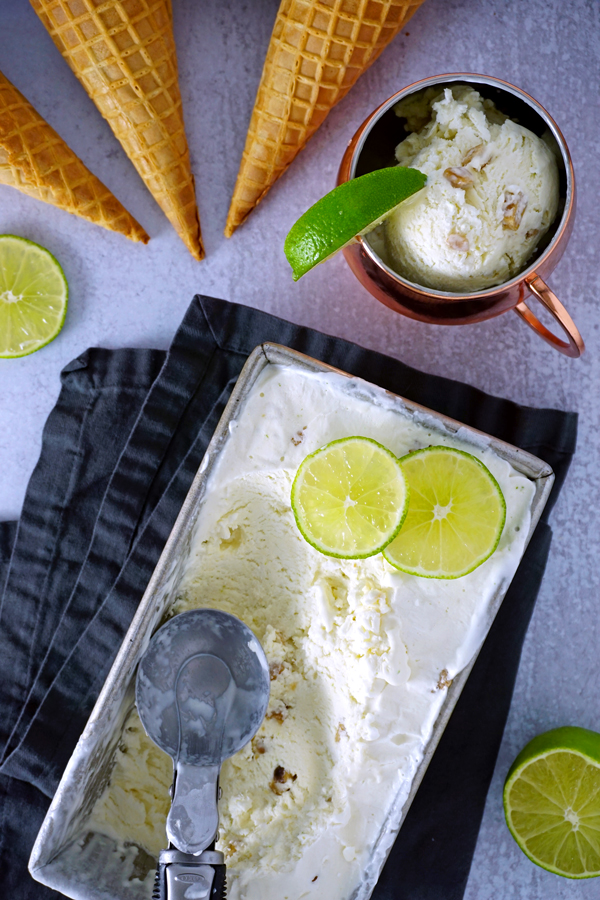 Step 3: Initial Freeze + Add Crystallized Ginger
Transfer the ice cream mixture to a standard loaf pan, cover with foil and then transfer to the freezer. Let the ice cream chill for about an hour, until it starts to thicken and then remove. Uncover and then sprinkle the ice cream with the crystallized ginger. Use a knife or bamboo skewer to swirl the ginger throughout the ice cream. Repeat until all the ginger is added to the ice cream.
Fun Fact: The initial chill in the freezer firms up the ice cream just enough so you can swirl in the crystallized ginger without it all sinking to the bottom.
Step 4: Final Freeze & Serve
Return the ice cream to the freezer and chill until completely frozen. Four hours should suffice if you're feeling impatient, but overnight will yield the best results.
To serve, scoop the ice cream into an ice cream cone, or better yet, scoop the ice cream into a classic copper Moscow mule mug. Garnish with a lime wedge and serve immediately.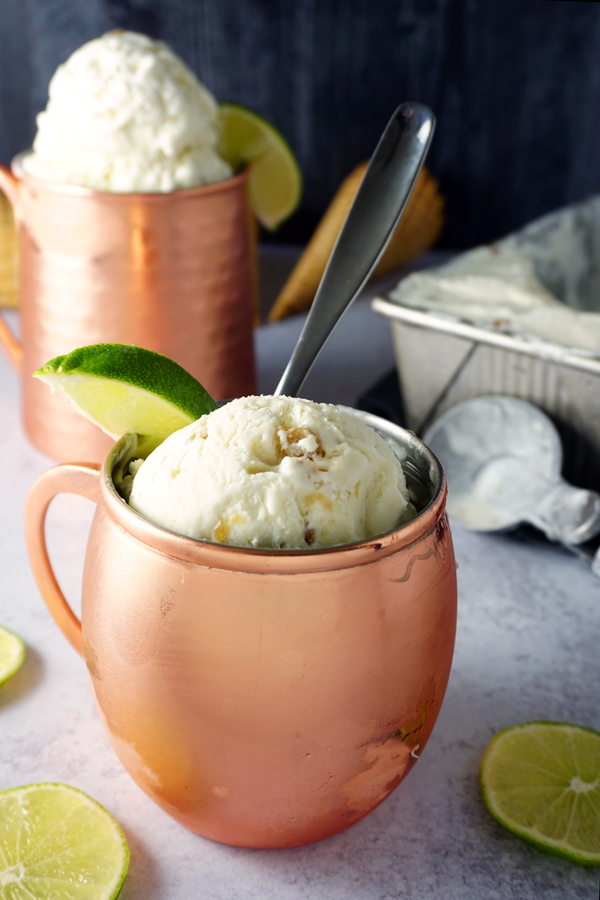 Other Ways to Enjoy this Ice Cream
Get the most from this recipe by trying it as a float, milkshake or popsicle. Here are just a few other ways to indulge in this ice cream even more.
Moscow Mule Float
Add 1-2 scoops of this ice cream to your classic Moscow mule cocktail. It's almost like a fun, frozen ginger-lime twist on a White Russian. Which is funny because Moscow is the capital of Russia!
Moscow Mule Milkshake
Add 3-4 scoops of the Moscow mule ice cream to a blender with 1/4 cup of milk. Blend until smooth, adding additional milk to thin to your desired consistency. Garnish with whipped cream, lime wedges and crystallized ginger.
Moscow Mule Popsicles
If you have popsicle molds, you can opt to freeze this ice cream in those rather than in a standard loaf pan.
More Vodka
More vodka is always an option. Add a floater shot of vodka over your ice cream once scooped into a dish. The ice cream does a great job at keeping your vodka perfectly chilled.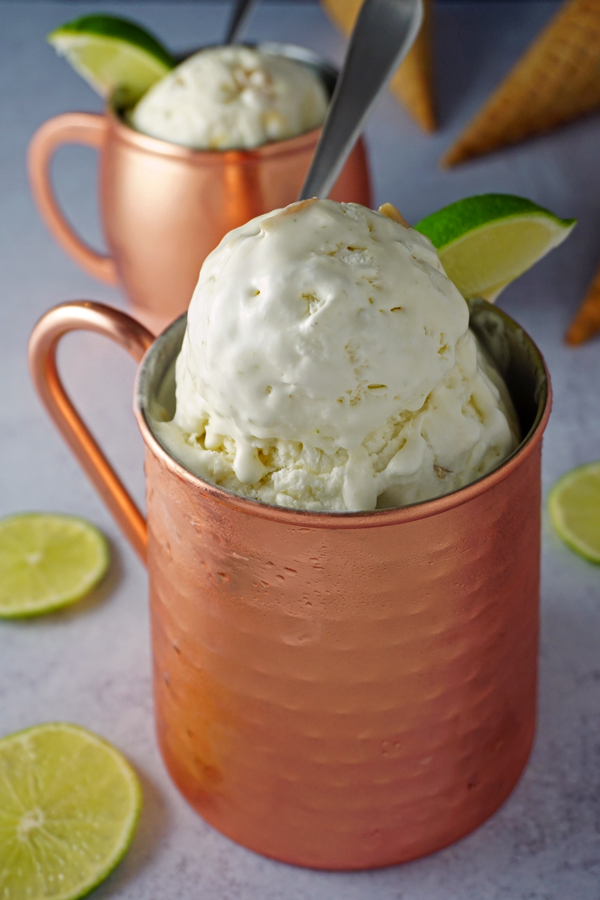 If you make this No-Churn Moscow Mule Ice Cream, leave me a comment below with your thoughts on the recipe along with a rating. You can also snap a photo of your boozy dessert and tag me on social media it's @frydaeblog and #frydaeblog absolutely everywhere! Thanks so much for visiting and I hope you enjoy!
Looking for other boozy recipes? Try this Drunken Short Rib Chili next.
No-Churn Moscow Mule Ice Cream
This ultra creamy and tangy ice cream is somehow indulgent and refreshing at the same time. Made with fresh limes, crystallized ginger and ginger beer, this recipe doesn't require an ice cream maker and can be made with a splash of vodka for an "adult" treat.
Ingredients
2

cups

heavy cream

14

ounces

sweetened condensed milk

2/3

cup

ginger beer

2

whole

limes

,

juiced and zested

1/2

teaspoon

pure vanilla extract

1/4

teaspoon

ground ginger

1/4

cup

crystallized ginger

,

found in the spice aisle or bulk dry goods area typically

2

ounces

vodka

,

optional
Method
In a large mixing bowl, whisk together the condensed milk, ginger beer, vanilla, ground ginger, lime juice and zest in a large bowl. Mix in vodka, if using; set mixture aside.

Whip the cream with a mixer on medium-high speed until firm peaks form, about 2 minutes. Fold about 1 cup of the whipped cream into the condensed milk mixture with a rubber spatula until combined, then fold the lightened mixture into the whipped cream until well blended. 

Pour into a chilled 9-by-5-by-3-inch metal loaf pan and freeze, covered with foil, until thickened, about 1 hour. Remove, and swirl in the crystallized ginger with a spoon. cover and return to freezer until firm and scoopable, about 4 hours more (or overnight for best results).
Notes
---
Substitution Option: If you're someone who prefers a smooth ice cream, without any bits or chunks in it, you can swap the crystallized ginger for additional ground ginger. Add 1-2 teaspoons of ground ginger (adjust according to taste preference) so the ice cream still has plenty of ginger flavor.
Nutrition
Calories:
403
kcal
|
Carbohydrates:
34
g
|
Protein:
5
g
|
Fat:
26
g
|
Saturated Fat:
16
g
|
Cholesterol:
98
mg
|
Sodium:
88
mg
|
Potassium:
229
mg
|
Sugar:
32
g
|
Vitamin A:
1007
IU
|
Vitamin C:
2
mg
|
Calcium:
180
mg
|
Iron:
1
mg