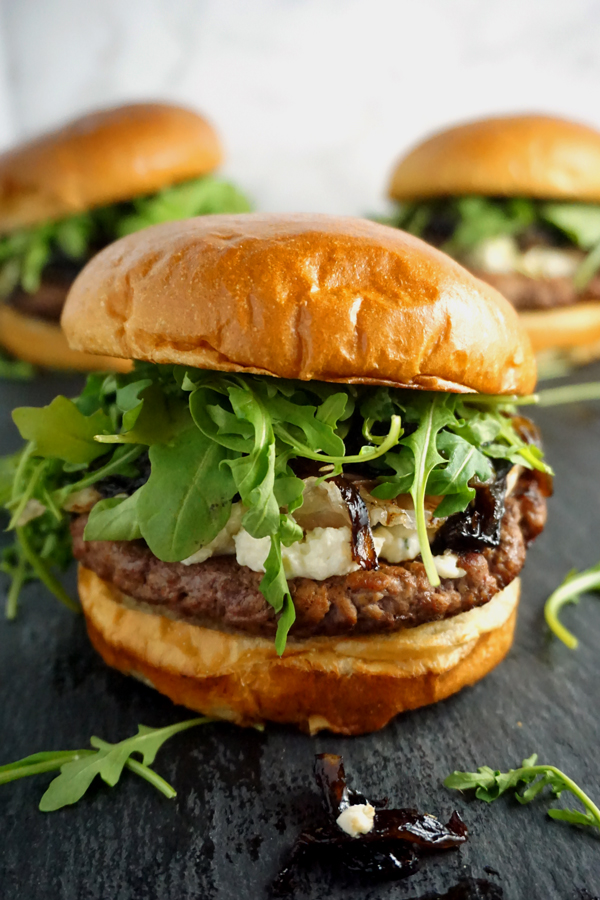 These juicy burgers are served on toasted brioche buns and topped with ample amounts of Boursin cheese, caramelized onion jam and crispy prosciutto.
Happy Frydae everyone! Today I'm indulging in one of my favorite foods—cheeseburgers! The funny thing is, that despite my huge love for burgers, I rarely ever order a burger when I'm out to eat at a restaurant unless I'm at a place that specifically specializes in them. For some reason, I get it in my head that a burger is a "safe" or "boring" choice when you're out to eat somewhere that probably has more exciting options on the menu. However, I think we can all agree that burgers are not always "safe" or "boring" and can easily be ruined by overcooking, a weak bun, or a sloppy amount of mayonnaise. The horror!!!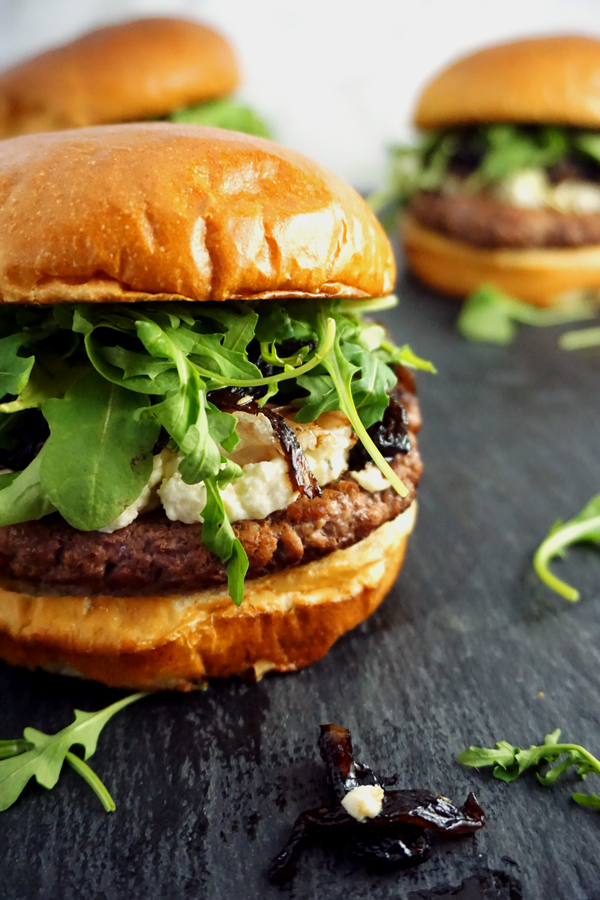 Now, I'm by no means a connoisseur when it comes to cheeseburgers, but I'm definitely a big enough fan to have dedicated an entire project during my senior year in art school to the different types of burgers and their many condiments. It was a sixteen-page mini-book filled with delicious photos of cheeseburgers on every page. Needless to say, staring at it for two or three hours a night for several weeks led to numerous late-night runs to Kopp's (a famous Milwaukee-area cheeseburger joint) and a few extra inches to my waistline. I was lucky to have somehow bypassed my freshman fifteen but I think this project alone was responsible for a senior seven, to say the least.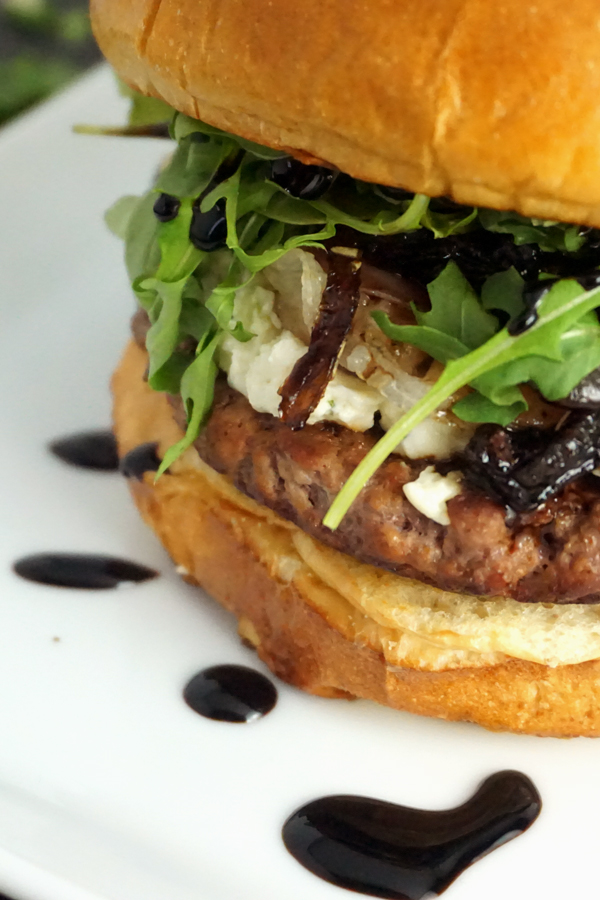 I think that's what I love the most about cheeseburgers. They're so versatile and one is really only limited by their imagination when it comes to crafting something truly beautiful and delicious. As for these burgers, they are what I would have classified as a "fancy pants" burger in my little book from senior year. They definitely wouldn't be found at a drive-thru window or your local pub down the street. They're a bit more refined but still oozing with yummy burger goodness.
Cooked medium, these beef patties are topped with a healthy smear on Shallot and Chive Boursin cheese, arugula and prosciutto that has been crisped up like bacon in a frying pan. These burgers are finished with sweet, caramelized onion jam infused with balsamic vinegar, rosemary and a little sage. The flavors all mesh together beautifully in this "grown-up" cheeseburger that is fit to be served alongside some yummy truffle french fries and a glass of red wine.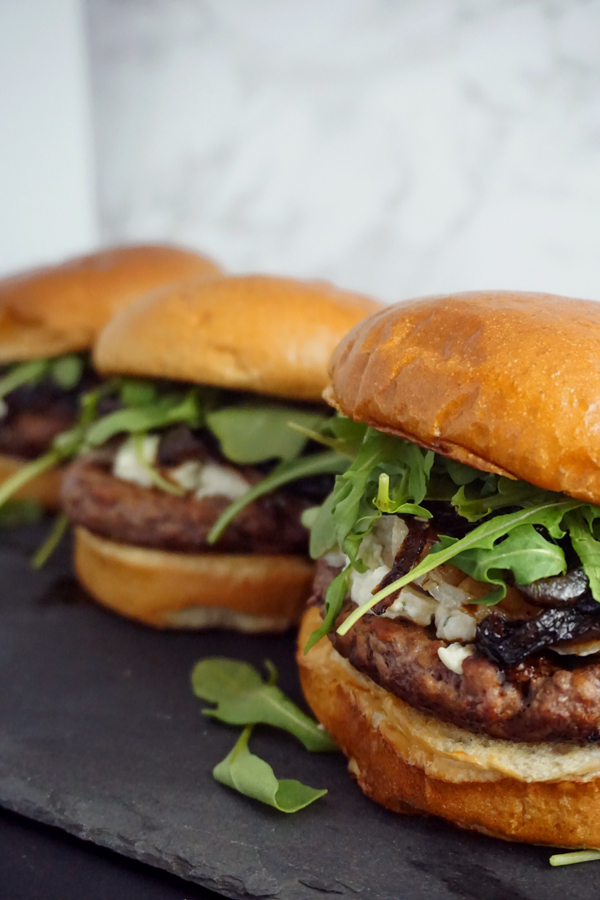 What about you? What is your favorite burger or better yet, where is your favorite place to grab a burger? Let me know in the comments down below. I'm always on the lookout for interesting burger combinations to try out in my kitchen at home.
If you give these juicy burgers a try, please leave me a comment below too and give this recipe a rating! I love hearing from you all and do my best to respond. Also, don't forget to tag me on Instagram (@frydaeblog or #frydaeblog) if you try this recipe out.
Boursin Burgers with Crisp Prosciutto and Onion Jam
Juicy burgers on toasted brioche buns topped with ample amounts of Boursin cheese, caramelized onion jam and crispy prosciutto.
Ingredients
2

pounds

ground beef

6

ounces

prosciutto

,

thinly sliced

8

ounces

shallot and chive Boursin cheese

1

medium

onion

,

thinly sliced

1

tablespoon

olive oil

1/4

cup

granulated sugar

1/4

cup

balsamic vinegar

1/2

teaspoon

dried rosemary

1/4

teaspoon

dried sage

1

cup

arugula

2

tablespoons

butter

6

brioche buns

salt

pepper
Method
In a skillet over medium heat, add olive oil and thinly sliced onions. Saute for 8-10 minutes until onions have caramelized and turned golden. Next, add sugar, balsamic vinegar, rosemary and sage. Reduce to medium-low and continue to cook until liquid thickens and reduces by half—about 5 minutes.

Remove from heat. The jam will continue to thicken a bit as it cools.

Preheat a grill pan over high heat (or prep your outdoor grill). Then, form ground beef into six equal patties—about 1/3 pound each. Season with salt and pepper to taste.

Tip: I try to handle the beef as little as possible when forming the patties. The warmth from your hands can begin to warm the fat in the meat which can result in drier, tougher burgers.

When your grill pan is ready, cook the burgers to your desired level of doneness—about 4-5 minutes per side for medium. Flip your burgers only once for even cooking and for goodness sake please don't smoosh them with your spatula! Just let the poor little guys hang out and enjoy their last precious moments on this earth.

Meanwhile, preheat a separate non-stick pan over medium heat. When it's nice and hot, lay strips of prosciutto in a single layer (like bacon). Cook for about 2 minutes per side or until the prosciutto has crisped up on both sides. Remove and let drain on a paper towel-lined plate.




When the burgers have about 1-2 minutes left to cook, top each patty with a generous amount of crumbled Boursin cheese. Once the cheese has softened and started to melt, remove burgers from heat and let rest.

Next, spread a little butter on both sides of each brioche bun. Then, place them face down on the hot grill pan and toast until golden brown. Remove and set aside.

Finally, assemble the burgers. Place one burger patty on each toasted bun and then top with a few tablespoons of the balsamic onion jam, a slice of crispy prosciutto and a small handful of arugula. Then, devour.