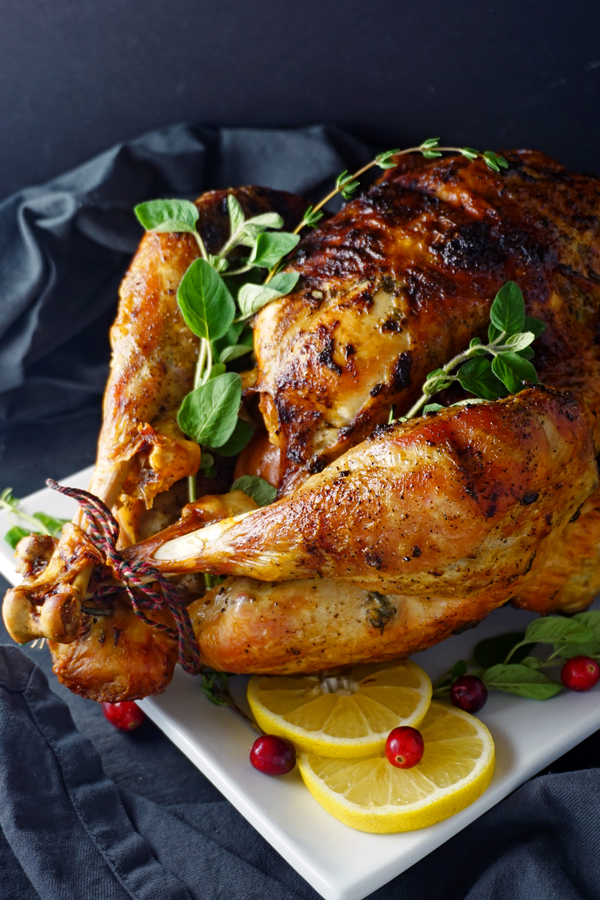 The secret is out—a mixture of mayonnaise, butter, herbs, lemon zest and grated onion rubbed all over and under the skin of a turkey yields the juiciest, most flavorful Thanksgiving bird you'll ever eat.
If you're reading this post then it means one of two things. Either your mother is sick and tired of having to cook eight kinds of potatoes for the family and is rebelling so you've landed the task of cooking the Thanksgiving turkey for your whole family last minute. The other option would be that you forgot to get the bird in its brine bath early enough so you need a way to cook a moist, juicy turkey that can be done without a lot of prep ahead of Thanksgiving. Or I suppose you just love turkey and want to learn a new way to cook one.
Regardless of your reasoning, you're in luck! Today I'm sharing a last-minute Thanksgiving turkey recipe that I've been using for years. I tried this method once years ago and it produced the juiciest, most flavorful turkey I've ever had. Since then, I've tweaked the ratios, herbs and method every year and I think I've finally perfected the turkey roasting process.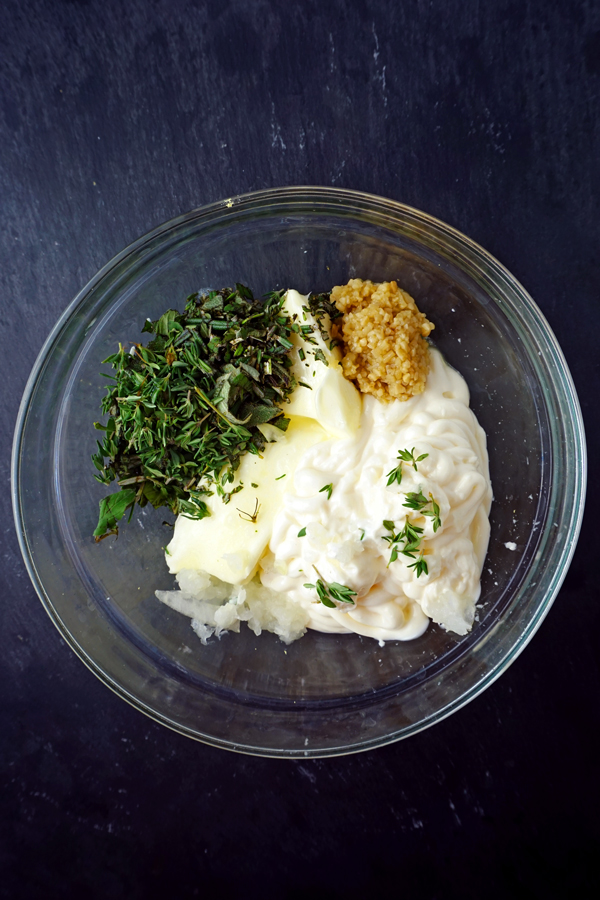 This recipe combines a few tried and true turkey roasting techniques that not only speeds up cooking time but makes the whole ordeal as fuss-free as humanly possible without sacrificing flavor.
Tips for Juicy, Flavor-Packed Turkey
Tip #1: Size Matters
This recipe is perfect whether you're cooking for four or forty. One thing I've figured out is choosing a smaller turkey rather than a big behemoth is always the best choice. They cook faster, the meat tends to be less tough and they're easier to lift, flip and transfer in and out of the oven. Aim for a 12-14 pound turkey max. If you're feeding a big crowd, prep two turkeys rather than one. The other benefit of cooking two smaller turkeys is that there are more legs and thighs to go around for the dark meat lovers at your table.
Tip #2: Skip the Brine
My favorite part about this recipe is that there is zero prep to do ahead of Thanksgiving aside from making sure the turkey is fully thawed. While wet and dry brines help to add flavor and moisture to a turkey, they can be messy and require prep-work several days in advance. If you have the time and patience to brine, go for it! However, if you're not great at preplanning and you want your Thanksgiving to be as lowkey as possible, try this mayonnaise and butter method. You won't regret it.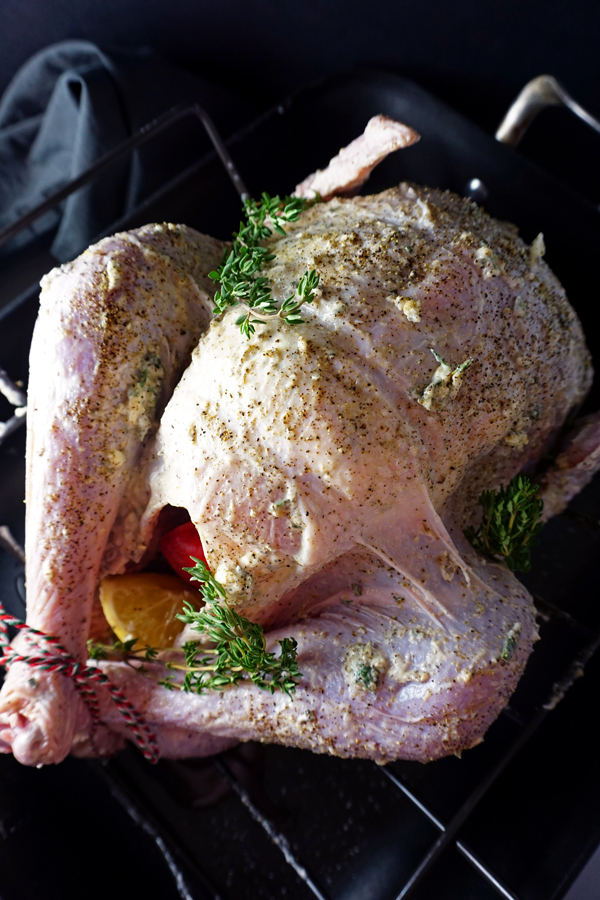 Tip #3: Fatten Up
Since we're skipping a brine, the turkey will need something else to help it retain moisture. The solution is a combination of mayonnaise and butter mixed with fresh herbs, lemon zest, grated onion and garlic. Some recipes just have you spread the butter all over the outside of the turkey, which certainly helps the bird brown evenly and get a crispy skin. However, I find this method alone doesn't help a lot with moisture because much of the butter just melts off into the roasting pan.
To get a super moist turkey, you want to give it a layer of "blubber" under the skin. Turkeys are naturally fairly lean. They lack a thick layer of fat under the skin that other roasting birds, like ducks, have. In this recipe, you'll gently loosen the skin away from the muscle of the bird on all sides as best you can with your fingers. This will create lots of little pockets that you can stuff and fill with the butter-mayo mixture. This extra layer of fat will shield the breast meat from the harsh, direct heat of the oven and help it stay juicy.
Tip #4: Use Fresh Herbs
While you can certainly swap dry herbs for fresh herbs in this recipe, I find that using fresh herbs in the butter-mayo mixture makes a world of difference. They add a much deeper flavor and aroma to the turkey so I really encourage you to hunt down fresh herbs if you can. Most of my local grocery stores offer a "poultry blend" of fresh herbs in the produce section which usually includes all the herbs you need for this recipe aside from the oregano which is typically packaged separately.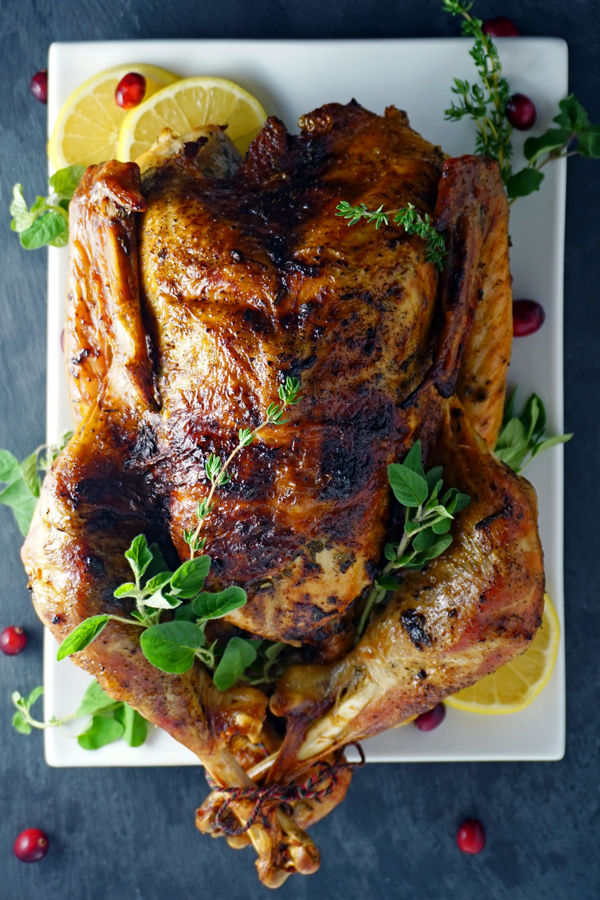 Tip #5: Flipping the Bird
No, you're not going to give the turkey the middle finger, but this next step is a bit dangerous, so be careful. While tricky, I find flipping the turkey once during cooking is the best way to get a crispy, golden skin on all sides of the turkey and also ensure the white breast meat stays nice and juicy. In this recipe, you'll start the Thanksgiving turkey breast side down in the roasting pan and bake it at 450 degrees for 30 minutes. This blast of high heat helps speed up the cooking time and also helps get that skin nice and brown. I start the turkey breast side down for this first phase because it shields the breast meat from getting a direct hit of this high heat. It also allows all that butter to drip down and pool at the breast for serious added moisture.
After 30 minutes, you'll remove the turkey from the oven and reduce the heat to 350 degrees. At this point, you'll flip the bird over so it's breast-side up. Be careful not to burn yourself or spill melted butter out of the bird. This is where choosing a smaller turkey really benefits. A bird under 14 pounds is much less awkward to flip so it makes this step a lot less stressful. After the turkey has been flipped, return it to the oven to finish cooking until it reaches an internal temperature of 165 degrees.
Tip #6: Burnt Bits and All
This final tip has less to do with the turkey and more to do with the gravy. I bring up gravy because let's face it, the gravy is almost as important as the turkey itself. Most gravy recipes will tell you to siphon away the turkey drippings from the bottom of the pan using a turkey baster. This is the classic method that will give you than pale golden gravy everyone knows. I, on the other hand, like to include every brown and burnt bit in the bottom of the pan with my gravy along with the liquid drippings.
This yields a much darker color gravy than most are used to but it has such an incredible depth of intense flavor, it makes such a big difference. With this method, some of the dark bits won't cook down smooth in the gravy. Therefore, use an immersion blender just before serving to puree the gravy smooth. Trust me, you'll never go back to regular turkey gravy after trying it this way.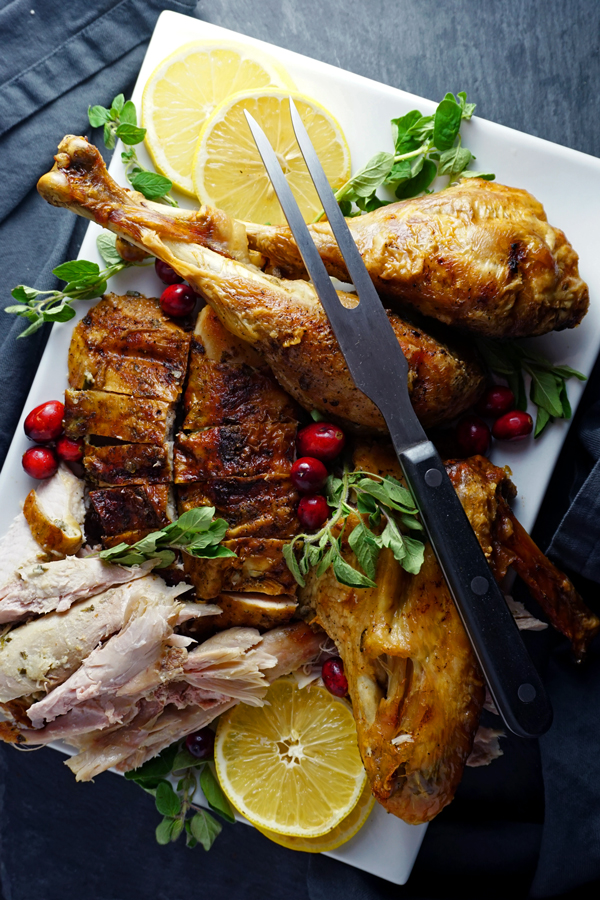 I hope everyone has a wonderful Thanksgiving this week. This turkey has been the go-to recipe in our family for several years now and I hope it's the star of the show on your table this Thursday and you enjoy "gobbling" up the leftovers (????sorry, bad pun) all weekend long.
If you make this Mayo-Rubbed Thanksgiving Turkey with Lemon and Herbs, snap a photo and tag me on social media. It's @frydaeblog and #frydaeblog absolutely everywhere! Also, leave it a rating and let me know your thoughts below in the comments. Thanks so much for stopping by my Thanksgiving table today. Happy Thanksgiving!
Still need a stuffing recipe for your Thanksgiving meal? Serve this Hazelnut, Quinoa Stuffing with Apples, Cranberries and Sweet Potatoes alongside this Thanksgiving turkey.
Mayo-Rubbed Turkey with Lemon and Herbs
The secret is out—a mixture of mayonnaise, butter, herbs, lemon zest and grated onion rubbed all over and under the skin of a turkey yields the juiciest, most flavorful Thanksgiving bird you'll ever eat.
Ingredients
12-14

pound

turkey

,

fully thawed

1 1/2

sticks

salted butter

,

room temperature, divided

1 1/2

cups

mayonnaise

8-10

leaves

fresh sage

,

chopped

2-3

sprigs

fresh rosemary

,

chopped

3-4

sprigs

fresh oregano

,

chopped

4-5

sprigs

fresh thyme

,

chopped

1/4

cup

yellow onion

,

grated

1

tablespoon

garlic

,

minced

1

tablespoon

lemon zest

1

lemon

,

quartered

1

large

yellow onion

,

quartered

1

honeycrisp apple

,

quartered

1/2

tablespoon

ground sage

2

tablespoons

salt

1

tablespoon

black pepper
Method
Preheat oven to 450 degrees.

Then in a medium bowl, combine mayo, 1 stick of butter, fresh herbs, grated onion, garlic and lemon zest. Mix until everything is well combined and then set aside.

Next, unpackage your turkey and pat it dry with paper towels. Then, using your fingers, gently lift the skin away from the muscle on the breasts, legs, thighs and back of the turkey. Take care to not tear the skin and try to create as deep of pockets as possible on all sides of the bird.

When the skin has been loosened on all sides, begin to gently stuff the mayo-butter mixture under the skin of the bird in the pockets you've created. Continue to push the mixture under the skin of the turkey until about 1/4 of the mixture remains. Rub the remaining mixture all over the turkey generously.

Transfer the turkey to the rack of a roasting pan and then season liberally with salt, pepper and dried sage on all sides. Stuff the cavity to the turkey with the quartered lemon, onion and apple as well as the remaining 1/2 stick of butter.

Loosely tie the turkey's legs together with baker's twine and then position the turkey breast side down in the roasting pan. Transfer the turkey to the preheated 450-degree oven and roast for 30 minutes.

After 30 minutes, remove the turkey from the oven and reduce the oven to 350 degrees. Now, carefully flip over the turkey so that it is breast side up. Insert a meat thermometer into the thickest part of the turkey's thigh and then return the bird to the oven.

Continue to roast for 1 1/2-2 hours, or until the thermometer registers 165 degrees in the thigh and breast. While the turkey roasts, you may use a baster to baste the turkey every 30-45 minutes, if desired.

When the turkey is fully cooked, remove from oven, tent with foil and let rest for at least 20 minutes before carving. Reserve the pan drippings (burnt bits and all) to make turkey gravy.
Notes
---
Note that total cooking time will vary depending on your oven and the size of your turkey. If your turkey is larger than 14 pounds, I would increase the 450-degree cooking time to 45 minutes. Then, adjust the final cooking time, at 350 degrees, by an additional 10-15 minutes per pound over 14 pounds. When in doubt, adhere to the 165-degree rule to get a perfectly cooked turkey. Also, for larger turkeys, double the quantities for the mayo-butter ingredients to ensure you have plenty for proper coverage.
Nutrition
Calories:
749
kcal
|
Carbohydrates:
1
g
|
Protein:
70
g
|
Fat:
51
g
|
Saturated Fat:
15
g
|
Cholesterol:
274
mg
|
Sodium:
1802
mg
|
Potassium:
737
mg
|
Fiber:
1
g
|
Sugar:
1
g
|
Vitamin A:
556
IU
|
Vitamin C:
1
mg
|
Calcium:
46
mg
|
Iron:
3
mg