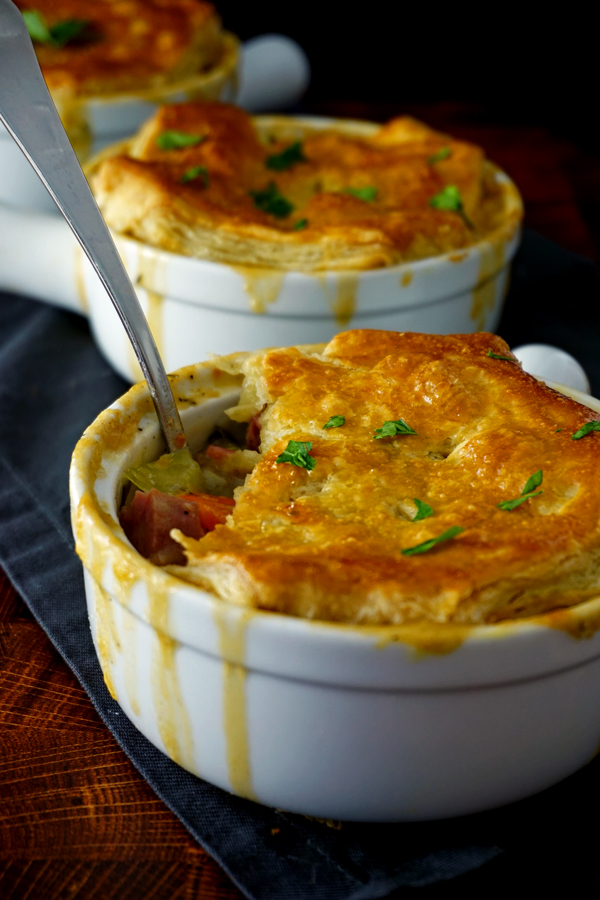 Enjoy classic corned beef and cabbage on St. Patrick's day in a fresh new way. These individual Irish pot pies are filled with tender corned beef, cabbage, carrots and potatoes in a creamy sauce and topped with flaky puff pastry.
I'm so excited to share this recipe with you all this week. St. Patrick's Day is just around the corner which means I've been experimenting with corned beef and Guinness like it's nobody's business. While classic corned beef and cabbage will always be the iconic St. Patrick's Day meal, I wanted to give it a new spin this year. That's how these delicious (and adorable) individual Corned Beef and Cabbage Pot Pies came about.
Loaded with large pieces of my favorite Slow-Cooker Corned Beef, the filling is super hearty and full of Irish flavors. My favorite time to make these pot pies is actually the days following St. Patrick's day because it's a great way to use up any leftover corned beef you might have. However, you can certainly make these on St. Patrick's Day too—you'll just need to start cooking the corned beef nice and early so it's fall-apart tender by the time dinnertime arrives. Here's how I like to prepare my corned beef.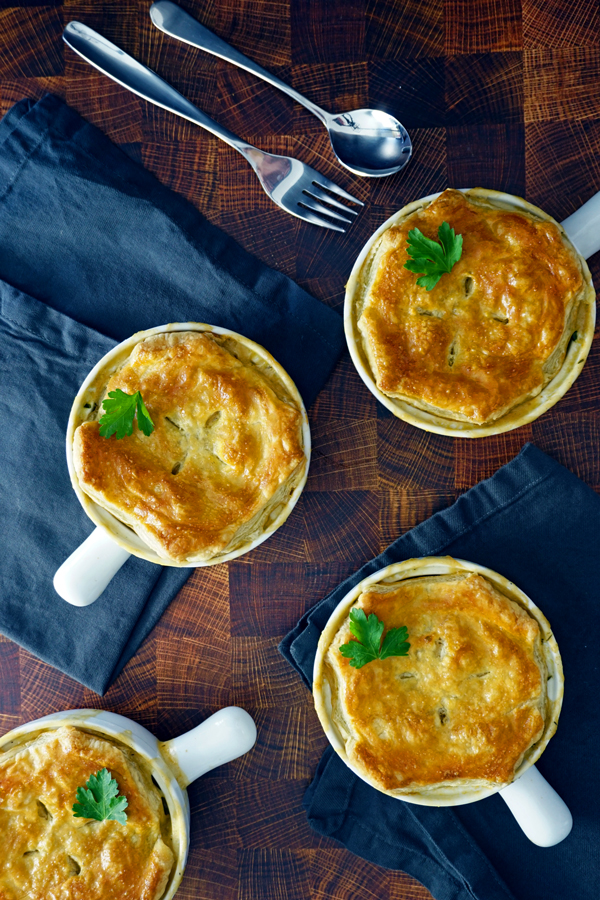 How to Make Corned Beef in a Slow Cooker.
Step 1: Prep the Corned Beef
Place the corned beef in a slow cooker. Open the included seasoning pack and rub it onto the beef on all sides.
Step 2: Add Onions and Cooking Liquid
Next, thinly slice a medium onion and then arrange the onions around the beef. Add a bay leaf and 1 tablespoon of dijon mustard to the slow cooker and then pour 12-16 ounces of Guinness (or your favorite dark stout) over the corned beef. You can also use beef broth in lieu of beer if you prefer.
Step 3: Cook Low and Slow for 4-6 Hours
Set the slow cooker to high and cook for 4-6 until the corned beef is tender. Use two forks to shred the beef into large chunks. Serve.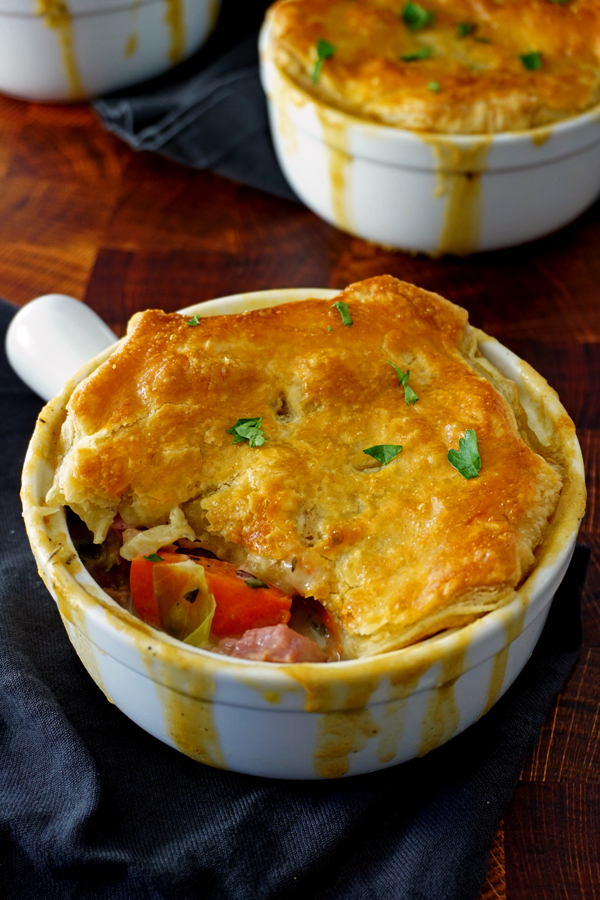 There you have it. A simple, 5-ingredient corned beef that made right in your slow cooker. I'll generally make about 3 pounds for my husband and I and that usually leaves us with plenty of leftovers to make these pot pies or a Reuben Lasagna in the days that follow.
When making these pot pies, I like to make individual ones for each person. Mainly because they're adorable. I also feel that the crust is the best part of most pot pie recipes so this way each person gets their own golden, flaky crust to enjoy. Note, that you can totally make this recipe as one large pot pie as well. Just add the filling to a deep pie pan or oven-safe casserole dish and top with a single, large sheet of puff pastry.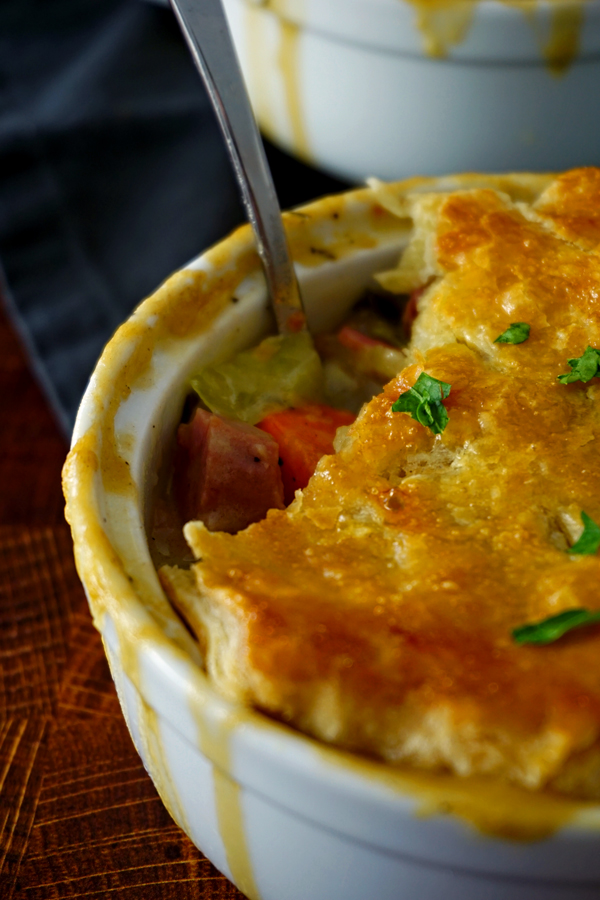 How to Make St. Patrick's Day Pot Pies
Once the corned beef is cooked and shredded, the rest of this recipe comes together very easily.
Step 1: Saute the Carrots and Onions
Begin by melting the butter in a large pan over medium heat. Then you're going to add the sliced onions, carrots, thyme and bay leaf. Saute until the onions and carrots begin to soften and get fragrant.
Step 2: Make the Sauce
Next, it's time to make the creamy sauce for the pot pies to bubble in. To the onions, carrots and melted butter, add 1/3 cup of flour. Stir until the flour is moistened and a smooth paste forms coating the vegetables. Cook for 2-3 minutes until the flour turns golden and then gradually whisk in the broth. I like to add the broth about 1/2 cup at a time and then mix until well-incorporated and smooth. Once the broth is completely mixed in, slowly whisk in the milk until a smooth sauce forms. Bring the sauce to a simmer and then season with salt and pepper.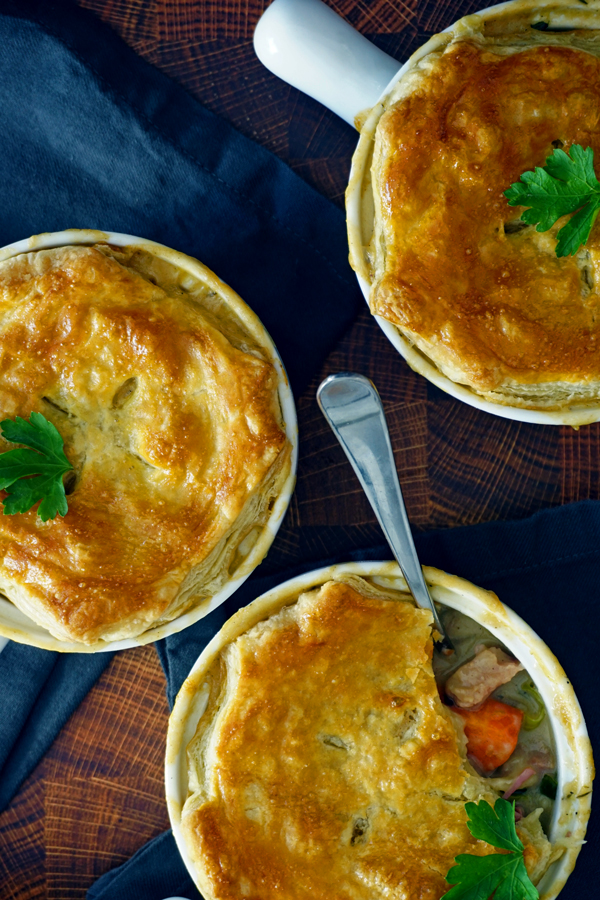 Step 3: Add Cabbage, Potatoes and Corned Beef
Let the sauce continue to simmer for a few minutes until it's thickened a little and then add the chopped cabbage, potatoes, corned beef, caraway seeds and parsley. Fold everything together so it's evenly coated in the sauce and then let it cook for a few minutes until the cabbage begins to wilt and the potatoes start to soften. Remove the bay leaf from the mixture and discard it.
Step 4: Transfer to Oven-Safe Bakeware
Next, it's time to transfer the filling to your oven-safe bakeware. I used four individual soup crocks with handles, but small Corningware dishes, ramekins or stoneware will also work. Fill the dishes nearly full, leaving room to lay the pastry crust.
Step 5: Add Pastry Crust and Bake
Finally, top each pot pie with a piece of thawed, frozen puff pastry dough. The dough should be cut slightly larger than the pot pie. Gently tuck and press the pastry over the filling and then cut 3-4 slits into the top of each so the pies can vent.
Brush each pie with a beaten egg and then transfer the pies to a large baking sheet. These pies may bubble over while baking so the sheet helps catch any overflow. Bake the pies for 30-35 minutes until the pastry is golden and flaky. Remove the pies and let set for 5-10 minutes before serving.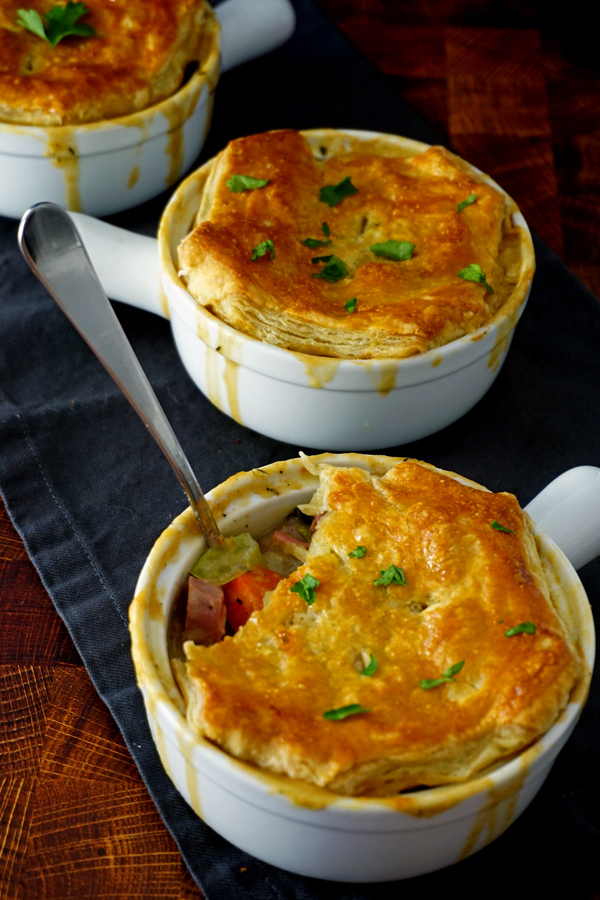 These pies are so cozy and delicious. It's a perfect winter-spring transition recipe that great for those March days that still have a bit of chill in the air. These pies also reheat wonderfully. Simply place the refrigerated pies into a preheated 350-degree oven tented loosely with foil. Bake for 15-20 minutes until the crust crisps up and the filling is warm in the center.
I hope you all love these Corned Beef and Cabbage Pot Pies as much as my family does. They may be my new favorite way to enjoy corned beef on St. Patty's Day. If you make these pot pies, snap a photo with them next to a tall pint of Guinness and tag me on social media. It's @frydaeblog and #frydaeblog absolutely everywhere!  Also, leave it a rating and let me know your thoughts below in the comments.
Try some of my other favorite St. Patrick's Day favorites like this Reuben Lasagna or these Irish Whiskey Caramel Cupcakes with Guinness Chocolate Espresso Buttercream.
Corned Beef and Cabbage Pot Pies
Enjoy classic corned beef and cabbage on St. Patrick's day in a fresh new way. These individual Irish pot pies are filled with tender corned beef, cabbage, carrots and potatoes in a creamy sauce and topped with flaky puff pastry.
Ingredients
4

tablespoons

salted butter

1

small

onion

,

sliced

1

large

carrot

,

peeled and chopped

1/2

teaspoon

dried thyme

1

whole

dried bay leaf

1/3

cup

all-purpose flour

2

cups

beef or vegetable broth

1

cup

whole milk

1/2

teaspoon

salt

1/4

teaspoon

black pepper

1

cup

green cabbage

,

chopped

1

large

russet potato

,

chopped

2

cups

cooked corned beef

,

shredded or chopped

2

tablespoons

fresh parsley

,

chopped (plus more for garnish)

1/2

teaspoon

caraway seeds

1

sheet

frozen puff pastry

,

thawed

1

large

egg

,

beaten
Method
Preheat oven to 375 degrees

In a large skillet, melt the butter over medium heat and then add the onion, carrots, thyme and bay leaf. Sauté until the onions and carrots have softened and then add the flour. Cook for 2-3 minutes until flour turns golden and then slowly whisk in the broth followed by the milk. Season with salt and pepper and then bring the mixture to a simmer.

Continue to cook the sauce for 6-8 minutes until it begins to thicken. Then, add the cabbage and potatoes. Cook until the carrots and potatoes have begun to soften and the cabbage has started to wilt. Remove and discard the bay leaf.

Fold in the cooked corned beef, parsley and caraway seeds and then remove the skillet from the heat. Next, fill individual oven-safe ramekins or mini dutch ovens with the mixture.

Note: You may also make one large pot pie instead. Simply leave the mixture in your skillet (if it's oven-safe) or transfer to a large cassarole baking dish and then proceed to the next step.

Unfold the thawed puff pastry and cut it into four equal squares (or leave whole if making one large pot pie). Gently roll out the pastry with a rolling pin, if necessary, so that the squares are slightly larger than your pot pies. You want a little overlap. Place the rolled pastry over each ramekin and then brush it with the beaten egg. Finally, make 3-4 slits in the top of each pot pie to vent using a sharp knife.

Bake until the pastry is puffed and golden—about 30-35 minutes. Remove from oven and let set for 10-15 minutes before serving. Garnish with fresh parsley and enjoy.
Notes
---
If you don't have leftover corned beef, an easy slow cooker corned beef you can start the morning you plan on serving these for dinner follows.
2.5 pounds corned beef (with seasoning packet)
1 medium onion, diced
1 bay leaf
1 tablespoon dijon mustard
12-16 ounces dark beer (or beef broth)
Place corned beef into your crockpot along with its seasoning packet. Next, add onion, dijon mustard, bay leaf and enough Guinness to almost cover the meat. Then, let it cook for 4-6 hours on high—or until it easily shreds with two forks.
Nutrition
Calories:
871
kcal
|
Carbohydrates:
60
g
|
Protein:
31
g
|
Fat:
56
g
|
Saturated Fat:
20
g
|
Cholesterol:
153
mg
|
Sodium:
2498
mg
|
Potassium:
1073
mg
|
Fiber:
4
g
|
Sugar:
6
g
|
Vitamin A:
3733
IU
|
Vitamin C:
49
mg
|
Calcium:
134
mg
|
Iron:
6
mg