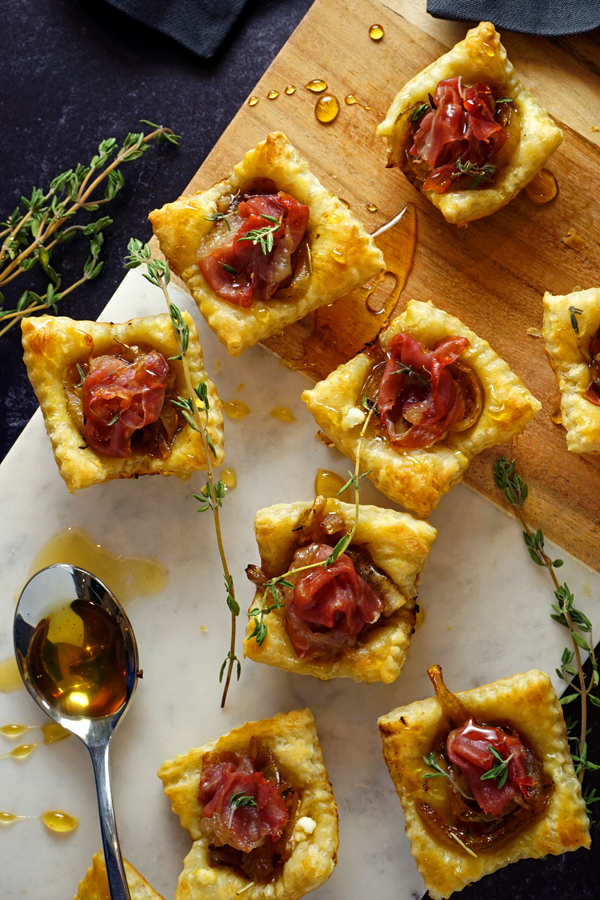 Impress your friends and family at your next gathering with these elegant, yet simple puff pastry tarts. Filled with caramelized onions sauteed in fig jam, goat cheese and salty prosciutto, these tarts get garnished with fresh thyme and a drizzle of sweet honey.
One of the items I always keep stocked in my freezer is frozen puff pastry. It's a kitchen staple that I feel no one should ever be without. While making your own puff pastry from scratch can be fun, if you're getting your home ready for an event, it can be a handy step to skip. These caramelized onion tarts, for example, were a direct result of running short on time and needing to put together a tasty snack to share with guests last minute.
What I love about these tarts is the combination of flavors. You have sweet caramelized onions and honey, tangy goat cheese and salty prosciutto nested into crisp, buttery puff pastry. These totally have that salty/sweet factor making them not only super tasty but super addicting too.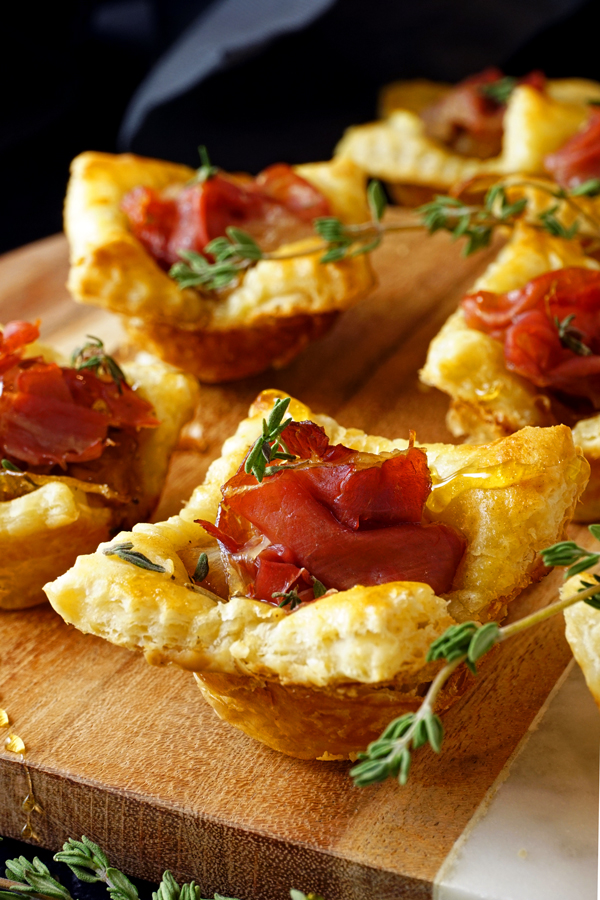 Tips for Caramelizing Onions
Caramelizing onions is one of the tasks every home chef should know how to do. So many great recipes utilize caramelized onions as a base that its important to know how to master this process. Here are a few tips to help you get perfectly caramelized onions every time.
1. Slice the Onions Just Right
Too thick, and the onions will take too long to caramelize. Too thin, and they stick to the bottom of your pan and burn. When slicing onions for caramelizing, aim for slices that are right around 1/8-inch thick.
2. Use Butter and Oil
Butter gives caramelized onions great flavor but can burn if used alone. Combine it with a cooking oil that has a high smoke point, like olive oil. Combining the butter with oil will allow your onions to cook without burning while still imparting them with great butter flavor.
3. Onions Need Space
It's best to not overcrowd the pan when caramelizing onions. If the onions are too crowded, they'll steam as they release their juices and take longer not caramelize. Try to keep the onions in a single, thin-ish layer as you cook them.
4. Temperature is Key
Caramelizing onions isn't a fast process. You want to cook them over moderate heat nice and slow so their sugars can release and caramelize properly. Blasting them with super high heat will cause them to char and possibly burn. So give them time to hang out and do their thing—it will be worth the wait.
5. Don't Forget to Deglaze
There are lots of yummy bits on the bottom of your pans when the onions are just about ready. To make sure you get all that great yummy onion flavor, use a few tablespoons of balsamic vinegar, red wine or cooking stock to deglaze the pan. This shot of liquid right at the end helps to loosen those bits on the bottom of the pan and reincorporates them into the onions. In this recipe, we'll use a little balsamic vinegar and jam to do the job.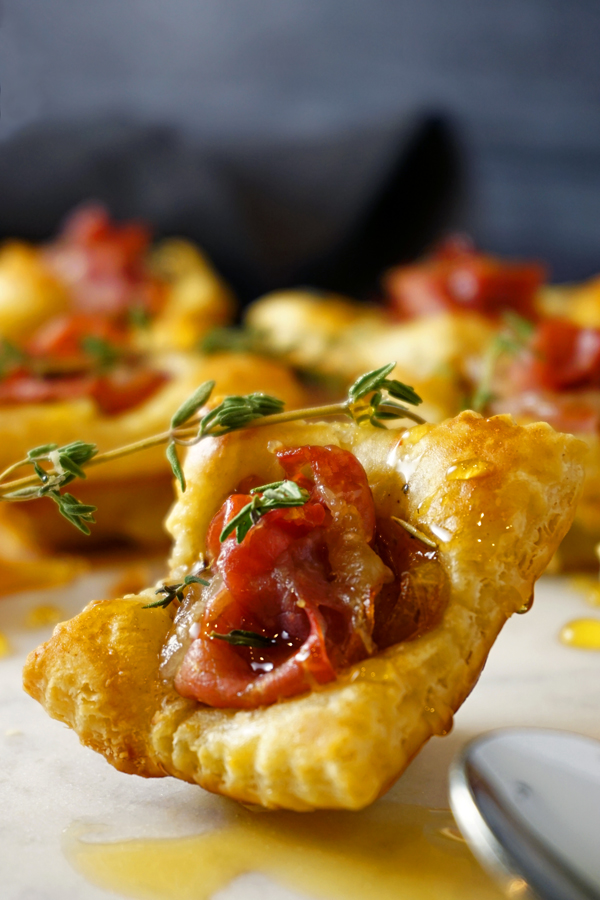 How to Assemble Caramelized Onion Tarts
Once the onions are caramelized to perfection, assembling the tarts is a breeze. All you'll need is a mini muffin tin, a pastry brush and a sharp knife or pastry cutter. To begin, you'll want to grease the muffin tin with a bit of butter or cooking spray to prevent the puff pastry from sticking. Next, unfold the thawed puff pastry and slice each sheet into 16 equal-sized squares.
Once the squares are cut, brush each one with a bit of beaten egg. Then transfer the pastry dough squares to the muffin tin. Gently press the pastry into each muffin well to create a little pastry nest for your filling. It's important to make sure the pastry is pressed evenly into each muffin well to ensure the pastry browns properly. If there are gaps, the pastry will almost steam rather than bake in the oven and the bottom of your tarts will be chewy rather than nice and crisp.
Fill the Tarts
Next, spoon a few teaspoons of caramelized onions into each pastry shell. Then top with a few crumbles of goat cheese and a rosette of prosciutto. FYI—rosette is just a fanc way of me saying to take a small strip of prosciutto and form it into a semi-graceful-looking blob on top of each tartlet. Seriously, no special skills required!
I've made these tarts by baking the prosciutto on top of the tarts and also waiting to put the prosciutto on top after they come out of the oven too. Both ways taste great so it really just comes down to personal preference.
Bake the Tarts
Once assembled, bake the tarts in the oven for 10-15 minutes. They're ready to remove when the pastry has puffed and the edges are golden brown. Let the pastries cool for 5 minutes and then use a small spoon to gently lift the tarts out of the muffin tin and onto a wire cooling rack to finish cooling.
These tarts can be served warm or at room temperature. Before serving, I like to garnish them with a drizzle of honey and a bit of fresh thyme. These tarts look so elegant and smell divine. Every time I make these, everyone is always amazed by how quick and simple they are to throw together.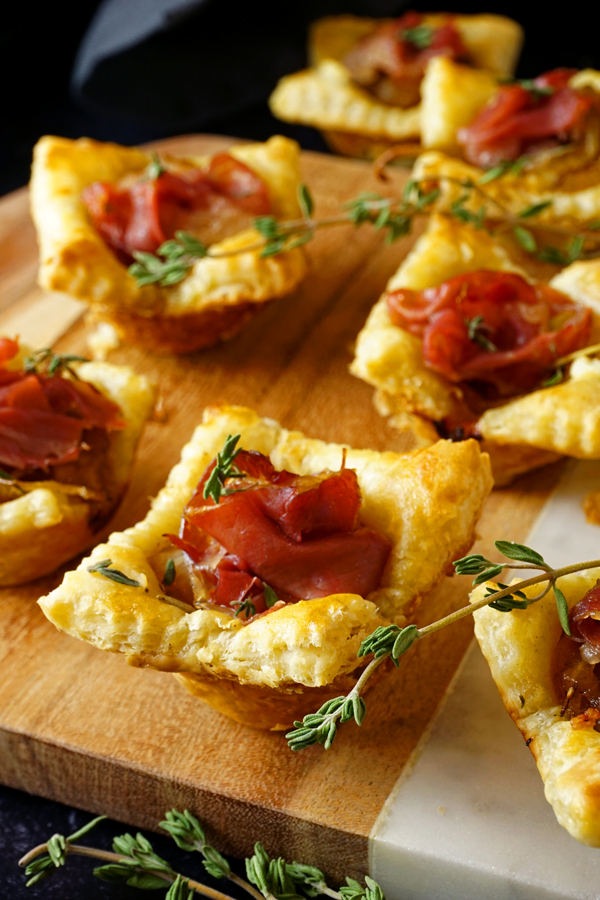 Give these Caramelized Onion Tarts a try for your next gathering. They would also make a fantastic Valentine's Day appetizer to share with a special someone for a date night treat. If you try this recipe, snap a photo of your results and tag me on social media. It's @frydaeblog and #frydaeblog absolutely everywhere!  Also, leave it a rating and let me know your thoughts below in the comments. Thanks so much for reading and I hope you enjoy!
If you love prosciutto as much as I do, then you'll love these Boursin Burgers with Crisp Prosciutto and Onion Jam. Try them next!
Caramelized Onion Tarts with Goat Cheese and Prosciutto
Impress your friends and family at your next gathering with these elegant, yet simple puff pastry tarts. Filled with caramelized onions sauteed in sweet jam, goat cheese and salty prosciutto, these tarts get garnished with fresh thyme and a drizzle of sweet honey.
Ingredients
1

sheet

frozen puff pastry

,

thawed

1

large

onion

,

thinly sliced

1/2

teaspoon

fresh thyme

,

plus additional for garnish

1/4

teaspoon

fresh rosemary

,

chopped

2

tablespoons

butter

2

tablespoons

olive oil

1/4

cup

fig jam

,

black garlic, caramelized onion or cranberry jam are great alternatives

1

tablespoon

balsamic vinegar

1/4

cup

goat cheese

,

crumbled

4-6

ounces

prosciutto

,

torn

1

large

egg

,

beaten

2

tablespoons

honey

,

for drizzling
Method
Preheat oven to 425 degrees. Grease a mini muffin pan with butter or cooking spray.

In a pan over medium heat, melt 2 tablespoons of butter with 2 tablespoons of olive oil. When melted, add thinly sliced onions and cook for 5 minutes. 

Add rosemary and thyme and cook over medium heat for at least 20-25 minutes until onions are deep golden brown and caramelized. When the onions are nearly ready, add the jam and balsamic vinegar to the onions and stir to combine. Continue to cook for 2-3 minutes, scraping the bottom of the pan to deglaze it. Remove the skillet from the heat and let the onions cool slightly.

*Note* You may continue to caramelize the onions for up to 60 minutes total to get a deeper flavor, if desired.

Meanwhile, cut each thawed puff pastry sheets into 16 equal squares. Lightly brush each square with beaten egg and then transfer to the prepared mini muffin tin. Gently press each pastry square into each muffin well—ensuring the pastry is touching the tin completely.

Next, fill each pastry shell with 1-2 teaspoons of caramelized onions and 1-2 teaspoons of goat cheese crumbles. You want the shells to be rather full. Finally, top each tart with a loose ball of torn prosciutto.

Transfer the muffin tin to the oven and bake 12-15 minutes or until puffed and golden brown on the edges. Remove and let cool slightly before removing. You can use a small spoon to help you lift the tarts out of the muffin tin.

Before serving, garnish each tart with a drizzle of honey and fresh thyme leaves. Serve warm or at room temperature.



Notes
---
Rather than baking the tarts with the prosciutto on top of the tarts, you may wait and top the tarts with it after baking as well. It truly depends if you prefer your prosciutto crispy or not. I find that I like the prosciutto crispy in the fall and winter, but uncooked prosciutto in spring and summer months.
Nutrition
Calories:
204
kcal
|
Carbohydrates:
12
g
|
Protein:
5
g
|
Fat:
16
g
|
Saturated Fat:
6
g
|
Cholesterol:
49
mg
|
Sodium:
182
mg
|
Potassium:
78
mg
|
Fiber:
1
g
|
Sugar:
9
g
|
Vitamin A:
206
IU
|
Vitamin C:
2
mg
|
Calcium:
20
mg
|
Iron:
1
mg