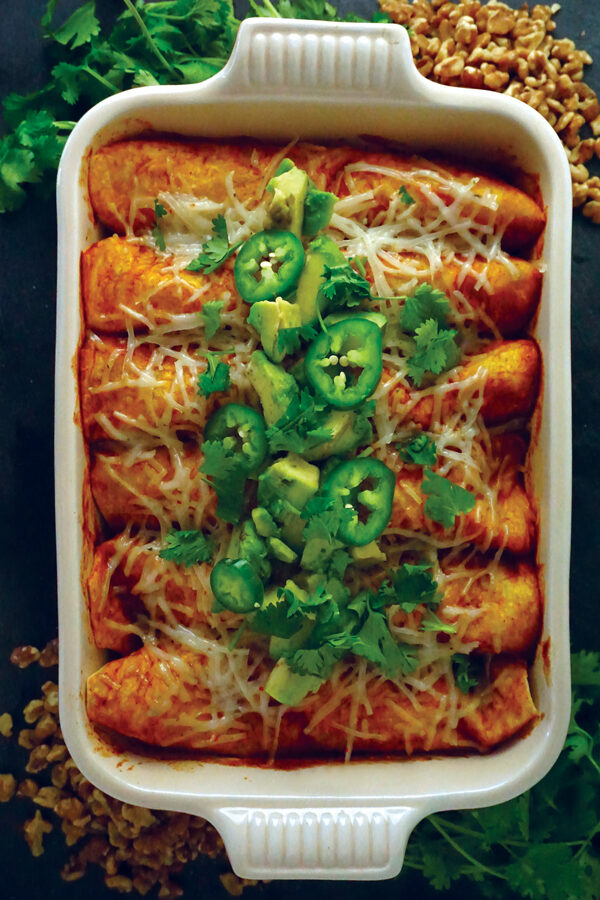 Filled with cauliflower and walnut "meat" crumbles along with black beans and sweet potatoes, these vegan enchiladas feature Sky Valley Enchilada Sauce. Serve alongside cilantro-lime rice and guacamole for your next meatless Monday.
Truth: I'm not vegan or a vegetarian. However, over the years I've enjoyed bringing more vegetable-focused meals into my home. I'm a strong believer in balance and so my family tries to have one or two meatless dinners each week where we cut out meat and swap it for creative meat alternatives and vitamin- and mineral-rich vegetables.
This recipe is one of our favorites and is sure to please even the most die-hard carnivores in your home. Even my bacon-loving husband said he'd give up meat altogether if all vegan meals could taste like these delicious Cauliflower Harvest Vegetable Enchiladas made with Sky Valley enchilada sauce.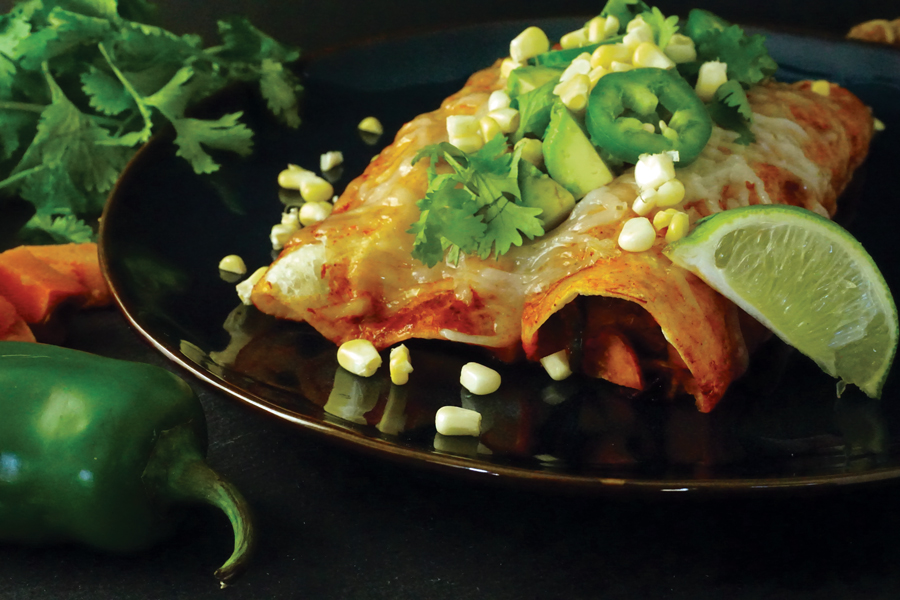 The enchiladas are filled with cauliflower and walnut "meat" crumbles that provide a similar mouthfeel as ground beef along with black beans that supply important protein to the recipe. Additionally, sweet potatoes and poblano peppers add not only color but vitamin A, vitamin C and other key nutrients.
Now, let's not forget about the sauce! Sky Valley enchilada sauce makes this recipe easy and delicious. I love the robust, smoky flavor of this extra spicy sauce and the fact that it's vegan, gluten-free and non-GMO have made it my new go-to enchilada sauce.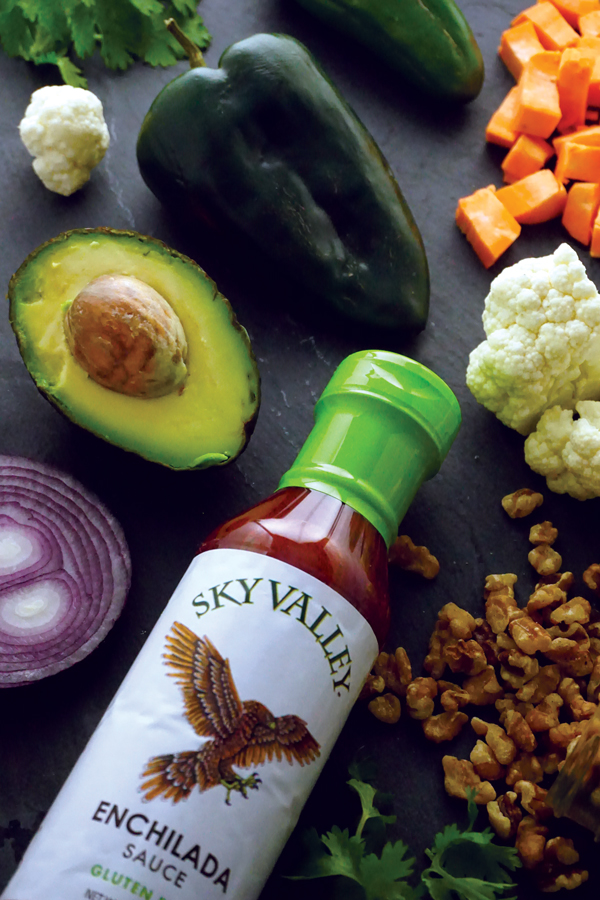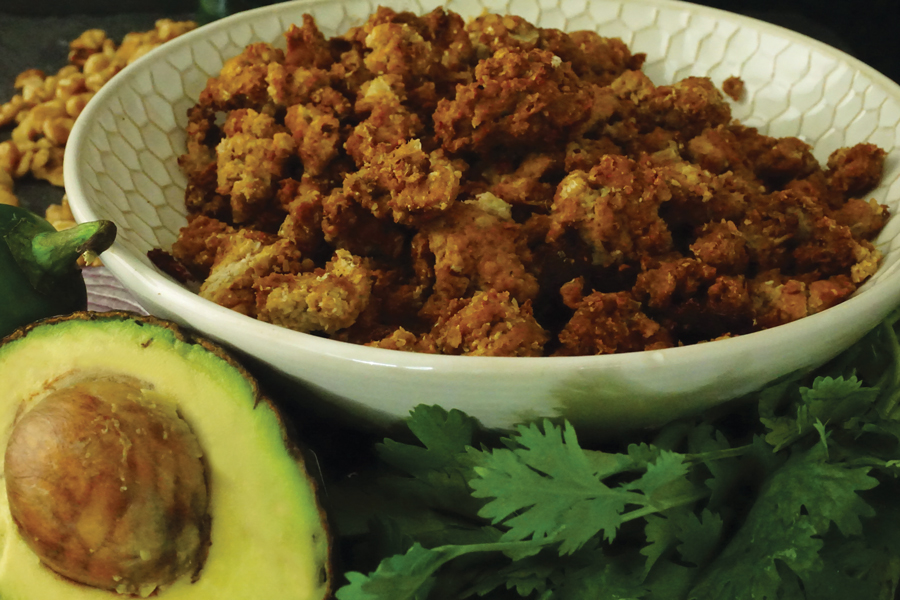 If you haven't tried Sky Valley Enchilada Sauce before, you can visit their website to locate it in a store near you or order it online. Their blog is another great resource for delicious and healthy recipes ideas too.
If you try out this recipe, please leave me a comment below with your thoughts! I love hearing from you and how you put your own unique spin on my recipes. Also, don't forget to tag me on Instagram (@frydaeblog or #frydaeblog) if you try this recipe out.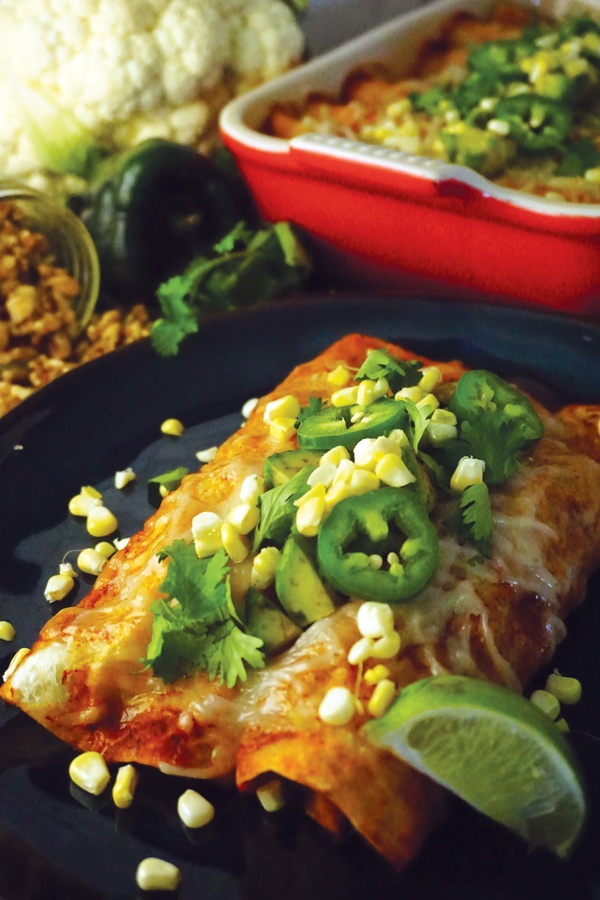 Vegan Cauliflower Harvest Enchiladas Rojas
Filled with cauliflower and walnut "meat" crumbles along with black beans and sweet potatoes, these vegan enchiladas feature Sky Valley Enchiladas Sauce.
Ingredients
1

tablespoon

cornmeal

2

cups

fresh cauliflower

,

chopped

1

cup

raw walnuts

,

chopped

1

teaspoon

cumin

1/2

teaspoon

garlic powder

1/2

teaspoon

onion powder

2

tablespoons

fresh cilantro

,

chopped

1

poblano pepper

,

sliced

1

small red onion

,

sliced

1

small sweet potato

,

cut into 1/2" cubes

1

14oz can

reduced sodium black beans

,

rinsed and drained

8-10

flour tortillas

,

look for tortillas made with vegetable oil instead of lard

1

cup

Daiya vegan pepper jack shreds

avocado

cilantro

fresh corn

lime wedges

fresh jalapeno
Method
Preheat oven to 375°F. Prepare a large baking sheet with parchment paper sprayed with olive oil.

In a food processor, pulse together cornmeal, cauliflower, walnuts, cumin, garlic powder, onion powder, cilantro and 3 tablespoons of Sky Valley enchilada sauce. Pulse until ingredients resemble fine crumbs. Take care not to completely puree or it won't hold its shape while baking—mixture should be moist but still crumbly.

Spread cauliflower mixture in a thin layer onto half of the prepared baking sheet and use a fork to break everything up and form "crumbs" resembling ground beef.

On the other half of the baking sheet, arrange the cubed sweet potato. Drizzle with a little extra olive oil and toss

to coat.

Bake cauliflower "crumbs" and sweet potato for 30 minutes at 375°F. Every 10 minutes, gently toss the cauliflower and sweet potatoes to ensure even browning.

Meanwhile, in a large frying pan over medium heat, drizzle 1 tablespoon of olive oil and add sliced poblanos and red onion. Sauté until softened and season with salt and pepper. Add black beans and combine over low heat until beans are warmed through.

Remove cauliflower and sweet potatoes from oven once the cauliflower crumbles have turned a deep golden brown and potatoes are tender. Reduce your oven to 350°F.

Add only the sweet potatoes to poblanos and onions along with 1/4 cup of Sky Valley enchilada sauce. Gently toss together.

Next, spread about 1/4 cup of enchilada sauce over the bottom of a 9×13 casserole or baking dish. Set aside.

Now assemble the enchiladas. Spoon a few tablespoons of the cauliflower "meat" and vegetable mixture into a tortilla. Roll and place into your baking dish seam side down. Repeat until all tortillas are filled—you should get between 8 and 10 enchiladas.

Next, pour the remaining 1/2 cup of enchilada sauce over the rolled enchiladas and spread out using a spatula or BBQ brush to coat the enchiladas completely. Sprinkle with vegan pepper jack cheese and cover with foil. Bake for 15 minutes covered at 350°F, and then bake uncovered for an additional 5 minutes (or until "cheese" is melted).

Garnish enchiladas with sliced avocado, cilantro, fresh corn and lime wedges and serve with your favorite vegan rice and beans.
Notes
---
If you prefer enchiladas verde, Sky Valley verde sauce can be swapped out for the final 2/3 cup of Sky Valley enchilada sauce. You can also make these using corn tortillas to make this recipe 100% gluten-free.