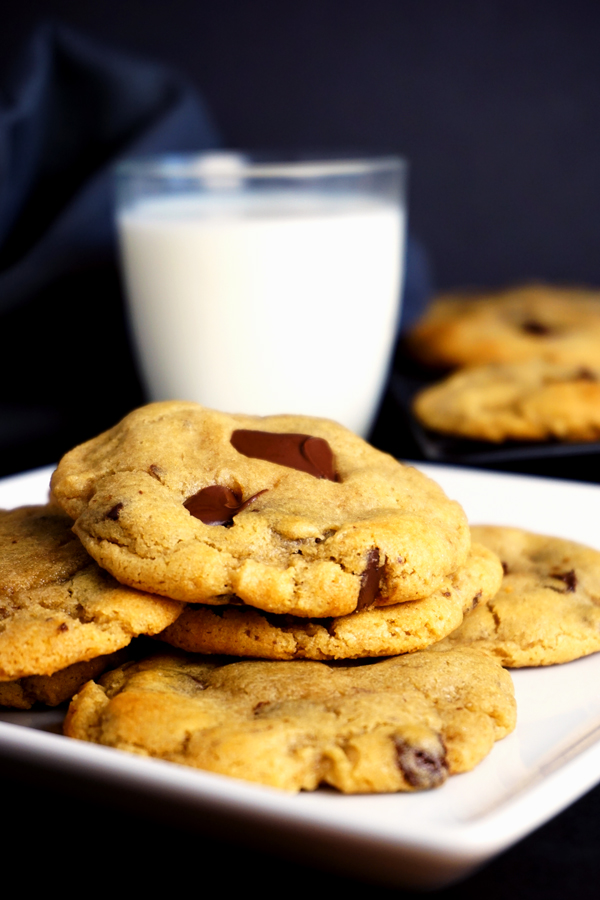 I know. Everyone and their grandma claims to have the best recipe for chocolate chip cookies. What sets these cookies apart? You'll have to keep reading to find out.
It's been a quiet past few weeks on the blog. Sorry for the silence, friends! For the past few weeks, my husband and I have been focusing all of our energy into moving. We only moved across town, but man, no matter the distance, moving is always such a process. Thankfully, we're finally to the point where I feel like we can start settling back into a normal routine. The house still needs quite a bit of decorating and our basement is still a cardboard box disaster but it feels good to be back in a house we can call our own.
For those of you who don't know, we sold our previous home in December and have been staying with my parents while the new house was being constructed. My husband deserves a massive award for living with the in-laws for almost 8 months! Luckily, I have amazing parents and we get along great with them. We certainly miss their company but at the same time, it's nice to have our own space again too.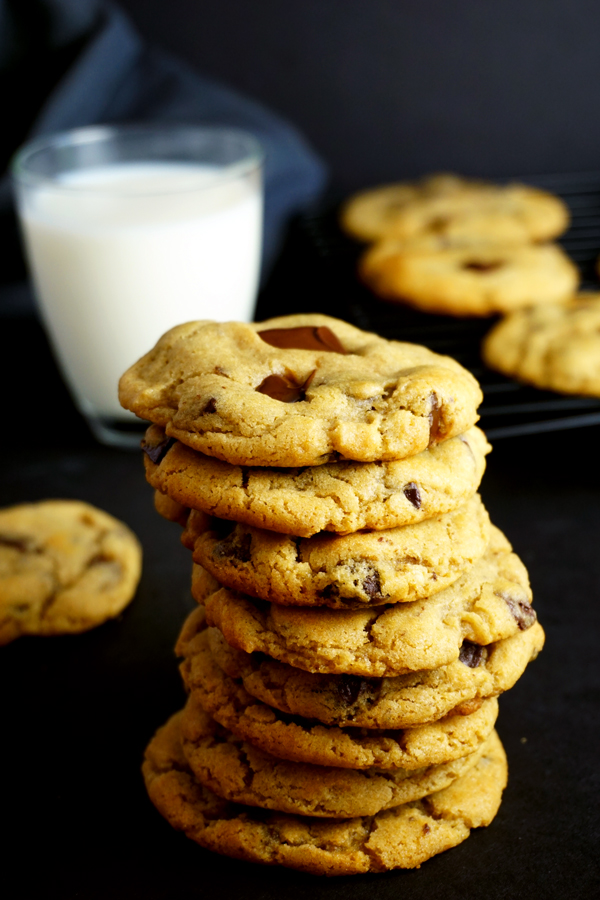 This week, I'm sharing a recipe that appropriately commemorates moving into our new home. It's a classic that never gets old and is always the perfect treat to bake when christening a new kitchen: chocolate chip cookies. These aren't just ANY chocolate chip cookies though. They are the BEST homemade chocolate chip cookies.
I know, every blogger and cookbook claims to have the very best chocolate chip cookie recipe. It's probably because chocolate chip cookies are so subjective. One's definition of "the best" is usually deeply rooted in childhood memories and based on what they grew up eating from their mother's cookie jar. This recipe is loosely based on my mother's recipe but incorporates different ingredients, tricks and tips I've learned over the years while I was on my quest to create the perfect chocolate chip cookies.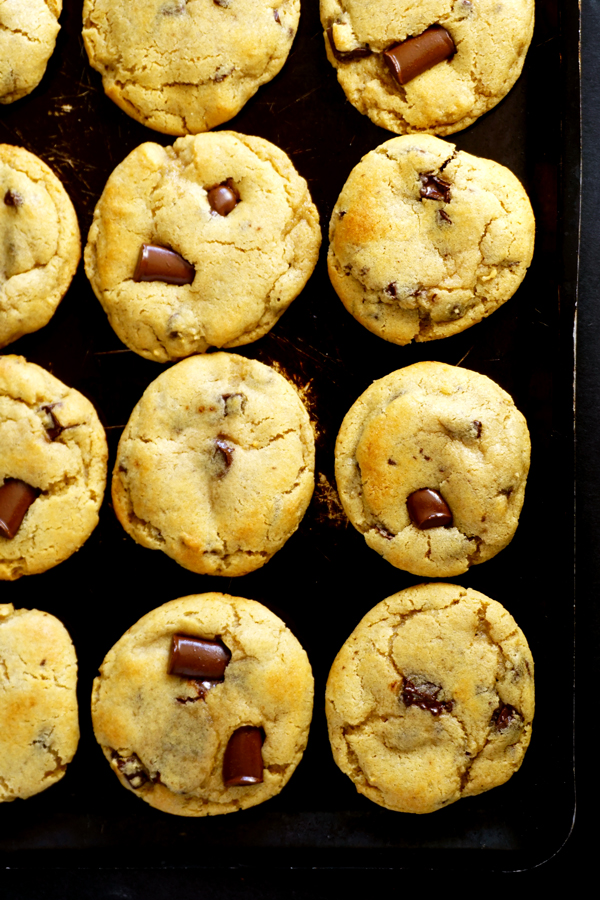 Tips for Making the Best Cookies
If you've been on a similar quest for the best chocolate chip cookies, hopefully, I can save you a lot of time (and calories) with this recipe. However, before we get to the recipe, I'd like to share with you a few tips that I learned along the way for making outstanding chocolate chip cookies.
Always use dark brown sugar—and lots of it
Using dark brown sugar, rather than light brown sugar, adds such a richness and depth of flavor to cookie dough thanks to the extra molasses it contains. While most recipes seem to use a higher ratio of white graduated sugar to brown sugar, I recommend using the opposite. I couldn't believe the difference this made to the taste and texture of my cookies the first time I tried it. I have to thank my sister-in-law for this tip!
Don't skimp on the vanilla
Whether you're using vanilla extract or paste, don't be shy about using vanilla. A little extra vanilla will go a long way in giving your cookie dough lots of flavor. I also recommend using pure vanilla extract, not imitation vanilla flavor. The good stuff may be a little more expensive, but the results are worth it.
Don't overbake
One of the mistakes I think a lot of people make when baking cookies is they overbake them. If you love a good crisp on the outside, tender on the inside cookie, as I do, bake the cookies until they've spread evenly and are just barely golden on the edges. You want the center of the cookie to still look a little shiny and soft. Don't worry, they won't be raw and doughy once they cool.
Temperature is key
Everything from the temperature of your butter while mixing to the temperature of your dough when it goes into the oven is critical to great cookies. If you want the perfect chocolate chip cookie, don't cut corners. Making sure your butter is softened and at room temperature will make all the difference in getting the dough mixed just right.
Also, if it's extra hot in your kitchen and your dough is super soft, resist the temptation to bake your cookies right away. I always recommend chilling your cookie dough for at least an hour. It helps ensure your cookies won't spread too thin while baking. If you're short on time and have to bake your cookies right away, form your dough balls while the dough is still soft and then place them in the freezer for 10-15 minutes before baking. I've found this quick little blast in the freezer can set my dough in a pinch if I don't have time to chill the dough for a full hour.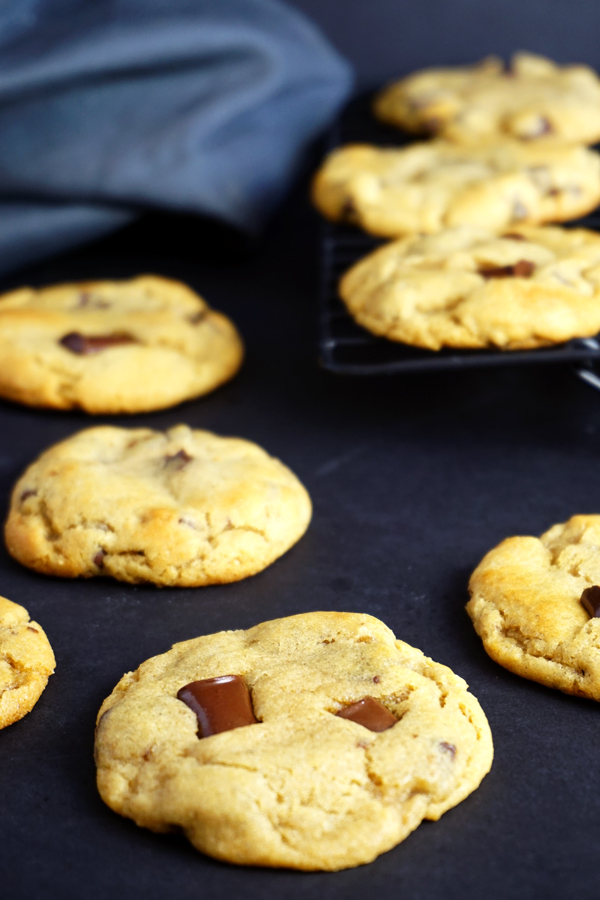 Put these tips to the test when you try out these perfect chocolate chip cookies. After making this recipe once, I can guarantee they'll become a part of your regular baking rotation.
If you try out this recipe for the Best Chocolate Chip Cookies, please give it a rating and leave a comment down below with your thoughts. How do you like your chocolate chip cookies? This is my perfect version, but I'm always curious to hear how others define the "perfect" cookie.
Finally, make sure you're keeping up with me on social media—it's @frydaeblog and #frydaeblog absolutely everywhere. Stop by and say hello!
Thanks so much for stopping by. Now that I'm unburied from moving boxing I'll be back to a more frequent posting schedule. I'm looking forward to sharing some super delish fall recipes with you soon. Have a wonderful weekend and happy Frydae!
The Best Chocolate Chip Cookies
I know, everyone and their grandma claims to have the best recipe for chocolate chip cookies. These cookies are my "best" chocolate chip cookie. Made with lots of dark brown sugar, pure vanilla extract, a hint of coconut extract and plenty of chocolate, these will become a new family favorite.
Ingredients
2

sticks

unsalted butter

,

softened, room temperature

2 1/4

cups

dark brown sugar

,

packed

3/4

cup

granulated sugar

1

tablespoon

pure vanilla extract

1/2

tablespoon

coconut extract

1/8

teaspoon

ground cinnamon

2

large

eggs

3

teaspoons

salt

2

teaspoons

baking soda

3 3/4

cups

all-purpose flour

1/2

cup

semi-sweet chocolate chunks

1

cup

dark chocolate chips

,

chopped
Method
Preheat oven to 350°F.

In a large bowl, combine flour, salt and baking soda. Set aside.

Next, in a stand mixer, with a paddle attachment, cream together the butter and sugars. Mix until fluffy, smooth and lightened in color. About 3 minutes.

Add vanilla, coconut extract, cinnamon and eggs. Mix until well-incorporated.

Now, gradually add the dry ingredients to the wet ingredients. Mixing on low until each addition is fully incorporated. Periodically scrap down the sides of your mixing bowl to ensure everything is evenly mixed.

Once incorporated, remove the bowl from the mixer and fold in the chopped chocolate chips and chocolate chunks.

Next, cover the mixing bowl with plastic wrap and let chill for at least 1 hour in your refrigerator.

When the dough is chilled, remove from the fridge and form dough into 1-inch balls. Place on a parchment-lined baking sheet and press the balls dough to partially flatten them. This will help them spread evenly while baking.

Place into a preheated oven and let bake for 8-11 minutes. Remove from oven when they're just starting to turn golden on the edges. If the tops still appear a little glossy, that's fine—you don't want to overbake them.

Let the cookies cool for 5 minutes on the baking sheet to set and then transfer to wire racks to finish cooling. Enjoy with milk.