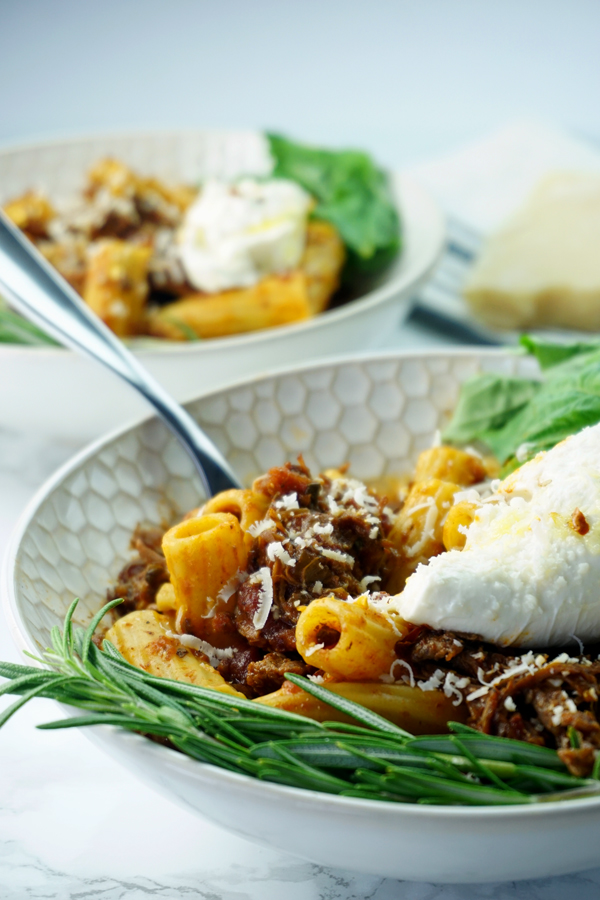 A simple, flavorful (almost) one-pot dinner made in the Instant Pot. Tender beef pot roast is seared and then braised in cabernet sauvignon red wine along with your favorite pasta sauce and fresh herbs. Once cooked, the meat is shredded and served over cooked rigatoni pasta with burrata, crushed red pepper flakes, parmesan and fresh basil.
Sometimes you just need a simple, easy recipe that gives you a hearty, flavorful meal without a lot of work. This week, I'm sharing one of my absolute favorite no-fuss recipes. It's a cabernet-braised pot roast rigatoni made right in your Instant Pot. To be honest it took me a while to hop on the Instant Pot bandwagon. I just wasn't convinced that I needed yet another gadget in my kitchen. But, after having one now for about six months, it's quickly becoming one of my favorite kitchen items.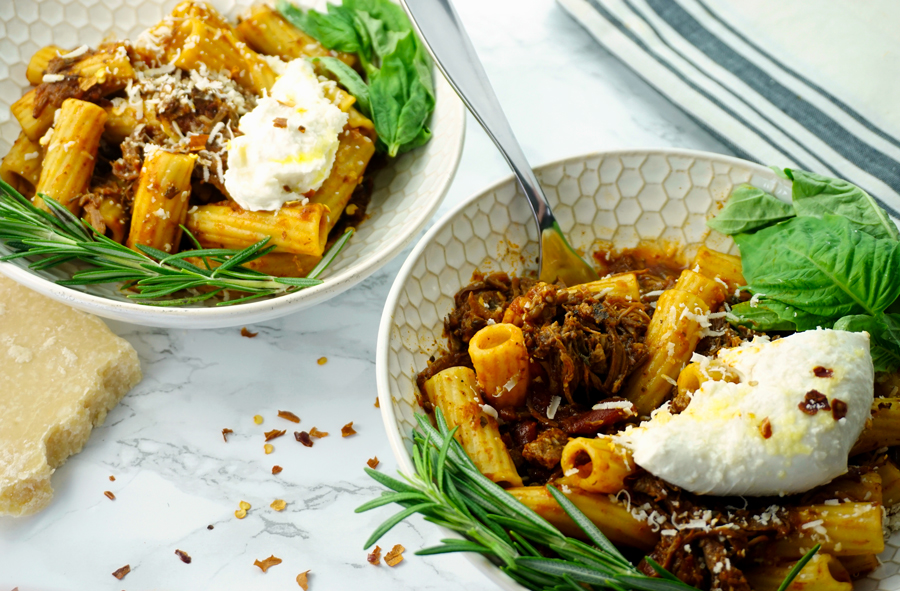 Now, I will say that I feel like the Instant Pot is a tad misleading—or at least a lot of the recipes and cooking videos are. I remember when the Instant Pot first started getting a lot of attention on social media—showing you how you can have a delicious meal cooked in what seemed like as little as 6 minutes. Let's just say that the age-old saying of "if it seems too good to be true, it probably is" definitely holds true in this instance also.
If you've used an Instant Pot before you probably already know what I'm talking about. If you haven't used an Instant Pot before, then I'm about to reveal a major spoiler alert. You see, there are these two little secret pockets of time that most recipes fail to mention and add a surprising amount of time. Now, it goes without saying that as a pressure cooker, the Instant Pot needs time to both build pressure inside and release it once the cooking time has elapsed. That part is expected. What I think most people don't realize is just how long that process actually takes.
I've timed my pressure cooker now on multiple occasions to see how long it takes for it to fully pressurize and then depressurize. I want to say on average both take a minimum of ten minutes—adding at least 20 minutes of "cooking time" to any recipe. These times vary depending on which setting I'm using and whether I let the machine naturally depressurize or if I do a quick release. But I'd say 20 minutes is a pretty safe average.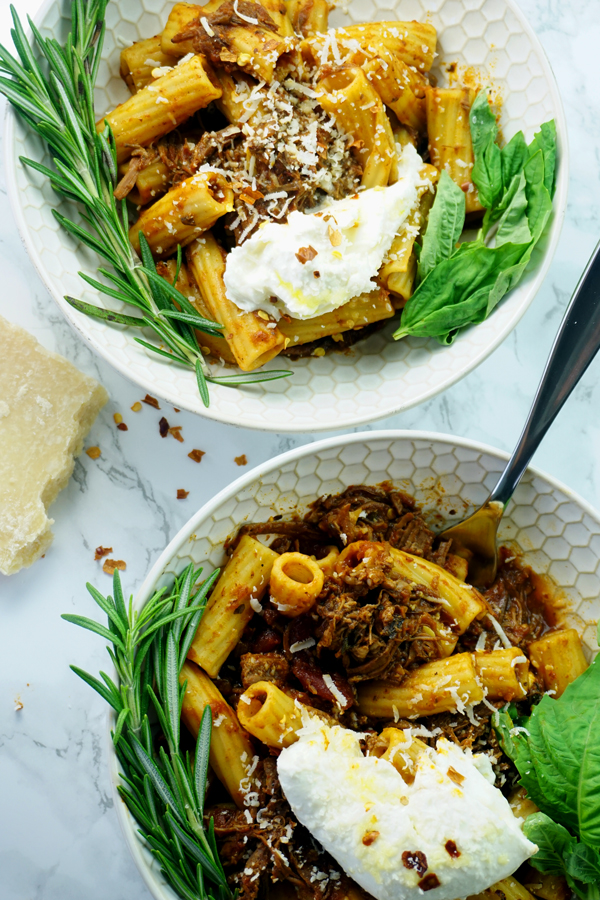 With all that being said, despite its deceptive name, I do really love this machine and appreciate having another means of cooking in my kitchen. I've just come to realize that some recipes make more sense than others. For me, I save the Instant Pot for roasts, bone-in chicken and recipes that typically require hours in a slow cooker or oven. I love that it makes these time-consuming meals accessible on busy weeknights when I still want to make something super flavorful but don't necessarily have the time to dedicate to something more laborious.
The recipe I'm sharing with you today is one of my new favorites for the Instant Pot. This recipe gives you a fall-apart-tender pot roast infused with rich tomato and red wine flavor in about 2 hours (including that pesky pressurization time). I know, 2 hours isn't quick but the active prep/cooking time is less than 20 minutes and the Instant Pot does the rest of the work for you. So it's really a hands-off, no-fuss recipe.
It all started at Trader Joe's a few weeks ago. I've always seen their marinated roasts and chickens in their meat department but for some reason never bought one until now. I ended up bringing home their Cabernet Pot Roast. My original intention was to simply roast it in the oven and serve it with mashed potatoes the next day. However, when the next day came, time slipped away from me. I found myself staring at this uncooked hunk of meat at 4:30 p.m. knowing there's no way I could roast it properly and have it on the table before 7:30 p.m.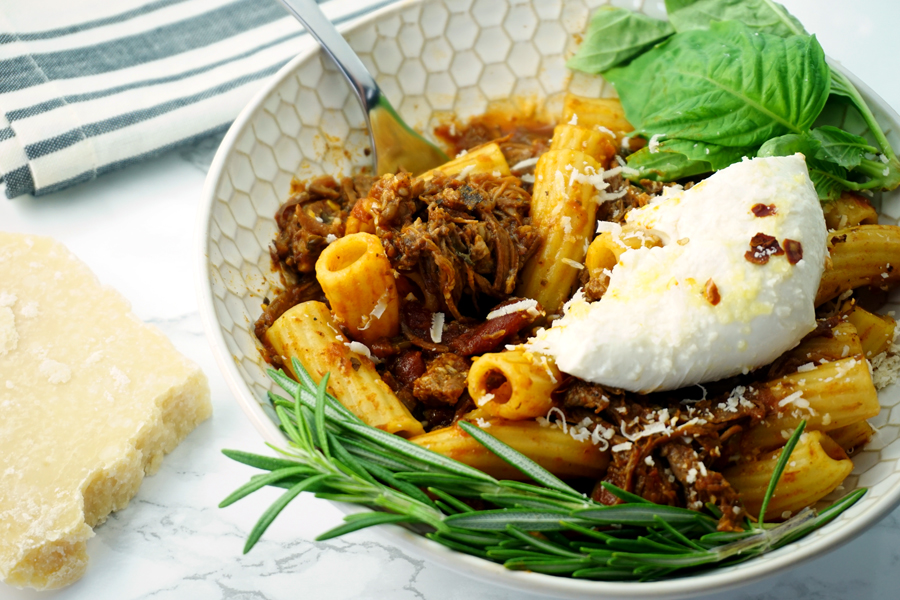 I'm a big proponent of the "use what you have" philosophy. I find that 9/10 times when I think I have nothing to cook in my house that there's actually something delicious to make using ingredients I have on hand. That's how this recipe came about. Realizing a traditional roast wasn't in the cards that night, I went into my pantry and saw that I had onions, tomato paste, spaghetti sauce, diced tomatoes and garlic. I also had a bottle of red wine I had opened the night before as well as some fresh herbs that I had purchased for a different recipe. Now, I figured I would be able to scrape together something halfway decent using these simple pantry staples, I was just surprised by how good it actually was when it all came together.
The Cabernet Pot Roast just falls apart and gets insanely tender in the Instant Pot—absorbing all the great flavors from the ingredients. The cabernet wine adds depth and richness to the sauce while the basil and rosemary give a subtle woodsy fragrance to this simple sauce. Even the seemingly insignificant parmesan rind takes the sauce to the next level—providing an extra umami kick of savory flavor.
You can really use any pasta you want with this meat sauce. I find that choosing a pasta shape that's a little sturdier and hearty like a rigatoni, pappardelle or penne work best though with the heavier chunks of beef. I went with rigatoni because it has lots of nice crevices for the sauce to ooze into so you get lots of flavor in every bite.
When serving, top each bowl with parmesan, fresh basil and some crushed red pepper flakes for a little heat. I also add a generous piece of burrata cheese too. The burrata's creamy filling goes insanely well with this sauce—so good!
If you don't have an Instant Pot, you could totally make this recipe in a slow cooker also. You'll just need 6-8 hours to let the meat slowly cook to reach the same level of fall-apart goodness. I've included instructions in the footnotes of the recipe card for how you can make this yummy dish in slow cooker if you'd like to go that route instead.
What about you? Were you also deceived by the Instant Pot's not-so-instant reality? If you make this Instant Pot Cabernet-Braised Pot Roast Rigatoni, please give the recipe a rating and leave me a comment below. You can also tag me on Instagram (@frydaeblog or #frydaeblog) and let me know what you think! It's so fun to see these recipes come to life in your kitchens. Have a wonderful "Frydae" everyone!
Instant Pot Cabernet-Braised Pot Roast Rigatoni
A simple, flavorful (almost) one-pot dinner made in the Instant Pot. Tender beef pot roast is seared and then braised in cabernet along with your favorite pasta sauce. Once cooked, the meat is shredded and served over cooked rigatoni pasta with burrata, crushed red pepper flakes, parmesan and fresh basil.
Ingredients
2

pound

Trader Joe's Cabernet Pot Roast

,

or chuck roast

1-2

tablespoons

olive oil

1

medium

onion

,

diced

2

teaspoons

garlic

,

minced

1/2

cup

cabernet sauvignon

,

or other dry red wine

24

ounces

favorite pasta sauce

,

I used Classico Tomato & Basil

14.5

ounces

petite diced tomatoes

2

tablespoons

tomato paste

2

tablespoons

fresh basil

,

chopped

1/2

tablespoon

fresh rosemary

,

chopped

1

parmesan rind

,

about 2 inches

1

pound

rigatoni pasta

,

cooked al dente

8

ounces

burrata

1/2

cup

parmesan cheese

crushed red pepper flakes
Method
Turn on the Instant Pot and set it to the sauté setting. Then, h

eat 1-2 tablespoons of olive oil.

Meanwhile, remove the pot roast from its packaging and pat dry to remove any excess moisture. When the oil is hot, add the pot roast to the Instant Pot and sear the meat on all sides. When all sides of the meat are brown, remove and set aside.

Next, add the diced onions and garlic and

sauté

until translucent and fragrant—about 2-3 minutes.

Deglaze the bottom of the Instant Pot by adding 1/2 cup of wine. Stir, scraping up any charred bits on the bottom, and then let the wine reduce for 1 minute.

Now, add the pasta sauce, tomato paste, diced tomatoes, rosemary, basil and the parmesan rind. Stir and then return the meat to the Instant Pot.

Next, turn off the saute function and then c

over the Instant Pot with

its

lid. Turn the lid's valve to the sealing position and then cook for 75 minutes using the Instant Pot's

"

pressure cook"

function set to high pressure.

Meanwhile, cook the rigatoni pasta al dente according to the package directions. Drain, drizzle with a little olive oil and set aside until ready to serve.

After 75 minutes, release the pressure using the Instant Pot's quick release valve. Once the pin has dropped, open the pressure cooker and carefully remove the meat. Shred the pot roast into medium pieces using two forks and then return the meat to the pot. Stir and then gently fold in the cooked rigatoni pasta.

To serve, garnish each bowl of pasta with a generous piece of burrata, crushed red pepper flakes, fresh basil and grated parmesan cheese.
Video
Notes
---
To make this recipe in a slow cooker:
Sear the beef in a heavy-bottom pan on your stove top over medium-high heat. Once seared, transfer the meat to a slow cooker and add the remaining ingredients (except the rigatoni pasta) on top of the meat. Let the meat cook on low for 6-8 hours. Periodically turn the meat and stir the sauce every few hours. The meat will be done when it starts to fall apart in the crock pot. Shred the meat, stir in the cooked rigatoni pasta and serve directed above with burrata, parmesan, crushed red pepper flakes and fresh basil.