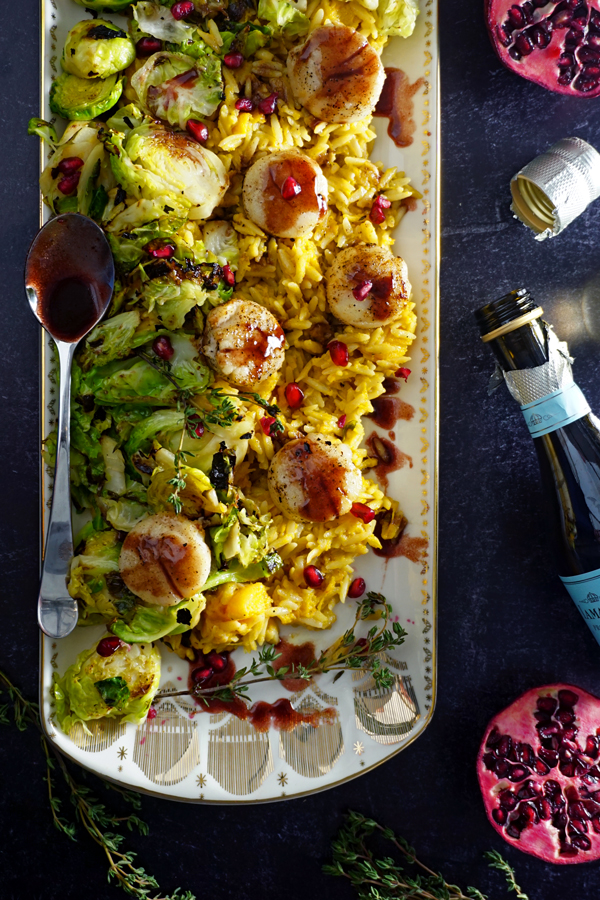 Delicate, sweet pan-seared scallops are served over a bed of creamy butternut squash orzo topped with charred Brussels sprouts. Then, everything gets drizzled with a decadent pomegranate reduction made with a splash of prosecco and balsamic vinegar.
If you're looking for a meal that says "treat yo' self", this is it. Pan-seared sea scallops are always an indulgence. They're without a doubt one of my go-to orders whenever I'm out to eat for a special occasion. Their clean, mild flavor is just to-die-for no matter what they're served with. For Valentine's Day this year, I wanted to create an extra special recipe to share with my husband that includes not only sea scallops but some of our favorite winter flavors and ingredients.
My favorite part about this recipe is that it's all made right on your stove-top and can be ready in less than 60 minutes. That means fewer dishes, less clean-up and more romance and quality time with your partner (or beloved cat). How ever you're choosing to spend Valentine's Day this recipe will make it perfect.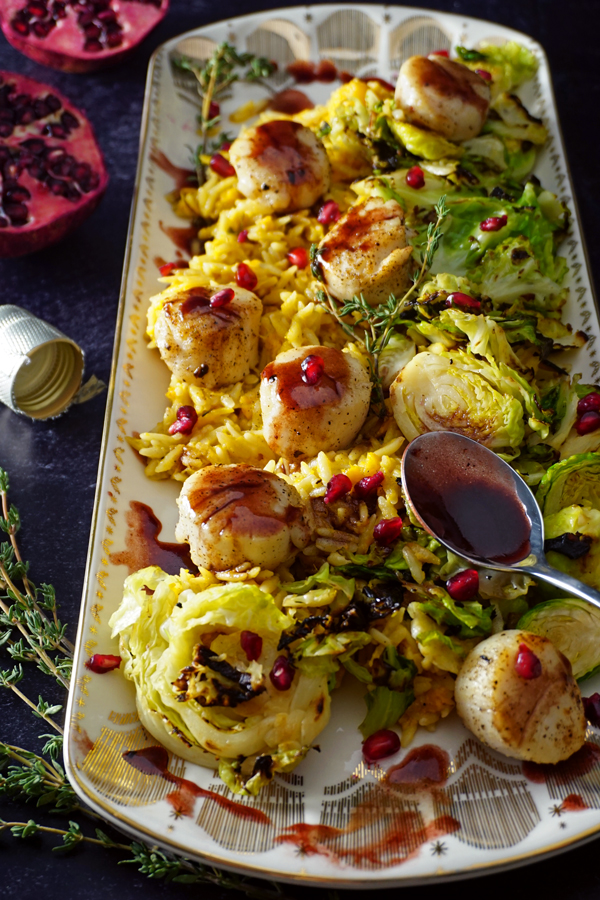 The Brussels sprouts are super straight forward. Simply season and char in a hot skillet until they're tender and charred then coat them in a splash of balsamic. So easy but SO GOOD. The orzo is also super easy because it comes together in a single pan and requires no draining. I prepare this orzo almost like risotto because you toast the pasta for a few minutes with some sauteed butternut squash and herbs before adding just enough liquid to cook it to al dente. To finish off the orzo, a healthy scoop of coconut cream and romano cheese is mixed in to make the pasta super-rich and creamy.
If there's one tricky component to this dish, it's the scallops. I would actually call them tricky…they're just fussy. They require a bit of care, patience and practice. So here are a few tips and tricks for pan searing the perfect sea scallops.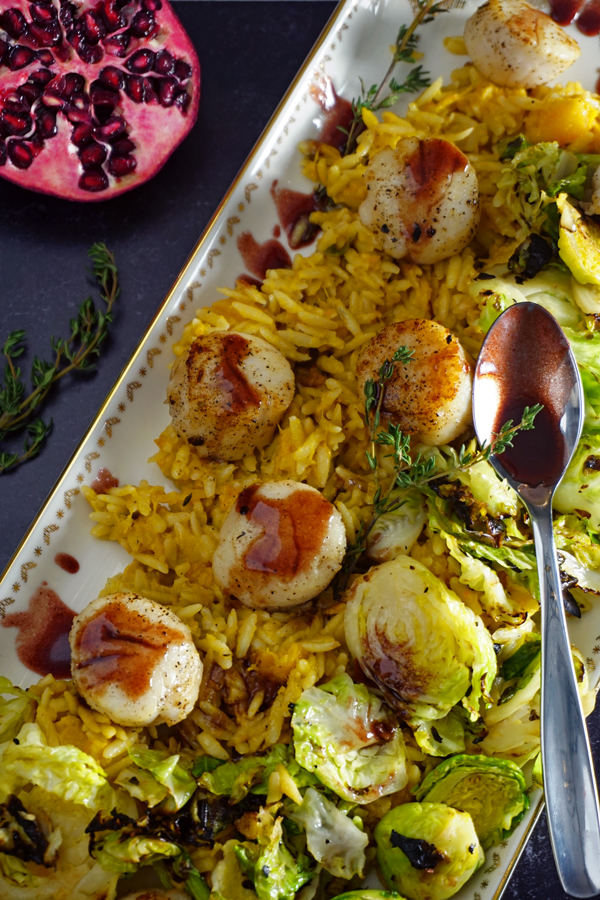 Tips for the perfect pan-seared sea scallops
Cooking sea scallops, for the first time can be intimidating. They're expensive and are pretty easy to overcook if you're not careful. However, a few simple tricks will have you cooking them like a pro in no time.
Completely Thaw
Never try to sear scallops that are not completely thawed. Scallops that are still partially frozen will never sear properly. Additionally, the scallops will likely not cook evenly since the outside will cook faster than their still partially-frozen centers. If you need to speed up the thawing process, let them soak in a bath of room-temperature water for 15-20 minutes.
Remove Excess Moisture
To get that perfect golden brown sear on your scallops, you'll want to make sure that any excess water is removed from them before cooking. I like to place the thawed scallops on a towel-lined plate with a second paper towel over the top of them. Then, using gentle pressure, I'll press and squeeze any excess water out of the scallops.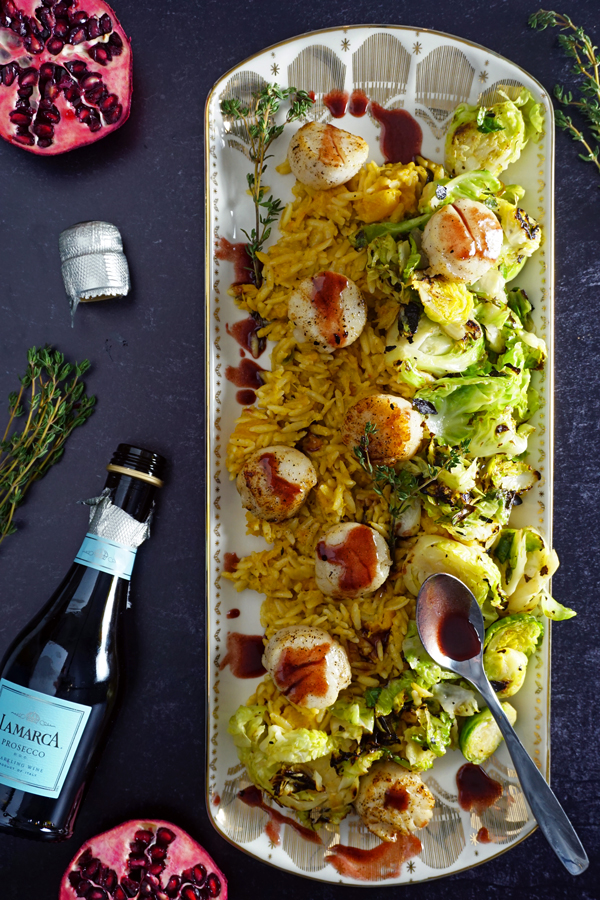 Temperature is Key
To sear scallops, you'll want to preheat your pan over high heat. When searing scallops us an oil with a high smoke point, like olive oil or avocado oil. A pan with the right heat and the right oil will really enable that delightful crust for form on the scallops as they cook.
Don't Overcrowd Your Pan
This is a common rookie mistake. Even if you follow all of the steps above, you can still ruin the sear on your scallops. When adding the scallops to your pan, give them space. Don't overcrowd your pan. If you pack a bunch of scallops into the pan at once, you'll actually end up steaming the scallops rather than searing them. They'll still cook and taste okay, but they won't get that perfect golden crust.
Now that you're a pro at making the perfect pan-seared scallops, you're ready to impress your valentine with this tasty dish.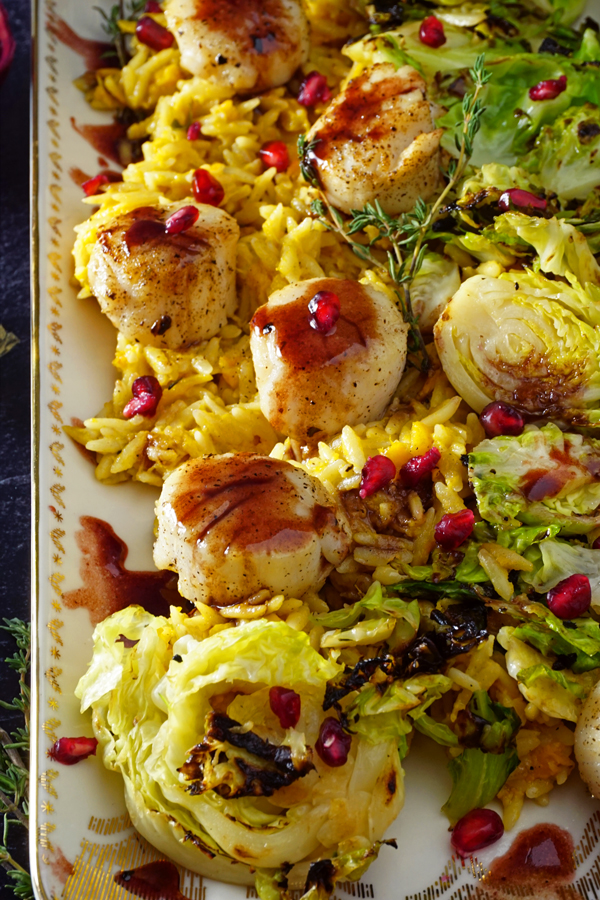 If you make these Pomegranate Prosecco Sea Scallops, please leave a rating for them below along with a comment. I also love to see how my recipes are coming to life in your kitchen, so please snap a photo and tag me on social media—it's @frydaeblog and #frydaeblog absolutely everywhere! I hope you have a wonderful Valentine's (or Galentine's) Day and thanks so much for stopping by. Happy Frydae!
What's about dessert? These Roasted Chocolate-Covered Strawberry Pots de Creme are the perfect end to a romantic Valentine's Day or date night in.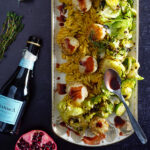 Print Recipe
Pomegranate Prosecco Sea Scallops with Charred Brussels Sprouts and Creamy Butternut Squash Orzo
Delicate, sweet pan-seared scallops are served over a bed of creamy butternut squash orzo topped with charred Brussels sprouts. Then, everything gets drizzled with a decadent pomegranate reduction made with a splash of prosecco and balsamic vinegar.
Ingredients
Brussels Sprouts
2

tablespoons

olive oil

2

cups

shaved Brussels sprouts

2

tablespoons

balsamic vinegar

salt and pepper

to taste
Orzo
4

tablespoons

unsalted butter

1

cup

butternut squash

1/2-inch cubes

2

tablespoons

fresh thyme leaves

chopped

1

cup

dry orzo pasta

1/3

cup

Prosecco

or white wine

2.5

cups

water

1/2

cup

coconut cream

1/2

cup

romano cheese

or parmesan

salt and pepper

to taste
Pan-Seared Scallops with Pomegranate Prosecco Sauce
2

pounds

large sea scallops

thawed

1/2

teaspoon

salt

1/4

teaspoon

pepper

2

tablespoons

olive oil

or avocado oil

1

tablespoon

unsalted butter

1/2

cup

pomegranate juice

3

tablespoons

balsamic vinegar

1/4

cup

Prosecco

or white wine

1/4

cup

pomegranate arils (seeds)

optional
Instructions
In a large skillet, warm 2 tablespoons of olive oil over medium-high heat. When oil begins to shimmer, add the shaved Brussels sprouts and season with salt and pepper. Toss the Brussels sprouts occasionally and cook until they soften and begin to char, about 3-5 minutes. Finish the Brussels sprouts by drizzling with 1-2 tablespoons of balsamic vinegar and tossing to coat. Transfer to a bowl.

Next, in the same large skillet, over medium-high heat, melt 2 tablespoons of butter, cubed butternut squash and thyme. Season with salt and pepper and cook for 6-8 minutes until the squash softens and begins to char. Add the dry orzo and toast for a minute or two with the squash. Add the Prosecco and stir for 1-2 minutes to deglaze the pan. Next, add 2.5 cups of water and bring to a boil over medium heat. Simmer 8-10 minutes until the orzo is al dente. Stir in the coconut cream and Romano cheese until incorporated. Cook for an additional 2-3 minutes until thickened.

While the orzo cooks, sear the scallops. Rinse the scallops and pat dry with a paper towel to remove any excess moisture. Then, heat 2 tablespoons of oil in a large skillet over medium-high heat. Season the scallops with salt and pepper, to taste, and then add them, in a single layer, to the skillet when the oil begins to shimmer.

Sear the scallops on one side for 1-2 minutes, until lightly golden brown. Add 1 tablespoon of butter and then flip and sear for an additional 1-2 minutes. Remove promptly to a towel-lined plate. Cook in batches, if necessary, so you don't overcrowd your pan.

Once all the scallops are seared, deglaze the pan with a 2 tablespoons (a splash) of Prosecco or white wine. Then add the pomegranate juice and balsamic vinegar. Reduce the mixture to a low simmer and let it reduce by half, stirring occasionally. The sauce is ready when it sticks to the back of a spoon when stirred, about 5 minutes.

To serve, plate a heaping spoonful of butternut squash orzo to each plate. Arrange the charred Brussels sprouts over the orzo and then plate 5-6 seared scallops on each plate. Drizzle the pomegranate reduction over the scallops and around the orzo. Garnish with pomegranate arils and fresh thyme, if desired. Serve immediately.
Nutrition
Calories:
791
kcal
|
Carbohydrates:
56
g
|
Protein:
40
g
|
Fat:
44
g
|
Saturated Fat:
23
g
|
Cholesterol:
105
mg
|
Sodium:
1366
mg
|
Potassium:
1116
mg
|
Fiber:
5
g
|
Sugar:
12
g
|
Vitamin A:
4708
IU
|
Vitamin C:
52
mg
|
Calcium:
222
mg
|
Iron:
4
mg