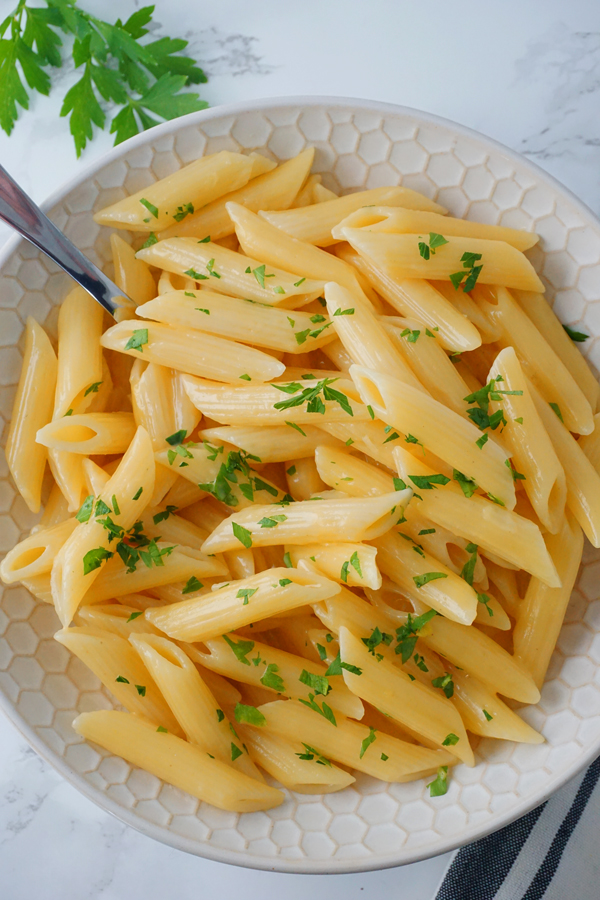 Replicating one of Outback Steakhouse's bestselling kid's menu items—Mac A Roo and Cheese—creamy Velveeta cheese sauce coats tender penne pasta for a simple, kid-friendly classic.
Where was your first job? I had a brief 6-month stint at Subway before I escaped the fast food industry and went to go work at my local Outback Steakhouse. While I have lots of horror stories from working as a server ranging from dine and dashers to one table that left me nothing more but a dirty diaper on their table as a tip, I also formed some of my closest friendships there too.
I'm definitely one of those people who thinks everyone should work at least once in the foodservice industry. It can be tough work and the good servers deserve every penny they earn In tips. You also learn really quickly how to work with "different" personalities too. There was always that one customer who would order an extra well-done steak and then complain about it being dry and also blame you for cooking it wrong in the process. But as a server, you had to just nod and smile and get them something else.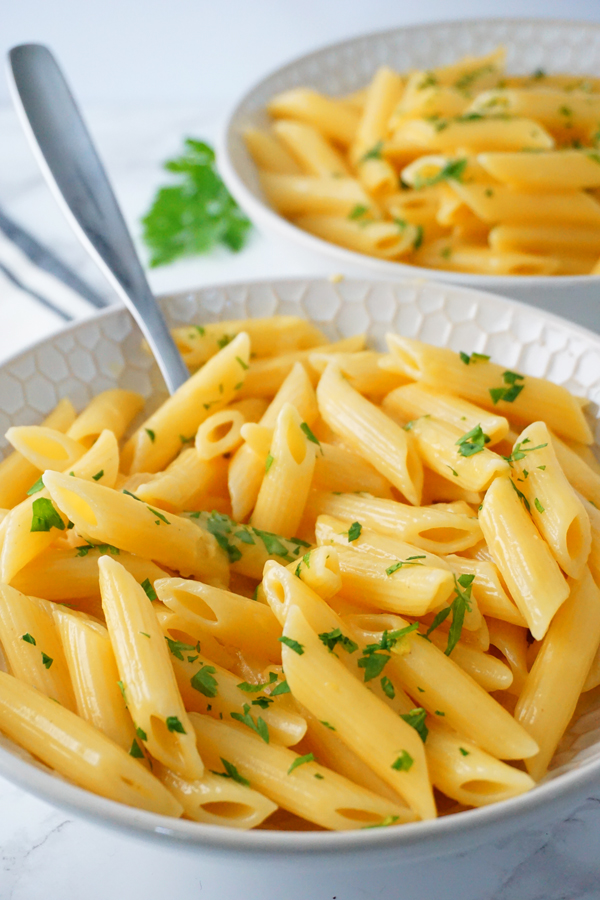 Okay, I'll get off my soapbox. One of my favorite parts of working in restaurants was obviously the food. I loved getting to try the new specials when they were released and somehow there were always orphaned Bloomin' Onions in the kitchen for my fellow servers and me to chow on.
But my absolute favorite quick meals to get as a server was a bowl of creamy macaroni and cheese from the kid's menu. Outback's Mac A Roo & Cheese (or "Kid Mac" as the servers would call it) definitely isn't anything fancy, it's just your basic Velveeta cheese sauce served over pasta. However, despite its simplicity, after figuring out the right cheese/milk/butter ratio, it's become my go-to mac and cheese recipe when time is short and I'm looking for a quick lunch or side dish at dinner time.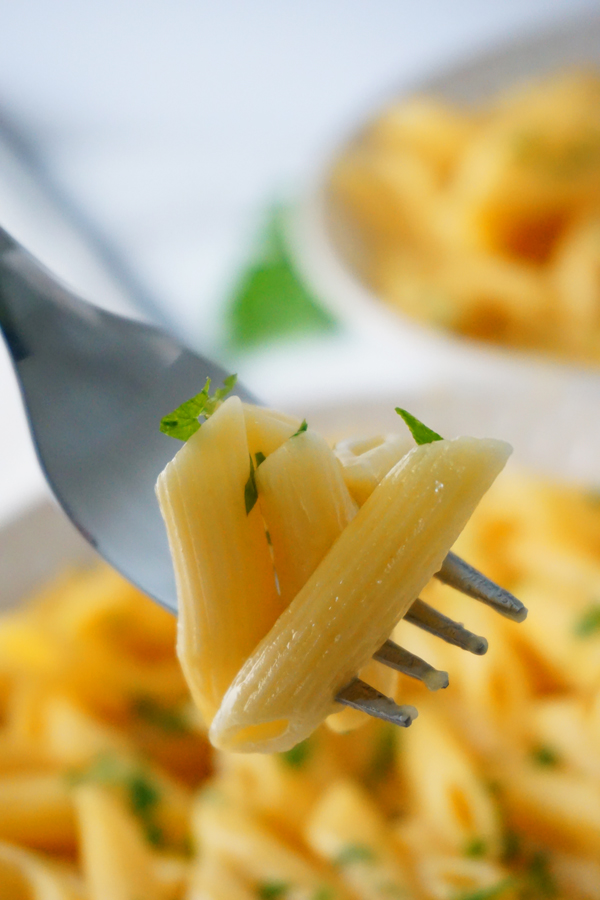 I think using penne noodles is what really makes this mac & cheese great. All the yummy sauce flows into the penne tubes so you get lots of "cheese" in every bite. I put "cheese" in quotes because Velveeta and American Cheese, in general, is arguably real cheese. I ask you, cheese snobs, however, to forget about that for this particular dish and enjoy it for what it is—simple and delicious.
If you have picky eaters at home (kid or adult) I guarantee that this mac will be a winner with them. It was by far the bestseller on the kid's menu at Outback Steakhouse! Have you ever worked in a restaurant? What's your best (or let's be honest—worst) story from the biz? Share in the comments below, I love hearing about your experiences!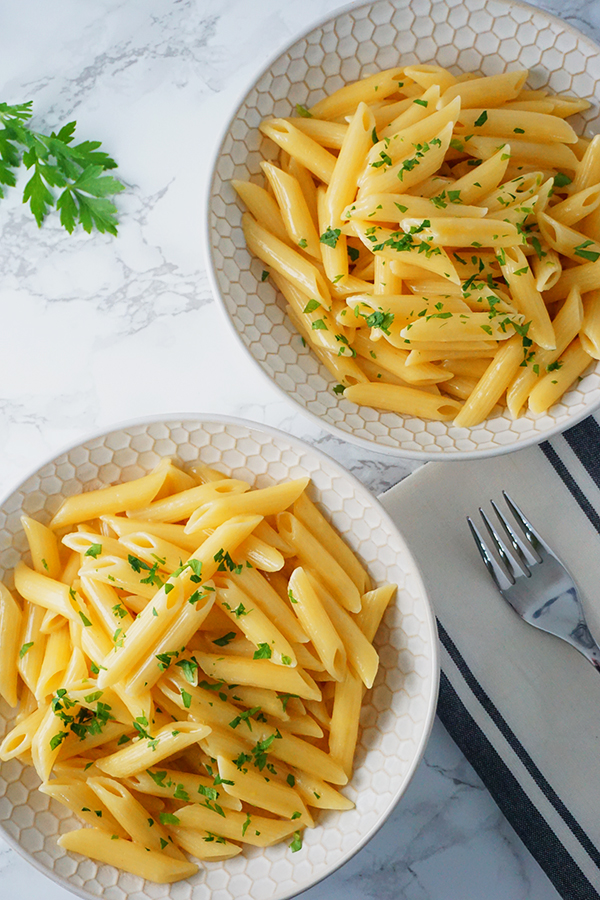 Also, if you make this Copycat Outback Mac-a-roo and Cheese, don't forget to give this recipe a rating and tag me on social media. It's @frydaeblog or #frydaeblog absolutely everywhere. It's always fun to see what you guys are cooking up in your kitchens too.
Outback Steakhouse Mac & Cheese
Replicating one of Outback Steakhouse's bestselling kid's menu items—Mac A Roo and Cheese—creamy Velveeta cheese sauce coats tender penne pasta for a simple, kid-friendly classic.
Ingredients
1

lb

penne pasta

8

oz

diced American cheese

,

Velveeta or Kraft

1/2

tsp

dried mustard powder

4

Tbsp

unsalted butter

3/4

cup

low-fat milk
Method
Bring a pot of water to a boil and cook penne pasta noodles according to the package's instructions. Usually around 10 minutes.

Meanwhile, melt 4 tablespoons of butter in a small saucepan over low heat. Add dried mustard powder and 1/4 cup of the milk. Stir to combine and let warm until steaming.

Begin to slowly add in the diced American cheese stirring each addition until almost melted. If sauce begins to get too thick, add a bit more of the milk to thin the sauce before adding more cheese.

Once all the cheese has been added add is melted, add in any remaining milk, if needed/desired, to your desired consistency. I like my sauce not too thick so it easily runs off a spoon.

Once your pasta is al dente, drain and return to the pot. Pour the cheese sauce over the penne pasta and carefully stir to combine so every noodle is well-coated with cheesy goodness.

Serve warm and enjoy.
Notes
---
If you want a thicker, creamier sauce, you can substitute low-fat milk for whole milk or half-and-half. I find using 1% Milk gets the sauce closest to Outback's consistency though.