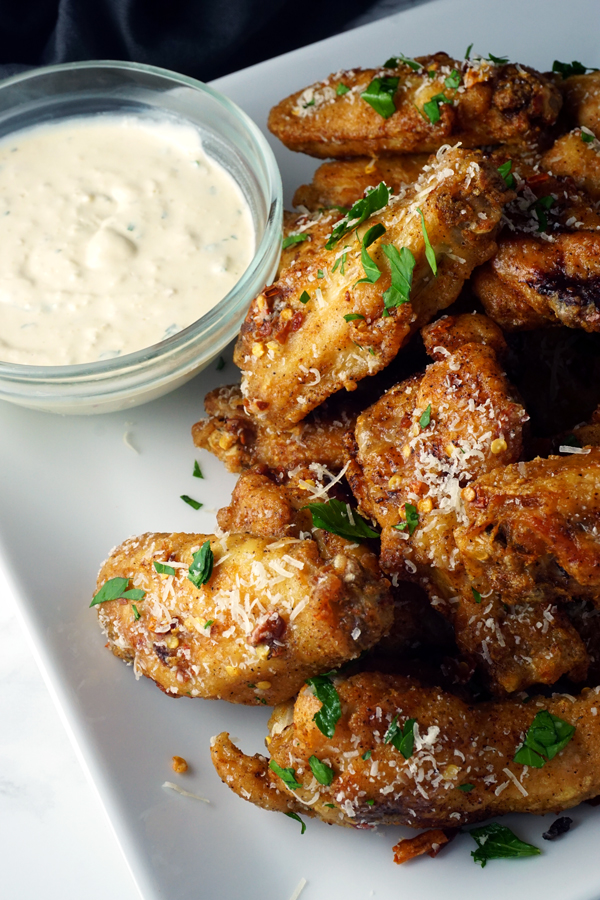 These fancy-pants chicken wings are seasoned with garlic, Sabatino Tartufi truffle salt, and other spices before they're fried and spun in black truffle oil, parmesan cheese, crushed red pepper flakes. Served with a creamy garlic dipping sauce made with black garlic hummus, these wings won't last long at your next party.
Is anyone else a sports fan first, and foremost, for the food? With the exception of NFL football, I don't follow sports very much. I'm probably the only Marquette University alumni who has never been to a college basketball game. It's not that I didn't want to go to a game. Somehow, it just didn't happen while I was in school. Sorry, Golden Eagles! I know, it's embarrassing. Despite my lack of attendance at sporting events in college, I do love going to live sporting events. However, it's not because I have a love for the game. It's because I have a love for the food. I'm definitely that person sitting in the stands, scarfing down chicken wings and completely oblivious to who just scored. Sorry, sports fans, I'm that person.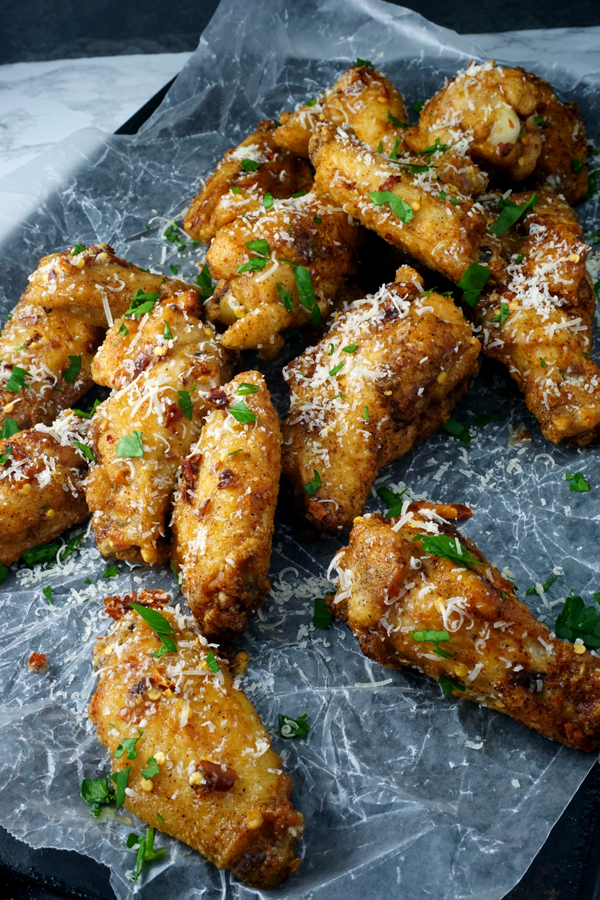 This week, I'm sharing these parmesan truffle chicken wings. They really should be called "I'm only here for the food" chicken wings though. They're perfect for foodies, like me, who don't know the name of the pitcher but are on a first-name basis with Jerry (the cashier at the hot dog stand next to section 227).
This weekend is the 2019 NCAA Tournament Final Four and Championship. If you have plans for a party, these wings need to be there. Made with Sabatino Tartufi truffle salt and black truffle oil these wings are definitely an indulgence. I found my truffle salt at World Market, but I've seen it on Amazon and at other specialty retailers too. Don't be afraid of the price tag. A little goes a long way, so one jar will last you a long time. I add truffle salt to potatoes, roasted vegetables, fries, steaks and pasta dishes so there are lots of ways to incorporate into your cooking.
While the ingredients may be a bit of a splurge, the wings are super simple to make. It begins by taking two dozen chicken wings and tossing them in a mixture of flour, truffle salt, pepper, garlic powder and onion powder. Then, they're deep fried in hot oil until golden and crispy.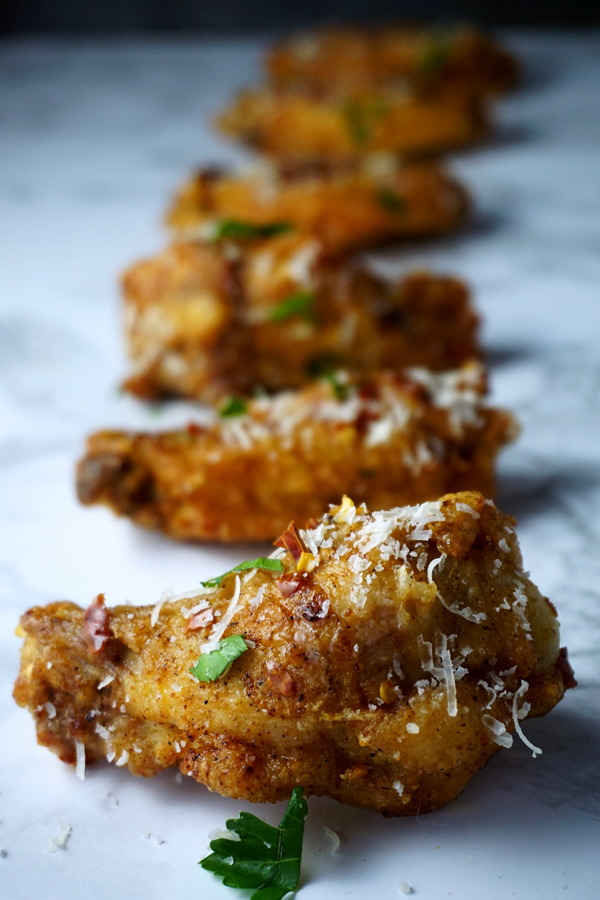 Once cooked through, the wings are drained to remove excess oil and then spun in a mixture of melted butter, black truffle oil, crushed red pepper flakes and a little more truffle salt. The wings are finished with a generous sprinkling of parmesan cheese and fresh chopped parsley.
Making these wings is absolute torture because the truffle smell is so divine while cooking. If you love truffle as much as I do, you're going to have a hard time letting these wings cool off before digging into one…of twelve. I think I burned my tongue twice when I was doing my recipe testing. It was worth it!
What's great about these wings, is they are not too spicy. I know a lot of people who don't like traditional buffalo wings because they're just too spicy for them. These wings get just a touch of heat from the crushed red pepper flakes so they're a crowd-pleaser for sure. I purposely didn't want to go too spicy with these wings since truffle can get overpowered pretty easily if it has to compete with other strong flavors.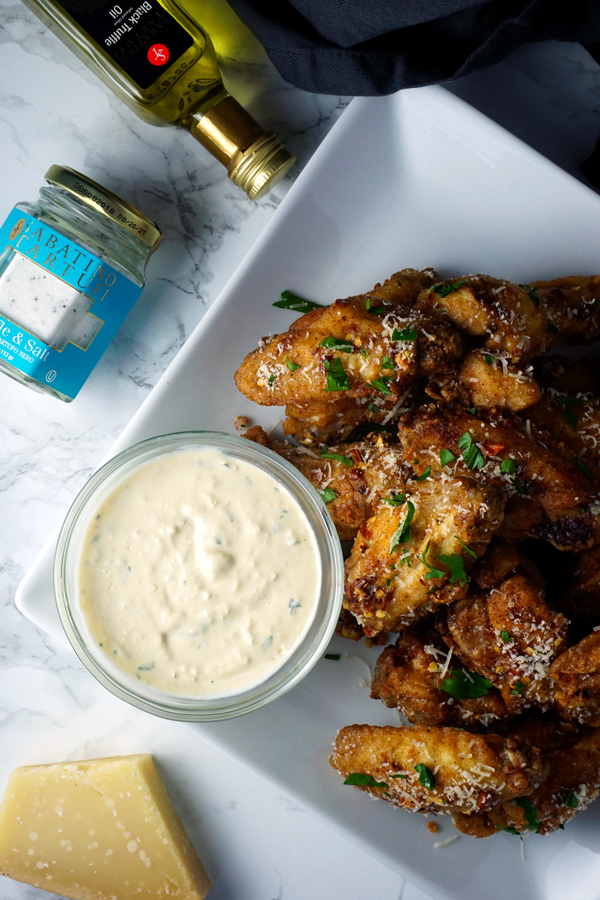 For those of you who like to dip your wings in ranch or blue cheese, I also made a creamy garlic dip to go with these. This simple dip only requires six ingredients and comes together in seconds. Mix together equal parts of sour cream and garlic hummus. Then add a few teaspoons of milk to thin everything out. Add just a pinch of truffle salt, a tablespoon of parmesan cheese and a little chopped parsley and you're done.
This sauce does a great job of cooling off the little bit of heat these wings have and also adds a nice garlic punch too. My favorite hummus to use is Hope Black Garlic Hummus—it has an intense garlic flavor and extra creamy texture. Yum!
Did you fill out a bracket for March Madness? At what point did it completely fall apart? Do you even care? Or are you, like me, just here for the food? Let me know in the comments below. If you try out this recipe, be sure to give it a rating and tag me on social media—it's @frydaeblog or #frydae absolutely everywhere. As always, thank you so much for stopping by and I hope you enjoy. Happy Frydae!
Truffle Parmesan Chicken Wings with Creamy Garlic Dip
These fancy-pants chicken wings are seasoned with garlic, Sabatino Tartufi truffle salt, and other spices before they're fried and then spun in butter, black truffle oil, parmesan cheese and crushed red pepper flakes.

Ingredients
24

chicken wing sections

1/3

cup

all-purpose flour

4

teaspoons

Sabatino Tartufi Truffle & Salt

,

divided

2

teaspoons

garlic powder

1

teaspoon

onion powder

1.5

teaspoons

ground black pepper

6

tablespoons

unsalted butter

2

teaspoons

black truffle oil

1

tablespoon

crushed red pepper flakes

1/2

cup

parmesan cheese

,

finely grated
Creamy Garlic Dip
1/4

cup

sour cream

1/4

cup

roasted garlic hummus

1

tablespoon

milk

1/8

teaspoon

Sabatino Tartufi Truffle & Salt

1

tablespoon

parmesan cheese

,

finely grated

1

teaspoon

fresh parsley

,

chopped
Method
Preheat canola oil in a deep fryer, dutch oven or extra deep skillet to 375°F. You want about 1-2 inches of oil in your pan if you're not using a deep fryer

Meanwhile, pat chicken wing sections dry using paper towels. In a gallon-size plastic bag, combine flour, 3 teaspoons of the truffle salt, garlic powder, onion powder and black pepper. Gently stir to combine and then add the chicken wing sections to the bag. Toss the chicken in the flour mixture until all wings are evenly coated.

Next, in batches, place several wings into the hot, pre-heated oil. Take care not to overcrowd the pan or the frying basket. Cook wings for 10-12 minutes, or until wings are golden and cooked through.

Remove the wings and drain on paper towels to remove excess oil.

As you finish cooking the wings, melt the butter in a large container with a lid. Add truffle oil, remaining 1 teaspoon of truffle salt and crushed red pepper flakes. As each batch of wings is ready, add them to the container and seal with the lid. Spin each batch of wings in the

truffle-

butter mixture until coated. Then remove the wings onto a platter. Repeat until all the wings are cooked and have been spun in the truffle-butter mixture.

Once all wings are on the platter, generously sprinkle with parmesan cheese and garnish with fresh chopped parsley. Serve warm alongside the creamy garlic dip. Enjoy
Creamy Garlic Dip
In a bowl, combine hummus and sour cream. Stir till combined. Next, add milk, a teaspoon at a time, until desired thickness is reached. Add a pinch of truffle salt, parmesan cheese and chopped fresh parsley to the bowl. Mix until blended together and then serve alongside the wings.
Notes
---
To bake the wings in the oven:
Preheat oven to 400°F. Place seasoned wings on a parchment-lined baking sheet. Cook for 40-45 minutes until golden. Turn wings once about halfway through baking. Remove from oven, and then spin in the butter-truffle oil mixture.