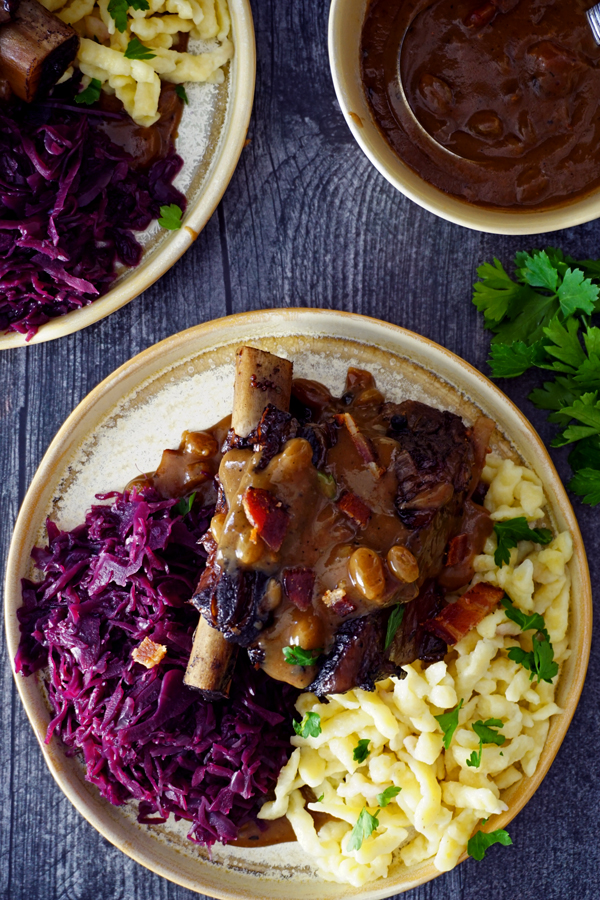 If you're looking for big German flavor, then these Braised Sauerbraten Short Ribs are right up your alley. For a fun twist, English-style short ribs, rather than a rump roast, are used in this updated version of a Bavarian classic.
If you can't tell by my last name, I married into a big German family. While I'm half German myself, I didn't grow up eating a lot of German cuisine. However, once I met my husband, I started frequenting Milwaukee's famous German restaurant, Mader's, with his family for birthdays and special occasions. It was there, that I was introduced to german favorites like wiener schnitzel, sauerbraten and beef rouladen. My love for these dishes only grew once my husband and I traveled to Germany a few years ago and we got to sample the flavors of Bavaria first hand. When we returned, I was determined to learn how to cook a few German classics at home but with my own spin. These Sauerbraten Braised Short Ribs are the result of my German cooking exploits.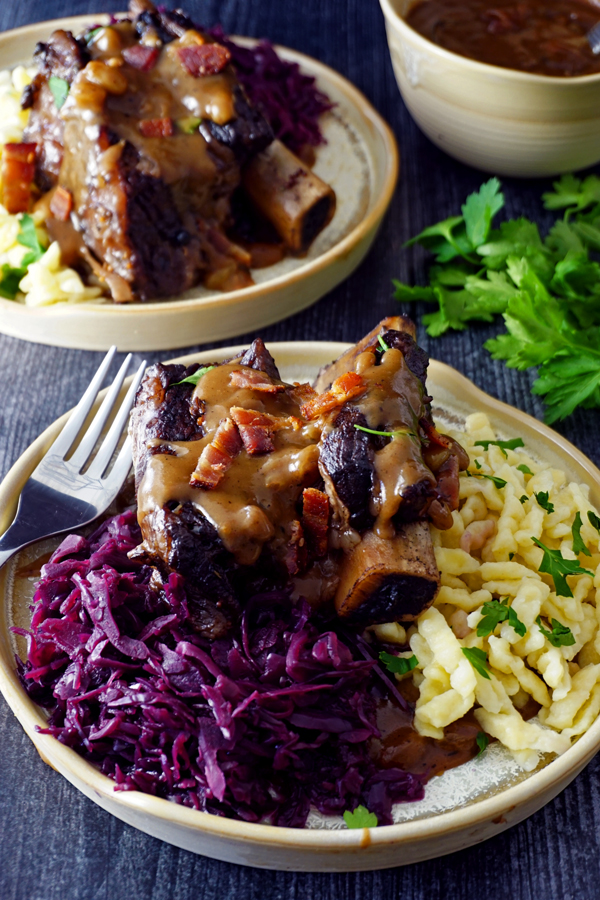 While the traditional recipe is insanely delicious, using a rump roast or eye of round, I couldn't help but wonder how short ribs would work in this dish. Good news: they work brilliantly and they are utterly delicious! Authentic Sauerbraten isn't a 30-minute meal and my version is no different. Capturing the classic flavors of the dish is a process that takes time so make sure you plan ahead for this one. But, trust me, once you dig into these tender ribs, you'll agree that they're worth the effort.
How to Make Braised Short Ribs as Sauerbraten
Step 1: Prepare the Marinade
This is probably the most important step in any sauerbraten recipe. The unique flavor of sauerbraten comes from essentially pickling the meat before cooking it. In this recipe, you'll place 5 pounds on bone-in, English-style short ribs into a large glass bowl or plastic container. Then, arrange one sliced onion and 2 large, sliced carrots around the beef.
Next, it's time to add lots and lots of spices. To the bowl add the pickling spices, whole cloves, whole black peppercorns, bay leaves, fresh sprigs thyme, and fresh parsley. You can also wrap the spices in a cheesecloth and tie it shut with twine. This will make it easier to discard the spices later when making the gravy. Last, pour 1 cup of red wine, 2/3 cup of red wine vinegar and 4-6 cups of water over the short ribs. Use enough water to completely cover the ribs in the marinade.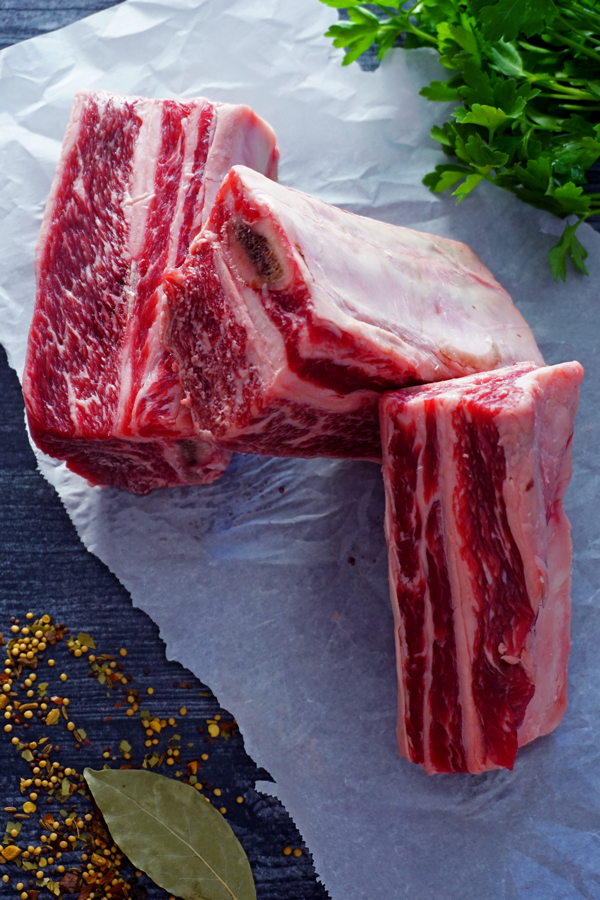 Step 2: Marinate the Beef
Now here's the kicker. You want the beef to marinate for a minimum of 48 hours and up to 72 hours. Note, classic sauerbraten recipes will sometimes call for the beef to marinate for up to a week, so, in comparison, this is nothing. Since short ribs are a more tender cut of beef than what's traditionally used, I find you can thankfully cut the marinade time down quite a bit.
After 48 hours, remove the short ribs from the marinade and pat them dry. Drain the marinade over a 4-cup measuring cup through a fine-mesh strainer. Reserve both the veggies and marinade and set aside.
Step 3: Sear the Short Ribs
Next, it's time to lock in all that flavor from the marinade and sear the short ribs. In a deep pot or dutch oven, cook a few pieces of bacon over medium heat until crisp. Transfer the bacon to a towel-lined plate and crumble it once cool. Set aside. Then, in the bacon grease (super healthy, I know) sear 2-3 short ribs at a time on all sides until a nice charred crust forms. Repeat until all short ribs are seared and then remove them and set aside.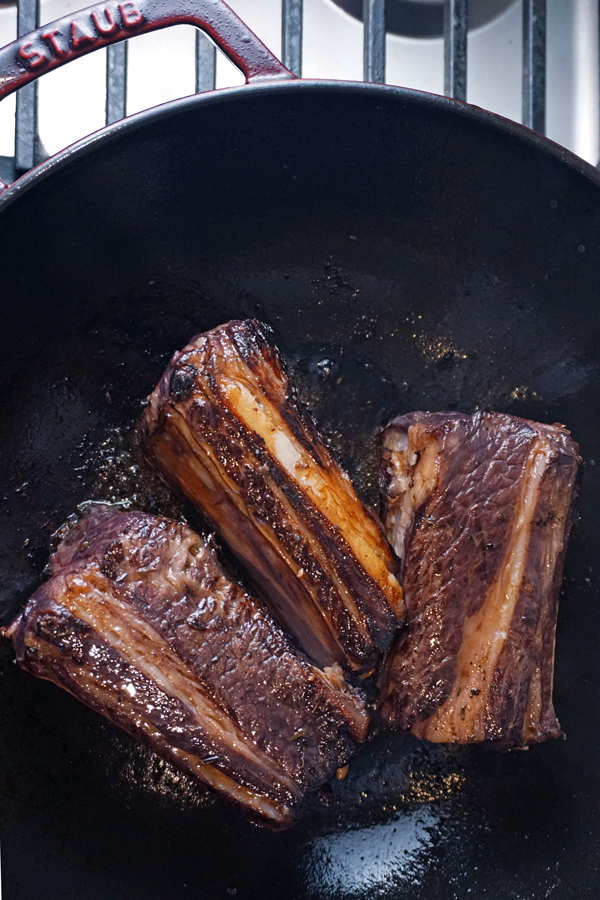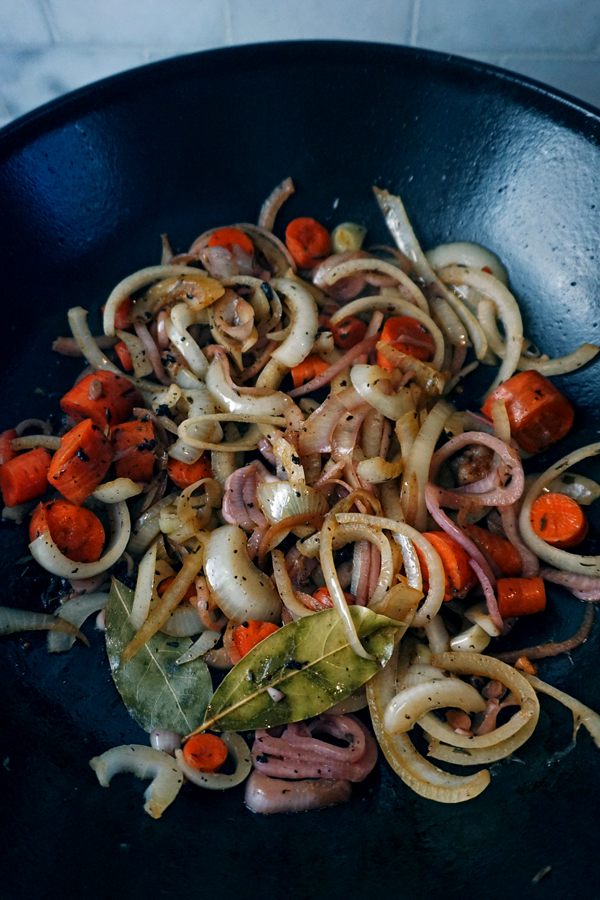 Step 4: Prepare the Braising Liquid
It'd be a shame to waste all those yummy, charred beef bits at the bottom of the pot. So, next, you're going to saute some fresh, raw onions, along with the reserved bay leaves, carrots, onions and spices from the marinade. Cook them over medium heat until they begin to soften and deglaze the pan with a little of the reserved marinade. Return the short ribs to the pot and then pour enough of the reserved marinade over the beef until it's about 50 percent covered with liquid. Bring to a boil.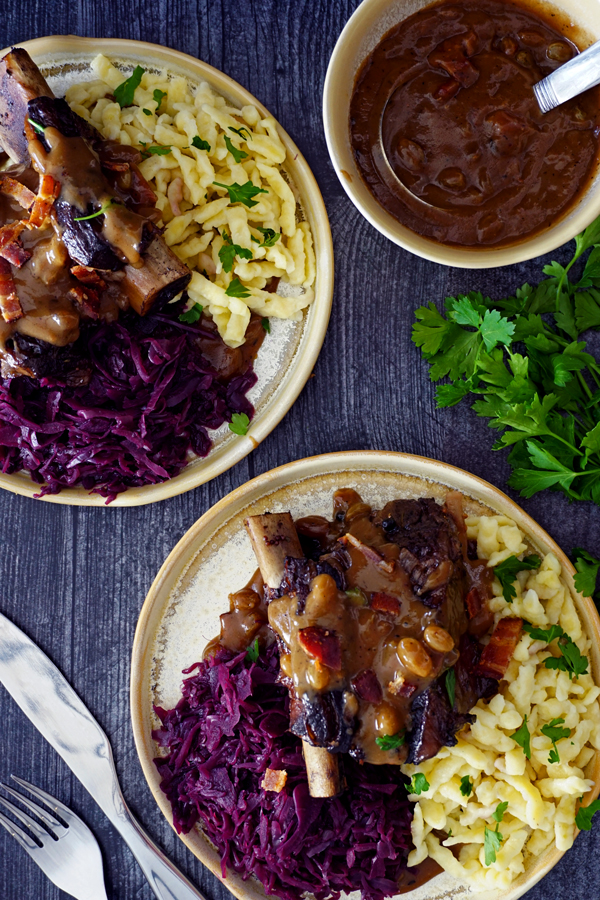 Step 5: Braise the Short Ribs
Cover the pot or dutch oven with a tight-fitting lid and then transfer the short ribs to a preheated oven. Let the short ribs cook for 2.5 hours, or until the meat easily separates from the bone and is tender.
Step 6: Make the Gravy
Carefully remove the short ribs, carrots and onions from the pot and cover loosely with foil on a large platter. From here, the only thing left to do is make the sauerbraten's gravy. Don't skip the gravy—it's a key component to classic sauerbraten!
To make the gravy, place the pot with the reserved cooking liquid on the stovetop over medium-high heat. Spoon about 1/2 cup of the warm cooking liquid into a measuring cup and make a slurry by whisking in a few tablespoons of flour. Add the slurry back to the other cooking liquid and bring to a simmer. Add the butter, brown sugar, lemon juice, raisins, crumbled gingersnaps and half of the reserved crumbled bacon. Continue to stir with a whisk until the sauce thickens. Turn off the heat.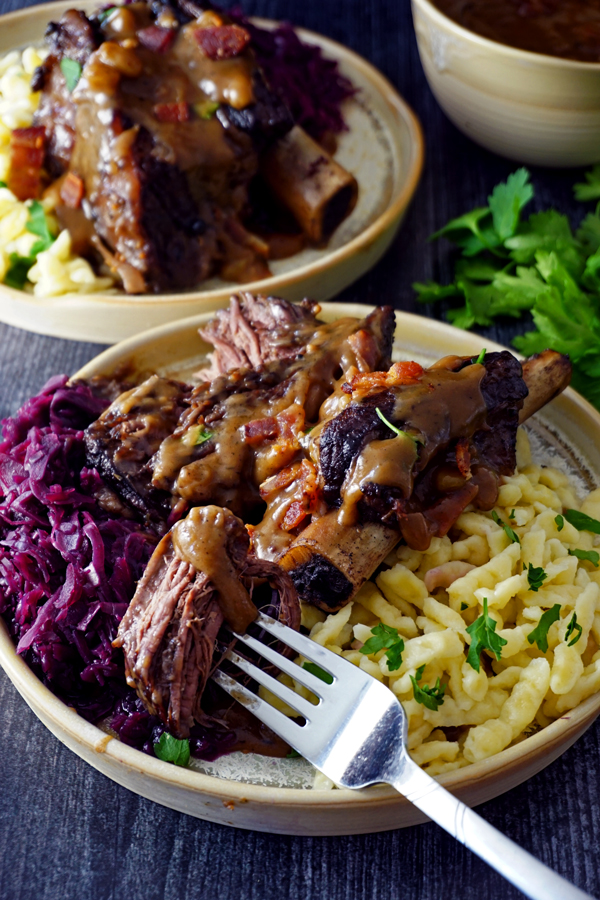 Step 7: Serve
To serve, generously spoon the gravy over the short ribs and vegetables on a platter. Seriously, don't be shy about the gravy. Garnish with remaining crumbled bacon and parsley and serve immediately. I like to serve my sauerbraten with red cabbage and spaetzle but potato dumplings or roasted red potatoes would also be delicious!
That's it! Yes, it's a bit of an undertaking, I know. But as I said before, it's so worth it. I've started making this recipe every year for Christmas for my husband's family. This past year, I served nearly 30 people, so if I can do for that size of a crowd, you can too!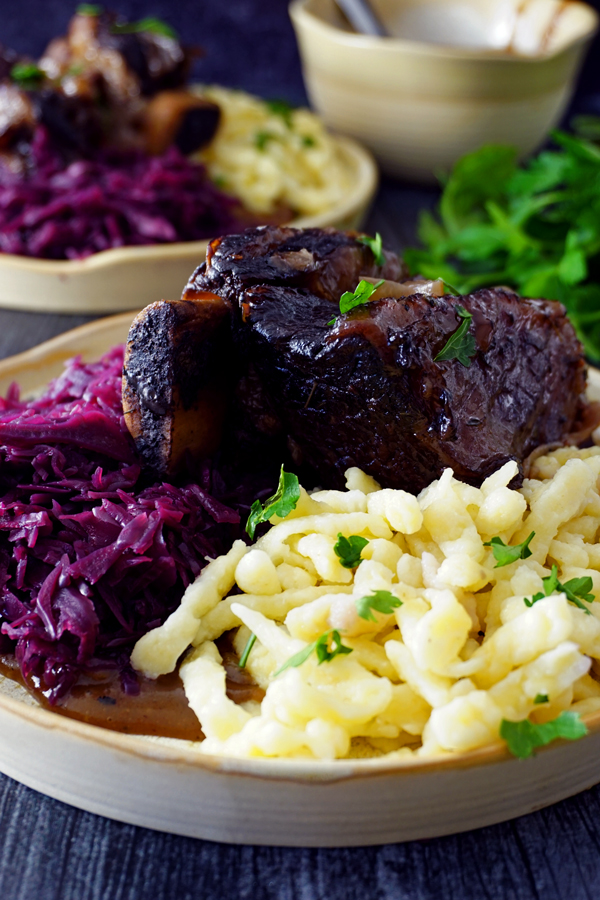 I hope you enjoy this fun, new twist on German Sauerbraten. Braised short-ribs seem to be having a moment lately in restaurants so this is my contribution to the ongoing short rib trend. If you make this recipe, please leave it a rating and leave a comment below with your thoughts on the recipe. You can also leave me a comment on social media—it's @frydaeblog and #frydaeblog absolutely everywhere! Thanks so much for stopping by. Happy Frydae!
Looking for other tasty German eats? Try this Bavarian Stuffed Pretzel Wreath next.
Sauerbraten Short Ribs
A tender twist on a classic German favorite, this sauerbraten recipe swaps traditional rump roast for ultra juicy beef short ribs. Marinaded for 48 hours in a brine of red wine vinegar, pickling spices, onions, wine and herbs, and topped with a rich gravy, these short ribs take on all the iconic sauerbraten flavors Germans know and love and presents them in a new way.
Ingredients
Marinade
1

cup

dry red wine

1

cup

red wine vinegar

1/2

tablespoon

salt

1

large

white onion

,

thinly sliced

2

large

carrots

,

peeled and sliced

2

tablespoons

pickling spice

,

found in the spice aisle

1

tablespoon

whole cloves

1

tablespoon

whole black peppercorns

2

whole

dried bay leaves

3

sprigs

fresh thyme

3

sprigs

fresh parsley

4-6

cups

water

,

enough to cover meat
Sauerbraten Ingredients
5

pounds

bone-in short ribs

,

English-style

4

slices

bacon

,

finely chopped

1/2

large

white onion

,

thinly sliced

3

tablespoons

unsalted butter

1

tablespoon

all-purpose flour

2

tablespoons

brown sugar

3/4

cup

golden raisins

1

cup

gingersnap cookies

,

crumbled

1/2

lemon

,

juiced

salt

,

to taste
Method
Season beef liberally with salt in large bowl. Combine wine, vinegar, onions, carrots, herbs and spices in a glass measuring cup and pour over beef. Add up to 6 cups of water, just enough to completely submerge the short ribs in the marinade. Cover and refrigerate for 48-72 hours. 

Remove beef from marinade and pat dry. Pour the marinade through a fine mesh strainer into a bowl. Reserve the liquid and the vegetable-spice mixture.

In a large, oven-safe pot or Dutch oven, cook the bacon until crispy. Transfer the bacon to a towl-lined plate to cool; reserve the rendered fat in the pot.

Next, over medium-high heat, sear the short-ribs. Cook 2-3 at a time, turning, until browned all over, about 15 minutes. Transfer the short ribs to a plate and set aside.

Preheat Oven to 325°F. Add fresh, sliced onion to the pot along with strained vegetables and spices. Saute, stirring occasionally, until softened, about 10-15 minutes. Deglaze the pan with about 1/2 cup of the reserved marinade then return beef to pot. Pour additional reserved marinade over the short ribs until it's about 50 percent submerged. Bring to a boil.

Cover the pot with a tight-fitting lid and then transfer to the preheated oven. Roast until beef is very tender and easily pulls away from the bones; about 2.5 hours. Transfer beef and vegetables to a platter.

Carefully pour the hot cooking liquid through a fine strainer into a saucepan. Place the saucepan over medium-high heat and bring to a simmer. In a glass measuring cup, whisk together the flour with about 1/2 cup of the cooking liquid to make a slurry. Pour the slurry back into the simmering cooking liquid and add the butter, brown sugar, raisins, lemon juice and gingersnaps. Continue to whisk constantly, until the gravy has thickened; about 5-8 minutes. Stir in half of the reserved bacon and then remove from the heat.

To serve, arrange short ribs on a platter. Spoon gravy over the top and sprinkle with bacon and parsley.
Nutrition
Calories:
822
kcal
|
Carbohydrates:
45
g
|
Protein:
57
g
|
Fat:
42
g
|
Saturated Fat:
18
g
|
Cholesterol:
188
mg
|
Sodium:
990
mg
|
Potassium:
1417
mg
|
Fiber:
4
g
|
Sugar:
21
g
|
Vitamin A:
4291
IU
|
Vitamin C:
12
mg
|
Calcium:
106
mg
|
Iron:
9
mg