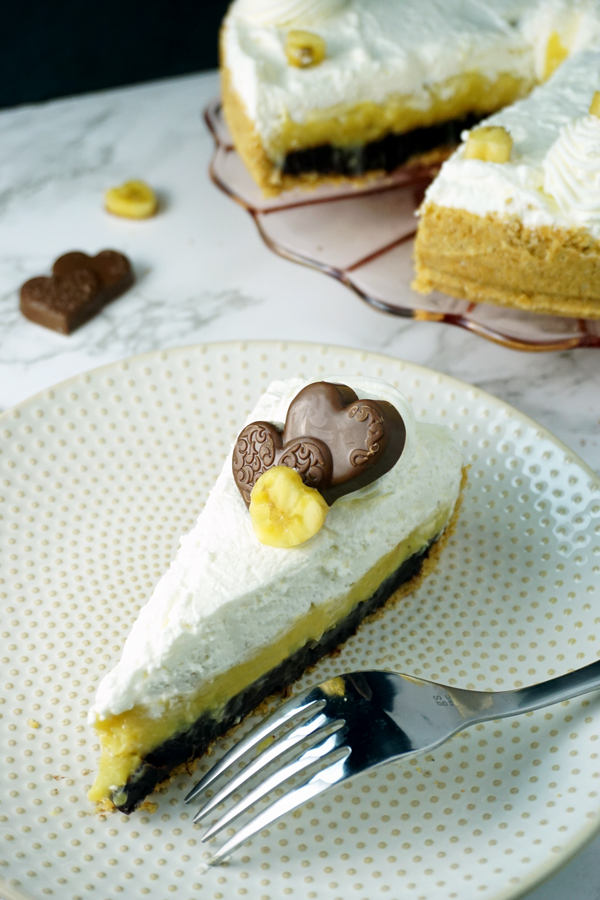 This sinfully sweet pie starts with a coconut graham cracker crust and gets filled with layers of decadent chocolate fudge, coconut-banana custard, and homemade sweetened whipped cream. Garnished with chocolate hearts and bananas, it's the perfect dessert to share with someone special on Valentine's Day.
Hey, remember that time I launched a recipe blog and then my oven broke the very next day? Yeah, so that's a thing that happened this past week. Oh well, as they say, the show must go on!
Today, I'm sharing something sweet to celebrate it being Valentine's Day. I did have these wonderful white chocolate raspberry "unbrownies" planned but seeing as I don't have an oven for a few days, I had to come up with a plan b.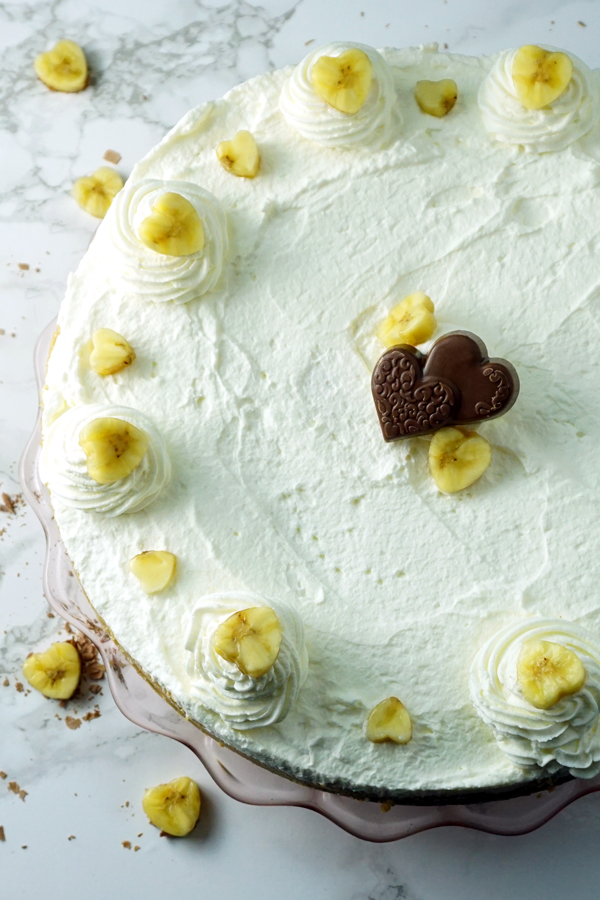 Which brings me to pie. I don't know about you, but I feel like pie is hugely underappreciated. It just doesn't get the same love that cookies, cakes, brownies and ice cream get—except on Pi Day.
I like to imagine that all the other (more popular) desserts got together one day and decided to throw pie a pity party and give it a special holiday of its own but in a sneaky, passive-aggressive mean girl way by connecting it to something nerdy like math.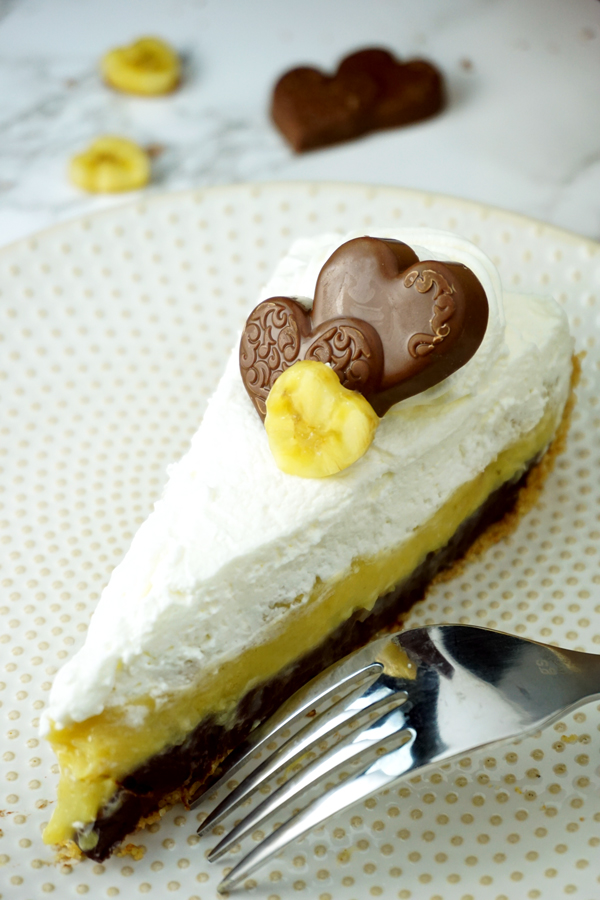 Cake (who is clearly the Regina George of the dessert clique) must have been like, "oh, remember that one dessert that isn't really bad at all but we just neglect all year and don't let them sit with us? Let's show it some love too. It will be good PR for us—the popular desserts! Don't worry, we won't give it a super cool holiday. We'll connect it to something lame—like math—and save all the cool food holidays for ourselves."
And that's how I imagine Pi Day began.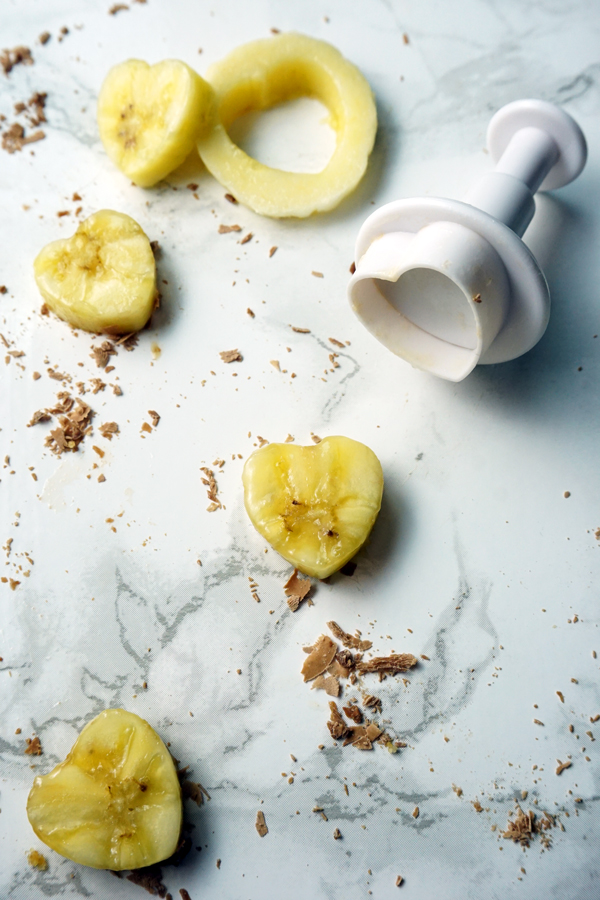 Now, returning to reality, I will say that I'm a big fan of pie—I think I may like it more than cake even. Which is why I'm not waiting until March 14th to share this delicious Black Bottom Coconut-Banana Cream Pie.
Cake Regina George will just have to add me to the Burn Book and deal with the fact that I'm letting pie steal the spotlight this Valentine's Day (even if it's selfishly because I don't have an oven right now).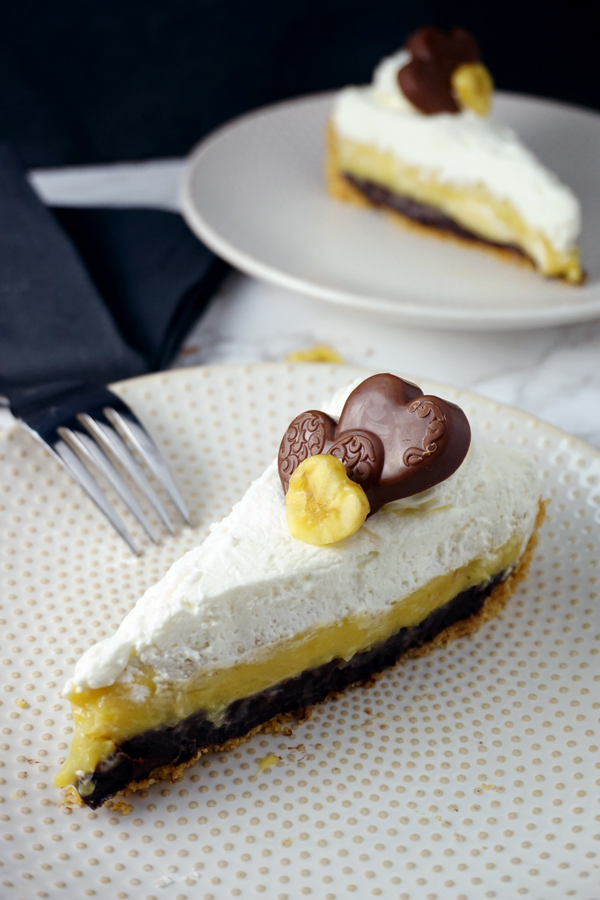 This pie has a lot going on, but trust me, it all comes together into a sinfully sweet and decadent cream pie that your Valentine will be sure to enjoy.
It all starts with a simple, no-bake graham cracker crust that is made with sweetened coconut which gets topped with layers of rich chocolate fudge and creamy, thick coconut-banana custard. Finally, the whole thing gets topped with homemade sweetened whipped cream and garnished with chocolate hearts and heart-shaped banana slices.
What I love about this pie is how dense and stable the custard is. Unlike other traditional coconut or banana cream pies, that often fall apart once they are sliced, this one holds its shape pretty well once it is chilled.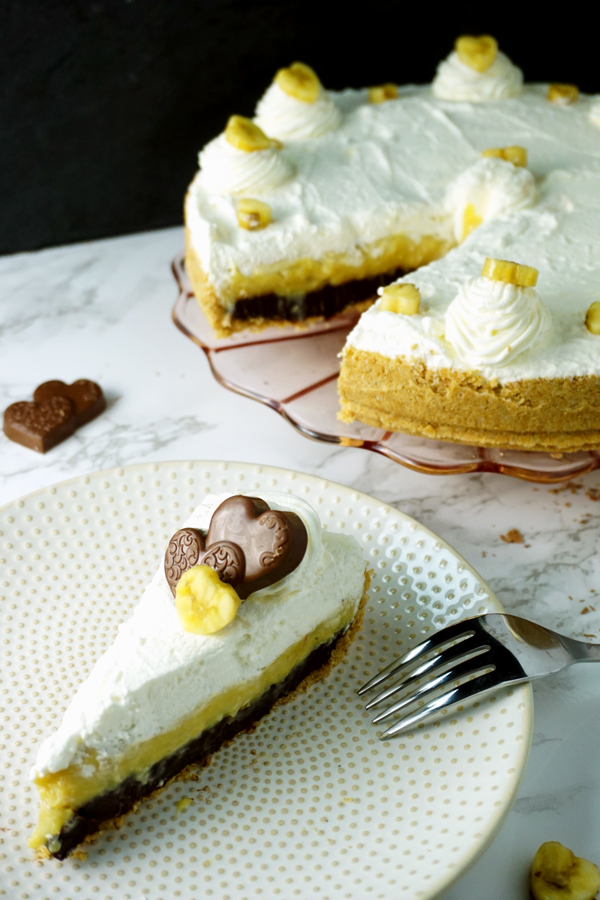 If you make this pie, please give the recipe a rating and tag me on Instagram (@frydaeblog or #frydaeblog). You can also leave me a comment below too! I love to hear your thoughts on the recipes I'm creating!
What are your Valentine's Day plans this year? I feel like this holiday is super divided nowadays into people who either love it or hate it! What camp do you fall into? Regardless of your personal sentiments, I hope you all have a great weekend!

Black Bottom Coconut-Banana Cream Pie
This sinfully sweet pie starts with a coconut graham cracker crust and gets filled with layers of decadent chocolate fudge, coconut-banana custard, and homemade sweetened whipped cream.
Ingredients
Coconut Graham Cracker Crust
1 1/2

cups

graham cracker

,

finely ground

1/3

cup

granulated sugar

6

tablespoons

salted butter

,

softened

1/4

cup

shredded coconut
Chocolate Fudge
2/3

cup

heavy cream

2

tablespoons

light corn syrup

2

teaspoons

vanilla extract

1 1/2

cups

semi-sweet chocolate chips
Coconut-Banana Custard
2

tablespoons

cornstarch

6

egg yolks

2

14-ounce cans

sweetened condensed milk

1/2

teaspoon

coconut extract

1

teaspoon

vanilla extract

2

tablespoons

salted butter

4

bananas

1

teaspoon

lemon juice

1

cup

shredded coconut
Sweetened Whipped Cream
1

cup

heavy cream

3

tablespoons

powdered sugar

1/2

teaspoon

vanilla extract
Garnishes
additional banana slices

toasted coconut

chocolate shavings

chocolate hearts
Method
Coconut Graham Cracker Crust
Using a food processor, blend together graham crackers, sugar and shredded coconut until it resembles fine crumbs. Add in softened butter and pulse until a moist but crumbly dough forms.

Next, add mixture into a 9-inch springform pan. Using your hands and wax paper, press the crumbs in an even layer up the sides and bottom of the springform pan. You want the crust to rise about 2 to 2.5 inches up the sides of the pan. Refrigerate crust at least 1 hour before filling.
Chocolate Fudge
When the crust is almost done chilling, begin to make the fillings.  

Add chocolate chips to a medium glass bowl and set aside. Then, in a small saucepan, warm heavy cream, corn syrup, and 1 teaspoon of vanilla over medium heat until steaming and just starting to simmer. Pour cream mixture over chocolate chips and stir until melted and smooth—about 3 minutes. Next, spread chocolate fudge in an even layer over the chilled crust. Freeze at least 30 minutes.
Coconut-Banana Custard
While chocolate fudge layer sets, separate eggs and place egg yolks in a small bowl, beat until smooth and then set aside. You won't be needing the egg whites, so go ahead and store those in a container for use in a different recipe.

Next, in a medium saucepan, add cornstarch and condensed milk whisk together to combine until no lumps remain. Then place the saucepan over medium heat, stirring continuously, until mixture begins to thicken and bubble. Reduce heat to medium-low and simmer for 2 minutes.

Now, temper the eggs. This step is critical to ensure you don't end up with scrambled eggs in your pie! Add a little bit (a few tablespoons) of the hot milk mixture to the egg yolks and whisk to combine. Once the eggs have been tempered, transfer the egg mixture to milk/cornstarch mixture and stir to combine.

Place pan back on the heat and bring to a light boil. Boil for 2 1/2 minutes, stirring continuously, until thickened. Remove from heat and pour custard into a food processor.

Add two of the bananas, lemon juice, butter, coconut extract and vanilla to hot custard. Blend until smooth and then, using a rubber spatula, gently fold the shredded coconut into the custard.

Next, gently pour the custard over prepared crust and chocolate fudge layer—which should have firmed up in the freezer. Smooth custard with a spatula or knife and then take plastic wrap and gently lay it directly onto the custard (so it is touching the custard's surface). This plastic wrap will help prevent a film from forming on the surface of the custard while it sets. Return pie to the refrigerator and chill until firm—at least 4 hours (or overnight).
Sweetened Whipped Cream
In a stand mixer, add heavy cream to a mixing bowl and whip until soft peaks form. Then beat in powdered sugar and vanilla and continue to whip until stiff peaks form. 

Prior to spreading whipped cream, slice the remaining two bananas and arrange on top of the set custard. Then, spread a medium layer whipped cream over the top of the pie. Reserve a little of the whipped cream for piping rosettes.
Garnish
With remaining whipped cream, spoon into a piping bag and decorate pie with remaining whipped cream as desired.

Using a heart-shaped fondant punch or extra small cookie cutter, cut out heart-shaped banana pieces from a slice of a ripe banana.

Gently toss banana hearts in a little lemon juice to slow them from browning. They should stay fresh looking for a few hours but won't last overnight so hold off on adding fresh banana hearts (or regular slices) until just before serving for best results.

Arrange banana hearts on pie and sprinkle with additional toppings like toasted coconut, chocolate shavings or chocolate hearts.

Serve immediately and enjoy. Keep refrigerated.