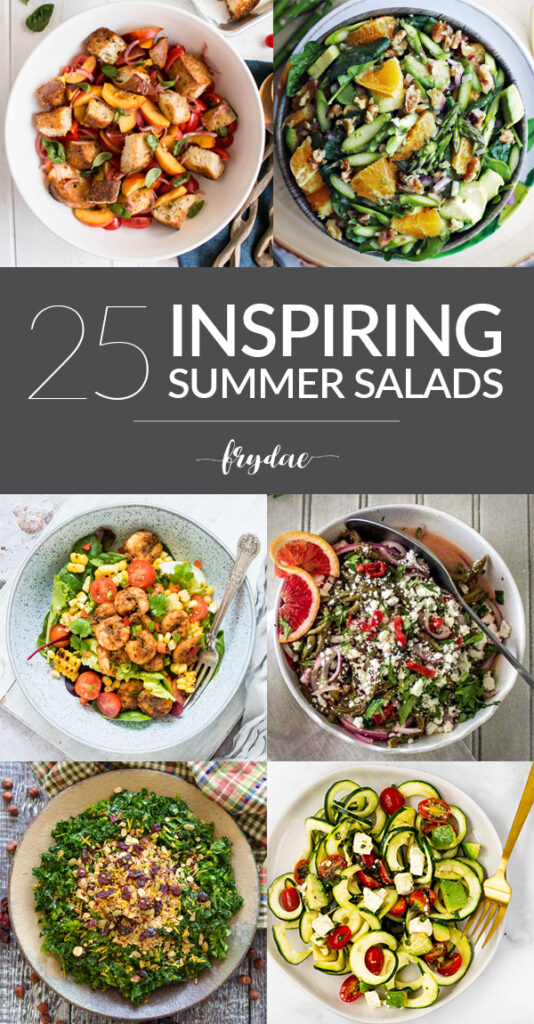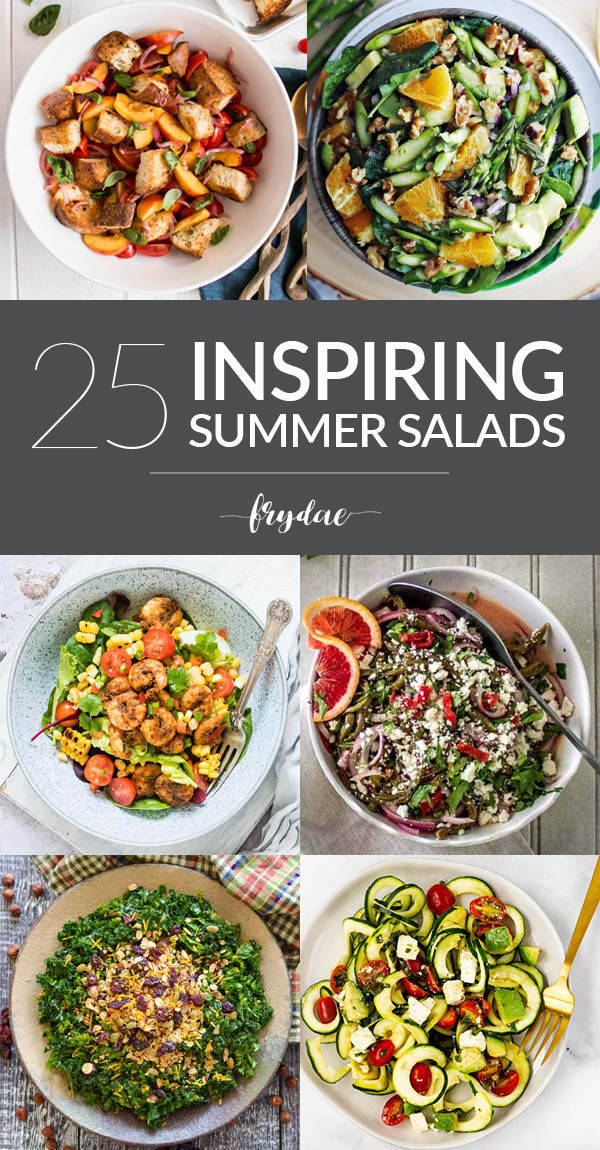 Summertime is just around the corner so I'm sharing a collection of some of my favorite summer salads from around the Internet. From grain-based salads featuring farro or quinoa to fruit-focused salads with juicy summer berries and tender greens, this roundup offers something for everyone.
While Wisconsin is known for its brutal winter snowstorms, believe it or not, we do get nice weather for a few short months too. Our pasty alabaster skin may glow with the light of a thousand stars, but we love summer just as much (if not more) than the next person. Personally, once summer hits, you'll find me outside kayaking with my husband or venturing to a new playground with our daughter. Sidenote: she just learned how to say "dirt" today and it's the cutest thing ever!
As for food, I'm always looking for recipes that either get me outside on the grill or are easy to throw together quickly after a long day outside in the sun. Salads are definitely one of my family's favorites this time of year. Nothing is better in my opinion than a big bowl of crisp, cool veggies paired with juicy fruits or protein-packed, tender grains. Even my husband, who is a true carnivore, loves a big salad in the summertime.
In this round-up, you'll find a collection of some great, inspiring summer salad recipes. Some are hearty enough to stand alone as your main dish, while others are rockstar side dishes to serve at your next potluck or barbecue session. I've broken out this round-up into a few categories so feel free to jump around to the category that interests you most.
---
Fruit-focused Salads
I don't know about everyone else, but in the summer I love salads that are loaded with lots of fruit. Whether grilled, chilled of pureed as part of the dressing, fruit in salads just screams summer.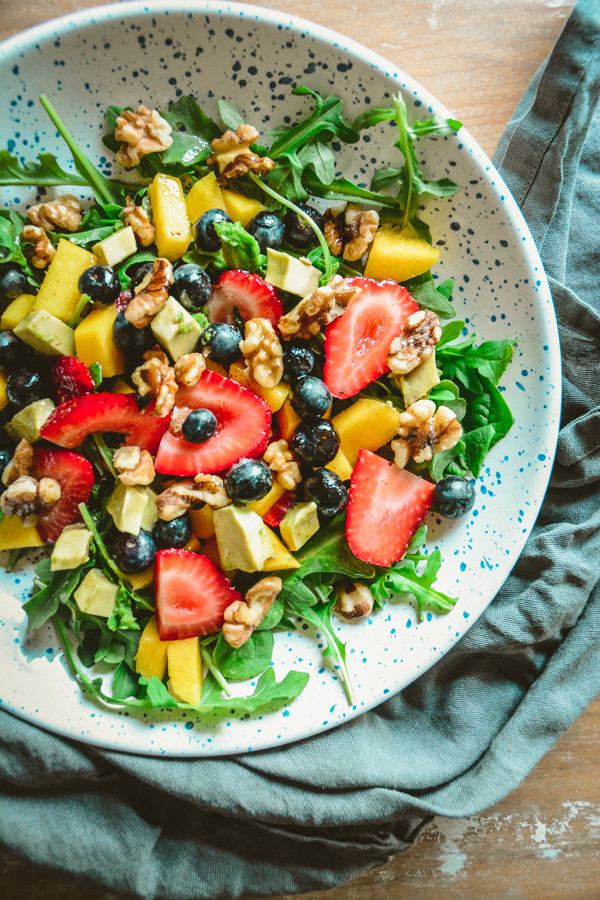 from Calm Eats
Made with strawberries, mango, blueberries, avocado and walnuts, this salad contains all of summer's best flavors topped with a spicy lemon cayenne vinaigrette. Yum!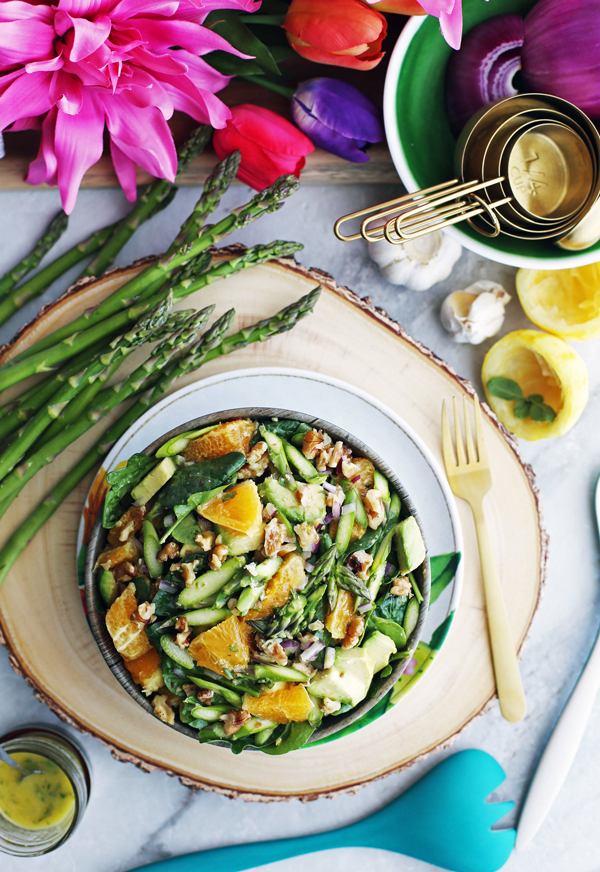 from Yay! For Food
Crunchy asparagus paired with bright oranges and crisp spinach are dressed with a flavorful basil lemon vinaigrette.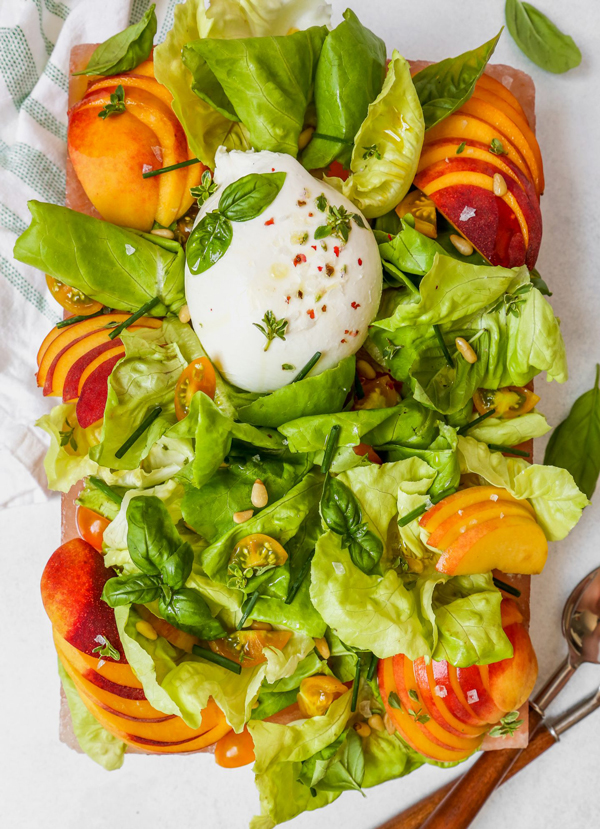 from Zestful Kitchen
Peaches, fresh herbs and burrata star in this simple, yet flavorful summer salad.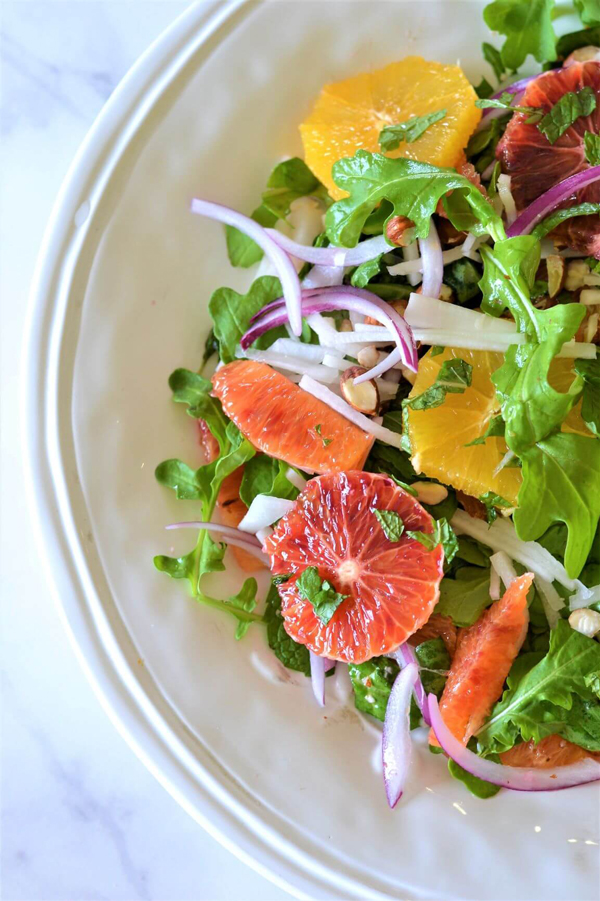 While blood oranges are often thought of as a winter fruit, their bright flavor paired with daikon, mint and peppery arugula makes for one refreshing fruity summer salad.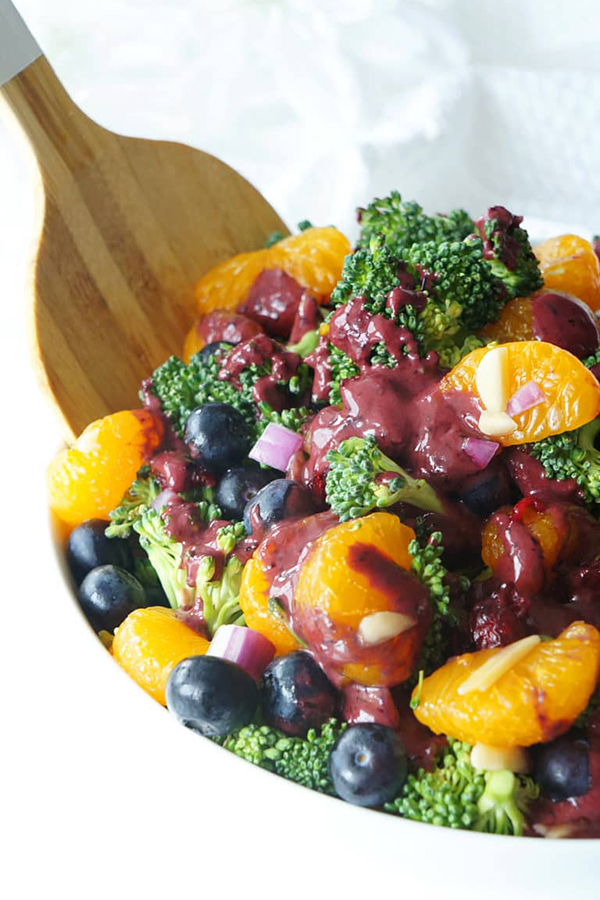 Superfoods like broccoli and blueberries pack the salad with lots of color, flavor and nutrients.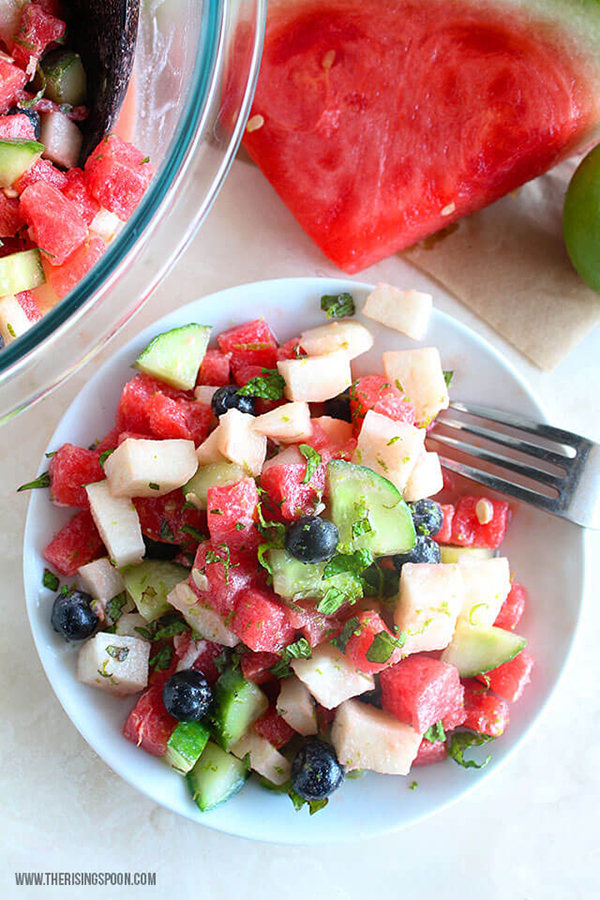 from The Rising Spoon
Nothing screams summer like cool and refreshing watermelon. Combined with crisp cucumbers and jicama and topped with a coconut lime dressing, this salad is going to be a new summer salad favorite.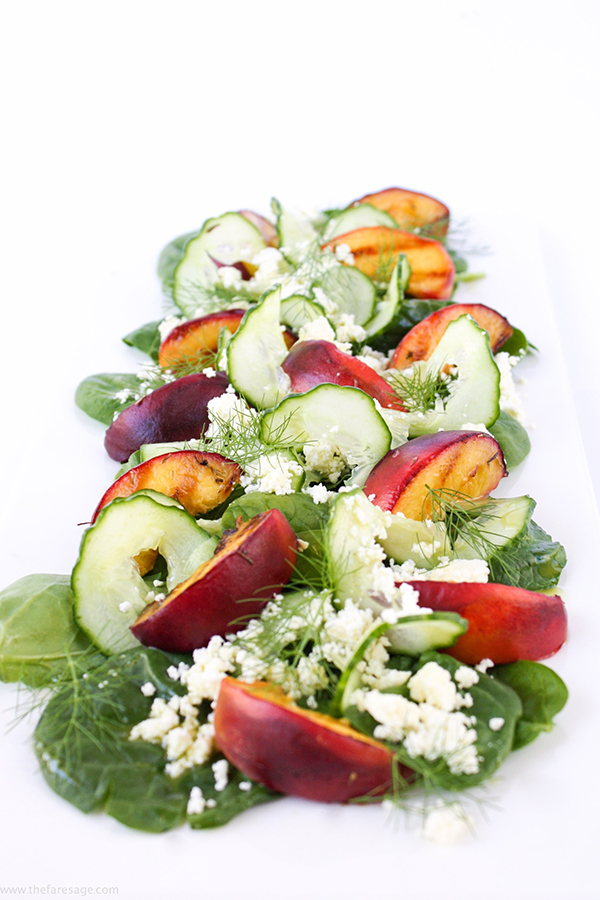 from The Fare Sage
Grilled peaches, soft ricotta and crisp fennel and cucumber come together in this beautiful and unique salad.
---
Grain Salads
Loaded with protein-packed quinoa or farro, grain-based salads are not only nutrient-dense but filling too. If you're one of those people who often feel unsatisfied after eating a traditional green salad, grain-based salads are a great option for you.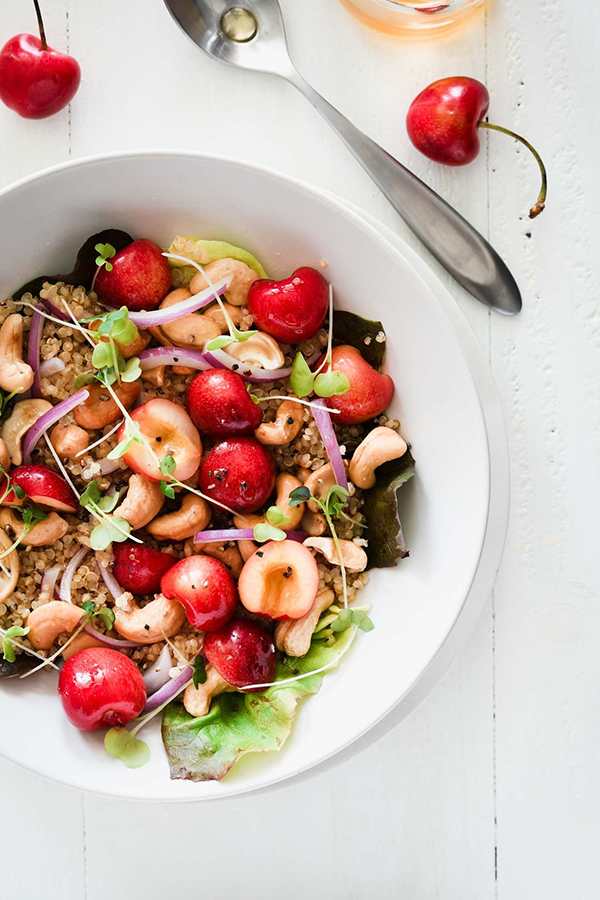 from Urban Foodie Kitchen
Bright red cherries shine in this summertime quinoa salad topped with crunchy cashews and red onion.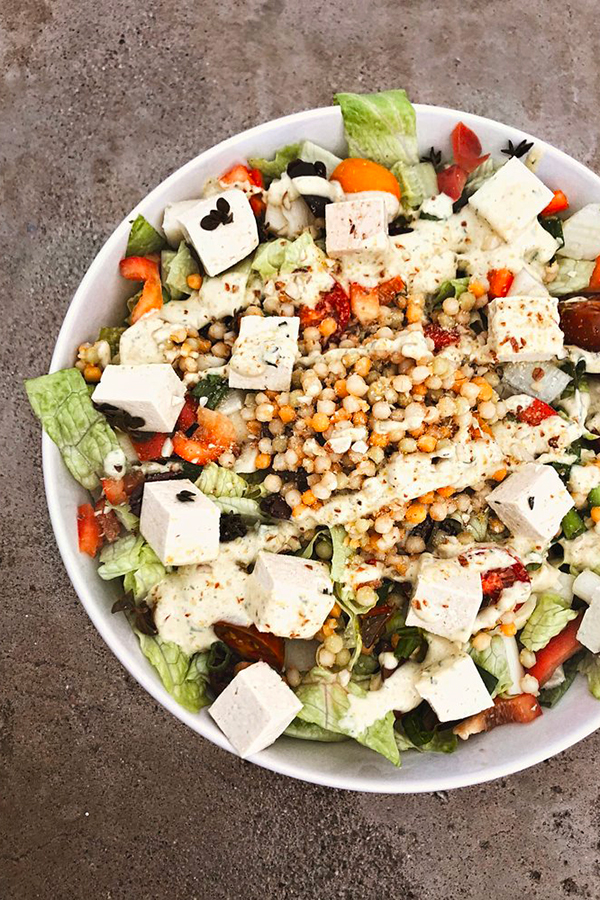 from Hell Yes It's Vegan
This colorful Mediterranean salad features marinated tofu, couscous, crunchy vegan "parmesan" almonds and lots of delicious veggies.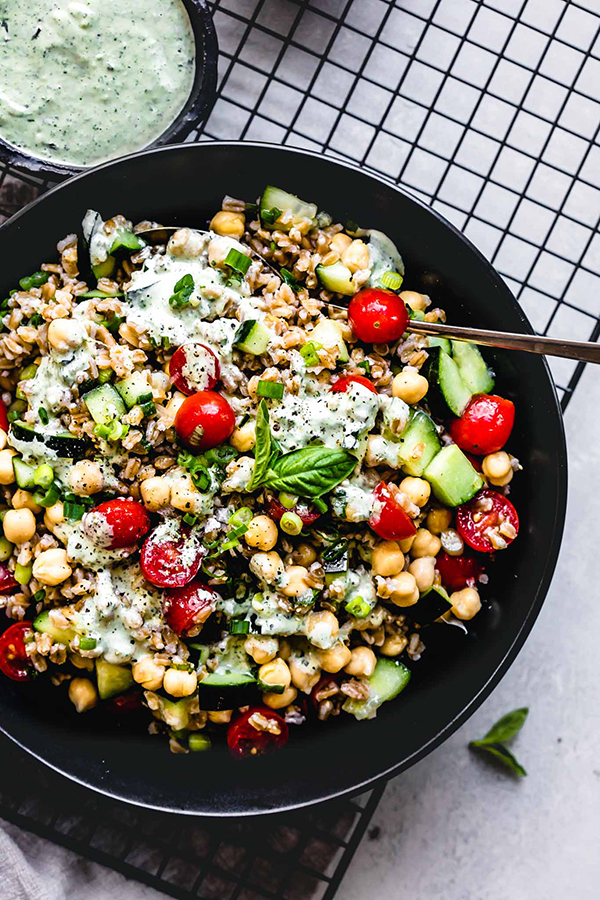 from Platings + Pairings
Farro with a tahini-based dressing? Sign me up! Loaded with chickpeas, cucumber and juicy cherry tomatoes this summer salad is bursting summer flavors.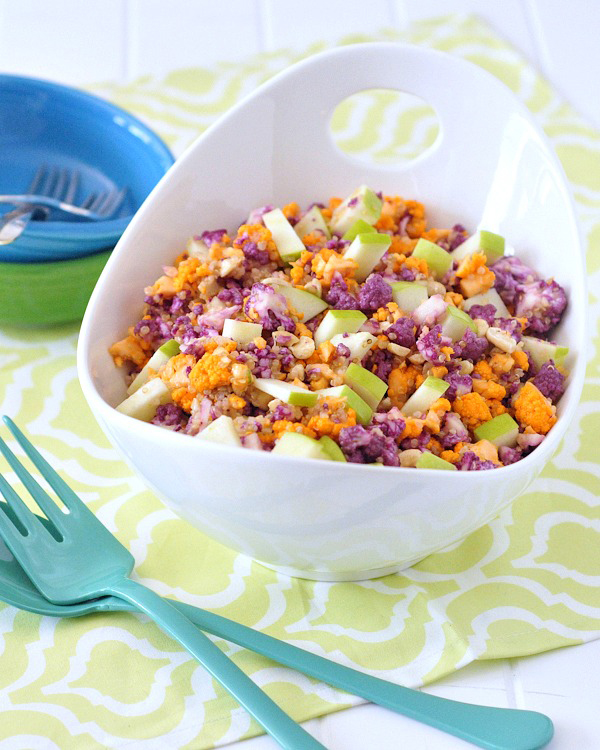 from Spabettie
Multi-color cauliflower adds lots of bright, vibrant color to this quinoa salad topped with a shallot and sumac dressing.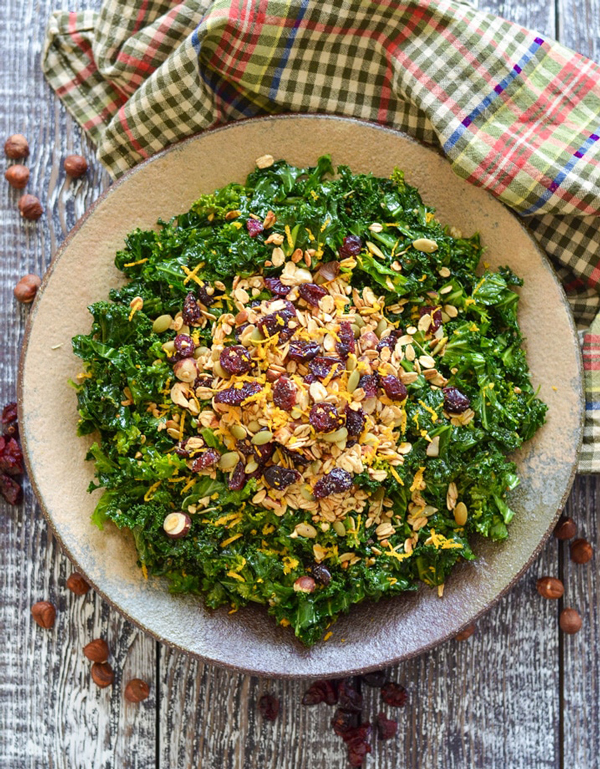 from A Virtual Vegan
Move over croutons, there's a new crunchy salad topper in town and it's savory granola.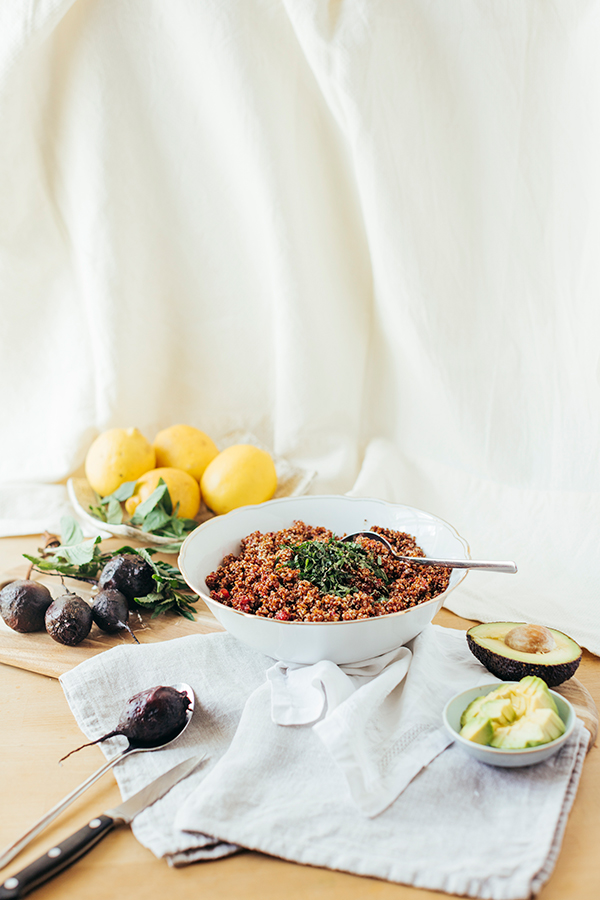 from Vegan Art
Roasted beets and raspberries meet avocado, pistachios and quinoa in this delicious summer salad.
---
While not all of these are true "green salads" most of the salads in this category are dominated by crisp vegetables and/or leafy greens. So if you're not a fan of fruit, grains or pasta in your salads, this group is for you.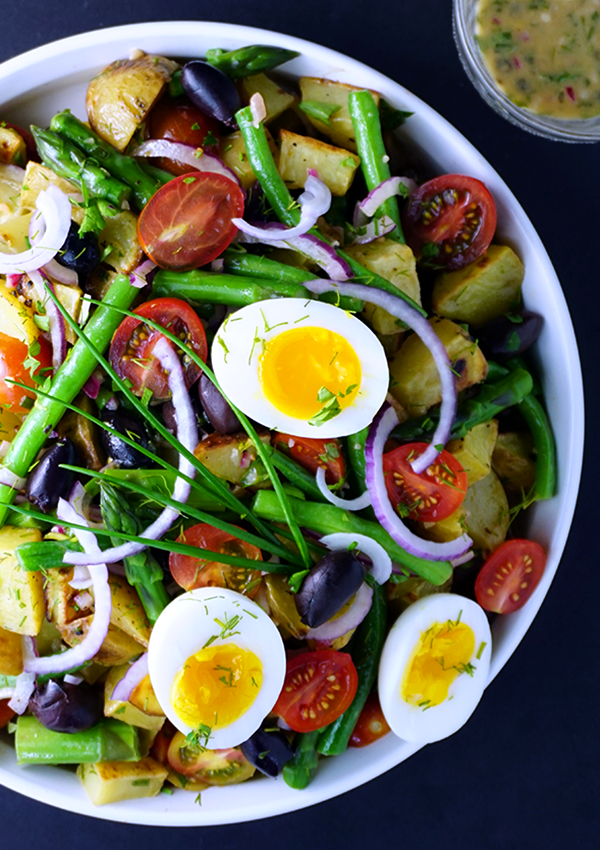 from Frydae
Far from your everyday potato salad, this Nicoise-inspired salad features roasted potatoes, jammy soft-boiled eggs and lots of crisp green beans, asparagus and kalamata olives in a mustard vinaigrette.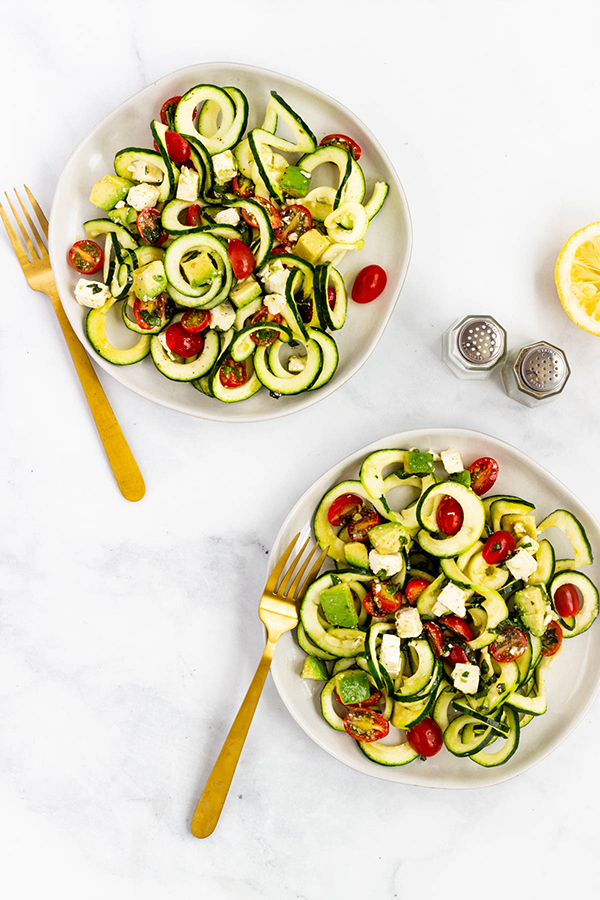 from Pass Me Some Tasty
Zoodles are not just for faux-pasta dinners anymore. Spiralized zucchini adds great texture to this simple, fun summer salad.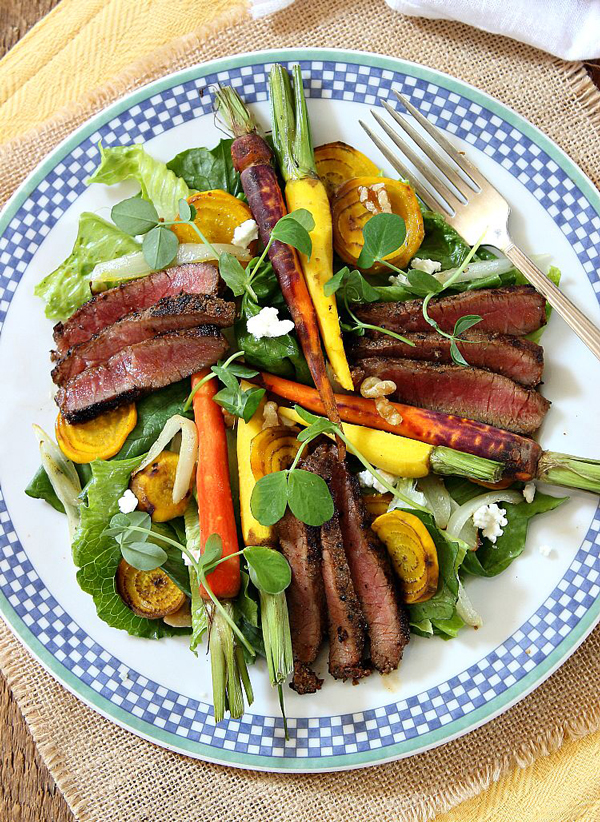 from Simply Fresh Dinners
It isn't summertime unless steak is on the menu, right? With colorful maple roasted carrots and golden beets, this hearty summer salad will please everyone at your dinner table.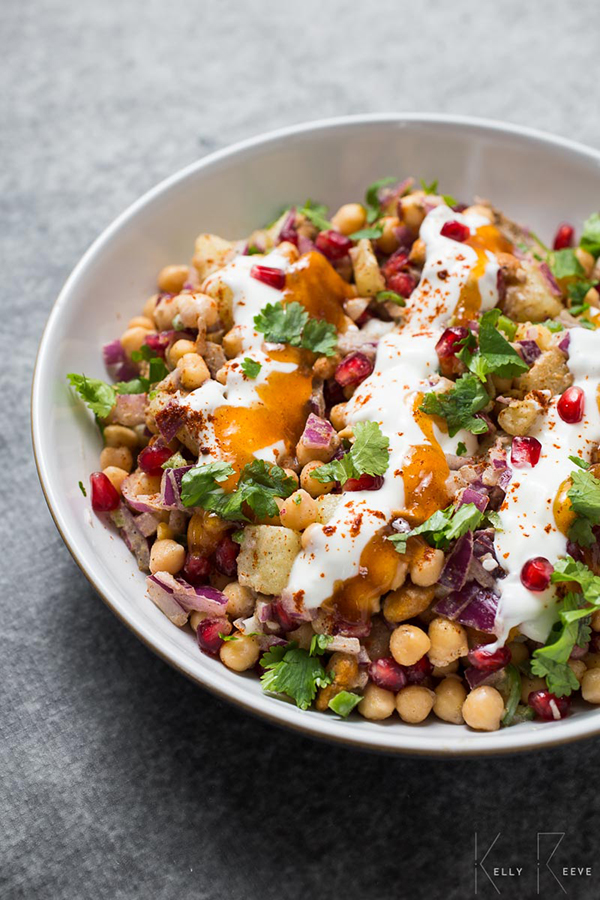 from Greedy Gourmet
This classic Indian chickpea salad is hearty, colorful and full of flavor. Serve as a standalone meal or alongside some grilled chicken at your next barbecue.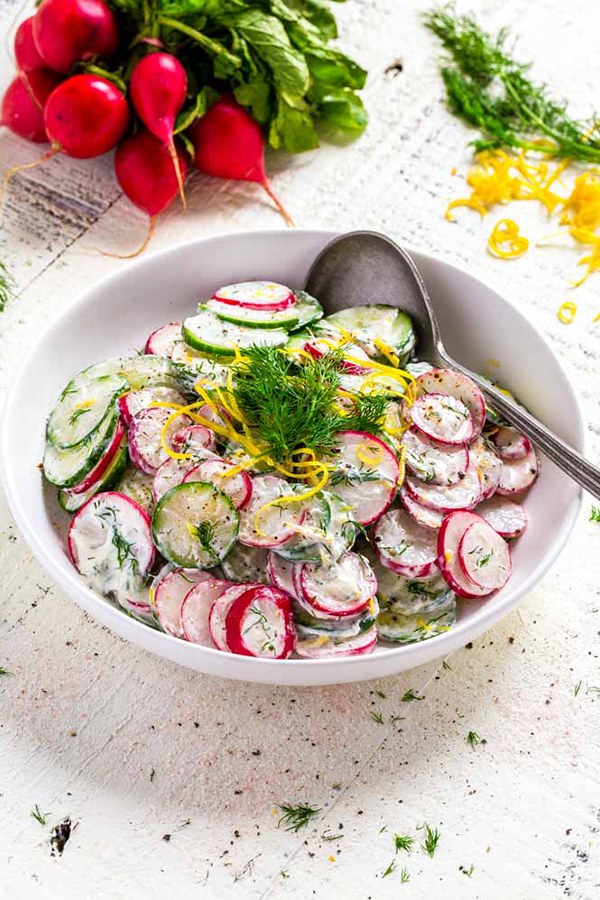 from Confetti & Bliss
If you have a picnic without a classic cucumber salad with dill dressing, does it even count?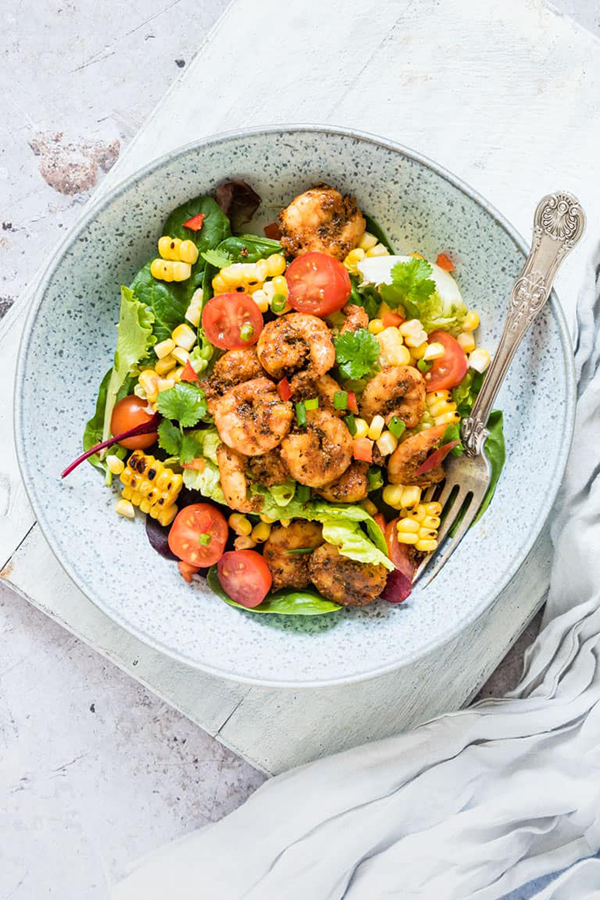 Fresh corn is one of my favorite summer salad additions. It's the perfect addition to southwest and cajun salads like this one which features grilled shrimp and juicy red tomatoes.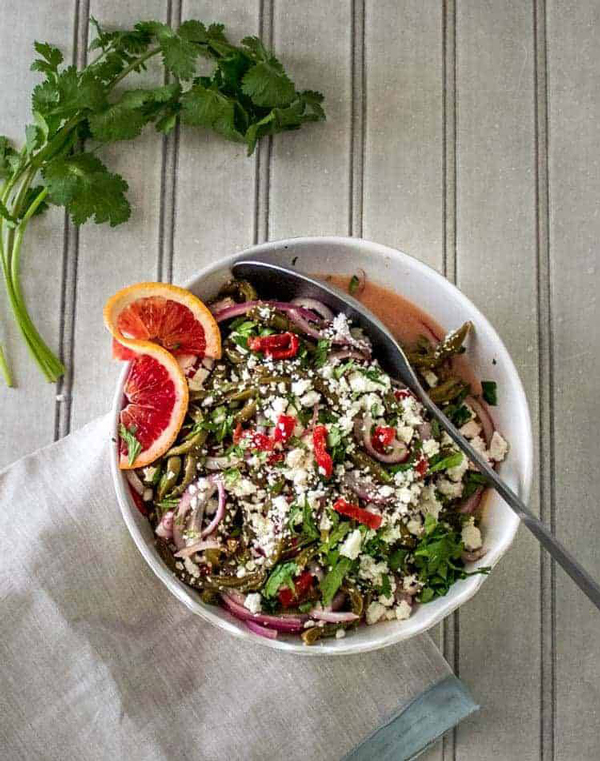 If you've never had cactus before, now is your chance. This nopalitos salad is dressed with a homemade citrus pomegranate vinaigrette that sounds out of this world!
---
Panzanella Salads
Who loves croutons? If you raised your hand, then a summer panzanella is right up your alley. These salads are dominated by pieces of delicious toasted crusty bread. Traditionally made with tomatoes, herbs and stale bread that gets dressed in oil and vinegar, today panzanellas are only limited by your imagination. Here are a few I'm excited to make this summer.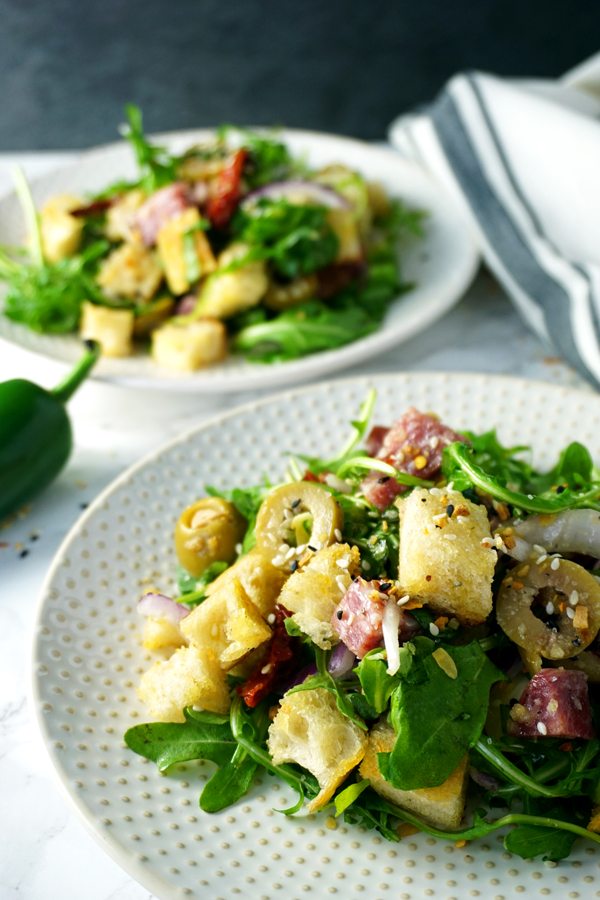 from Frydae
Crusty toasted bread, arugula, salami, soppressata, mozzarella cheese, green olives, sun-dried tomatoes, red onion and spicy jalapeños all get tossed together in a sweet honey dressing loaded with everything bagel seasoning.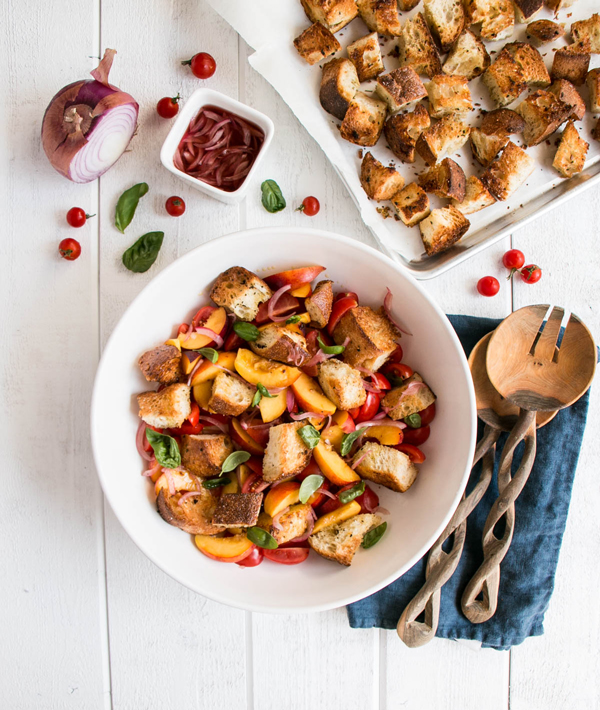 from My Kitchen Love
Sweet nectarines are paired with homemade pickled onions in this panzanella that features homemade garlic-basil croutons.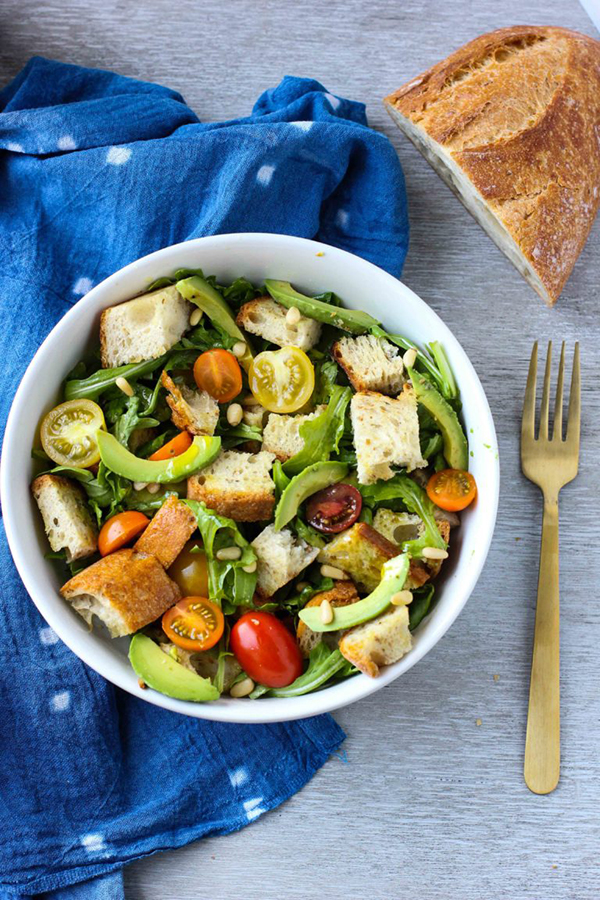 from I Heart Vegetables
A close cousin to a classic panzanella, this simple salad features creamy avocados and pine nuts.
---
Pasta Salads
No picnic, potluck, or summer barbecue session ever seems complete without a pasta salad. While some may argue that pasta salads are not really true salads, I still couldn't resist including at least a few yummy options in this summer salads round-up. I hope you don't mind!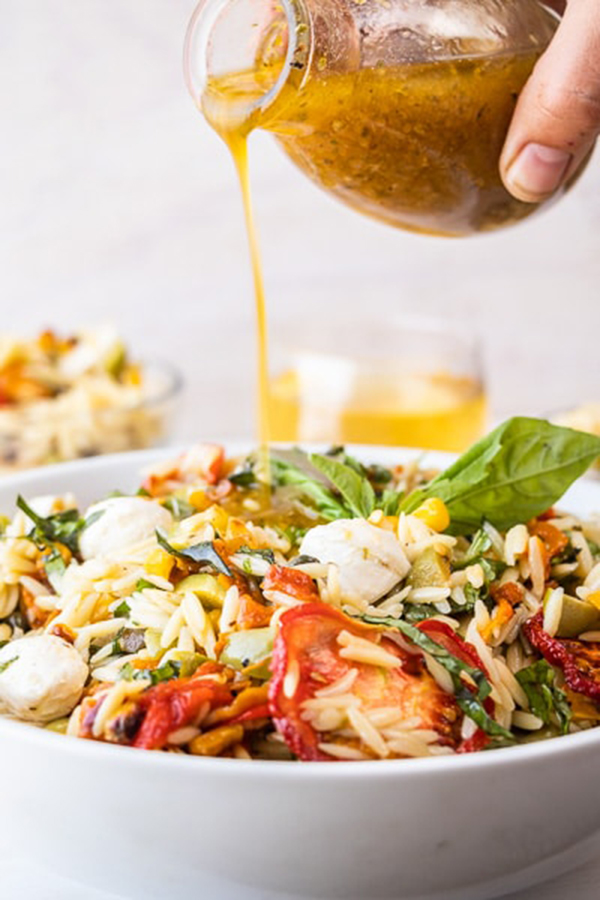 Loaded with classic Mediterranean ingredients like artichokes, capers, tomatoes and olives, this fresh spin on traditional pasta salad is tossed in an oregano vinaigrette.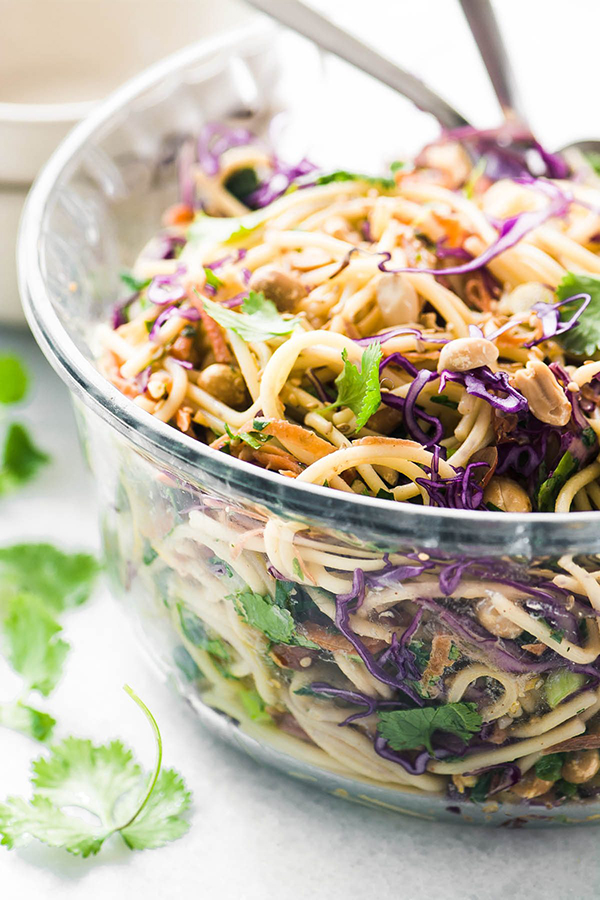 from The View from Great Island
Asian flavors come together in this great Thai-inspired pasta salad loaded with sesame seeds, fresh cilantro, basil and red cabbage and spaghetti noodles. Delicious!
---
I hope this list of great summer salads helps inspire you this season in your kitchen. Be sure to bookmark or pin this page so you can reference back to it all season long. I'm looking forward to making my way through each of these while the warm weather lasts. Finally, if you have a favorite summer salad recipe that isn't on my list, please share a link in the comments below. I'm always up for trying something new!